Mid-week market update: It was no surprise that the Fed raised rates, as they had spent the last month widely telegraphing their intentions. This morning's release of February CPI tells the story. Headline CPI is near a 5-year high. Though core CPI (ex-food and energy) edged down, the latest reading of 2.2% is above the Fed's 2% targeted inflation rate.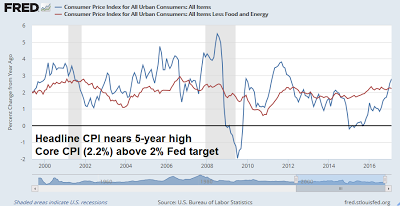 The big surprise was the dot plot, which the market anticipated would edge upwards. Instead it remained mostly unchanged for 2017, though rate expectations were nudged up for next year.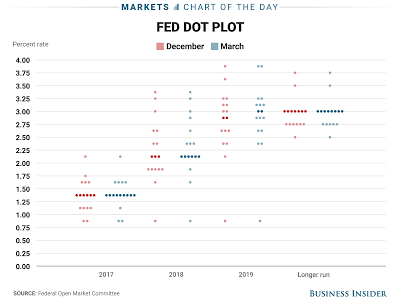 Since this is the third rate hike for the Federal Reserve, the key question for equity investors is whether they should be concerned about the traders' adage of "three steps and a stumble" (via MTA):

Similar to Zweig's Fed policy indicator and in line with the desire to measure when the Federal Reserve is tightening credit, Edson Gould, a legendary technical analyst from the 1930s through the 1970s, developed a simple rule about Federal Reserve policy that has an excellent record of foretelling a stock market decline. The rules states that "whenever the Federal Reserve raises either the federal funds target rate, margin requirements, or reserve requirements three consecutive times without a decline, the stock market is likely to suffer a substantial, perhaps serious, setback" (Schade, 2004). This simple rule is still relevants. Although it tends to lead a market top, it is something that should not be disregarded.
Here are the bull and bear cases under "three steps and a stumble". In particular, the current economic cycle is elongated and shallow compared to past recoveries, and therefore it would be premature to worry about Fed actions to cool down the economy just yet.
The full post can be found at our new site here.
Source:
http://humblestudentofthemarkets.blogspot.com/2017/03/3-steps-and-stumble-bull-and-bear-case.html