This post Amazon Found Guilty In The Murder Of Sears appeared first on Daily Reckoning.
This week, Sears Holdings (SHLD) issued a dire warning to investors. In the company's annual report, management stated "substantial doubt exists related to the company's ability to continue as a going concern."[1]
In other words, "we're screwed…"
In case you haven't been paying attention to the stock, let me fill you in. Sears has been a slow-motion train wreck, falling from above $40 in 2015 to a current price near $8.00 per share.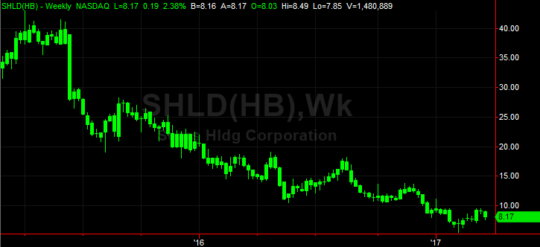 Source: TradeStation
Oh, and if you want to look even farther back in history, the stock actually peaked above $175 in 2007. It's been a long, slow and painful death for Sears shareholders.
It's always easy in hindsight to point fingers and assign blame. Maybe if Sears had been more aggressive in rolling out an online presence the company could have been more competitive. Or perhaps if the company had closed down underperforming stores more quickly, they could have stopped the bleeding.
Sears' management team may have made some mis-steps. But I'll tell you who is really to blame for the company's downfall. Amazon.com!
How Amazon Murdered Sears
Amazon's business model has wreaked havoc on brick and mortar retail companies like Sears.
Today, you can buy almost anything online through Amazon — from the comfort of your desk or your couch. And Amazon is doing a great job of breaking into just about every demographic.
Here's an example in my family alone…
My parents order books and household items off Amazon.com
My family has an Amazon Prime account which gives us free shipping
I buy the kids school supplies, and birthday gifts on Amazon
My daughters now prefer to use Amazon's streaming music platform
For Saturday family night, our family rents movies through Amazon
The list goes on and on. I'm actually intrigued that my teenage daughters don't even go to the mall to hang out with friends. "Dad, no one goes there anymore!" I hear as they roll their eyes and put the earbuds back in. (Earbuds that I bought them for Christmas on Amazon, of course).
It's really no wonder that Amazon is driving traditional retailers out of business. The company just has too much of an advantage with their web presence, cheap prices, and amazingly fast delivery.
So how do we as investors play this trend?
I'll give you my best idea in just a moment. (Hint: It's not Amazon stock.)
But first, let's take a look at another factor that's driving Amazon's growth.
Have Money, Will Spend
One of the things that I first noticed when my teenage son got a job was the increase in Amazon boxes dropped on our doorstep. (Yeah I know, I'm still on the Amazon bandwagon.)
You see, once David had discretionary spending money, he naturally started buying things. Some of the stuff he needed for school. But most of his purchases were just things that he wanted – like a half dozen different pairs of Nike shoes.
David is representative of most U.S. consumers.
When times are tight, we all pretty much know how to spend carefully and make our money stretch. But when things are good… When we have jobs… When the bills are paid… When there's something left in our bank accounts… We spend money.
And that's exactly what's happening in the economy right now.
More and more consumers are back to work. Yes, I know there are problems with the quality of jobs for some workers. But by and large, there are jobs available and wages are being paid.
Consumer confidence is increasing. In fact, confidence is near the highest level seen since before the financial crisis of 2007.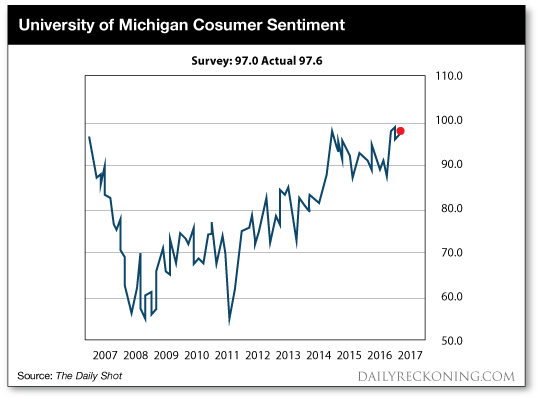 Source: WSJ's Daily Shot
That means shoppers are more willing to spend money on discretionary purchases. They're even willing to put more of these purchases on credit cards. And that's our best way to profit from strong consumer spending and Amazon's dominance.
Padding Your Retirement With Plastic
One of the best ways to tap into growing consumer spending is to invest in credit card companies. After all, these are the corporations that make money on just about every transaction — regardless of whether retailers are profitable or dying (like Sears).
See, while I respect Amazon's growth and their business model, I'm not a big fan of buying AMZN shares. I believe there's too much risk that the stock could pull back. (Plus, at $850 per share, it's tough for some investors to diversify – even if they just buy one or two shares!)
Credit card companies are attractive because of their growing revenue (both in the U.S. and abroad).
If you decide to invest in these stocks, there is one distinction that you need to be aware of.
Some credit card companies simply collect a fee for processing each payment. Think of these companies as a "toll booth" for retail transactions.
Both Visa Inc. (V) and Master Card (MA) fit into this category. These companies are not in the business of lending money to consumers. Instead, they simply process the payments, and collect a fee for each purchase.
Other credit card companies actually extend credit to their customers. These companies obviously have more risk that customers will not repay balances. But they also receive more income from charging interest on the credit that is extended.
Both American Express (AXP) and Discover Financial (DFS) are in the business of lending money to their customers.
So which card companies are best to invest in?
It depends on how aggressive you want to be. Both Visa and MasterCard pay dividend yields that are below 1%. So you're not going to generate as much income from these names. But you're also not taking on as much risk if consumers wind up not paying back debts.
American Express and Discover have higher dividend yields, but their business carry a bit more risk.
I'm watching the group carefully, and will keep you posted on any developments I see both for consumer spending and for consumer debt levels. As long as the job market stays strong, these companies should be in good shape.
Here's to growing and protecting your wealth!
Zach Scheidt
Editor, The Daily Edge
[email protected]
Sources
[1] Sears Stock Stumbles After Going-Concern Warning, Anne Steele, The Wall Street Journal
The post Amazon Found Guilty In The Murder Of Sears appeared first on Daily Reckoning.
This story originally appeared in the Daily Reckoning . The Daily Reckoning, offers a uniquely refreshing, perspective on the global economy, investing, gold, stocks and today's markets. Its been called "the most entertaining read of the day.
Source:
https://dailyreckoning.com/93903-2/