Good morning! It's Paul here.
Both Graham and I will be working today. Graham will be emailing me his sections, which I'll include in this single report, marked clearly as being written by him.
Retail sales volumes
Over the weekend, I was looking at some data, showing that the latest retail sales volumes have apparently fallen about 2%. This seems to have cast a cloud over consumer spending related shares.
However, the way I see things, consumers only have a certain amount of money to spend. Therefore, when inflation starts rising, as it is now (due to the fall in sterling), then one would expect consumers to continue spending roughly the same amount. However, that amount will actually buy a smaller quantity of more expensive items.
From the retailer's point of view, this shouldn't really matter very much. In such a situation, LFL sales would simply be flat. Fewer items are being sold, but the prices have gone up, so the retailer ends up achieving the same overall sales figure. Moreover, with lower volumes of goods being sold (at higher prices), the retailer will actually achieve some cost savings – e.g. fewer plastic bags being used, savings on staff rotas, warehouse costs, etc.
Next (LON:NXT)
(at the time of writing, I hold a long position in this share)
Next puts out the most detailed forward guidance in the sector, and its guidance for 2017 is extraordinarily pessimistic. Its central guidance for LFL sales is minus 7%. Now bear in mind this is after the company will have raised selling prices by 4-5%, then this means that Next is forecasting a massive drop in sales volumes of something like 12%. That doesn't seem very likely to me.
At just over £40 per share, Next seems a remarkable value opportunity to me. The Directory business is now more profitable than the stores, so it's effectively a growing, internet-based business. Yet strangely, the market is ignoring this, and treating the entire business as if it's a declining, old economy business.
Including pre-announced special divis (covered by cashflow generation), the dividend yield is now approximately 7-8%. The forward PER is about 10, but that's based on really pessimistic forecasts. The company has a history of starting the year with very gloomy forecasts, and then pleasantly surprising later in the year.
It will be fascinating to see how this year pans out. To me though, the current bombed-out share price of Next, looks a marvellous value opportunity. There's a lot of future bad news baked into the valuation, and I suspect that could be laying the foundations for a decent share price recovery later this year. Time will tell – as always with shares, it's educated guesswork to a certain extent.
---
Victoria
(LON:VCP)
Share price: 475p (up 4.4% today)
No. shares: 91.0m
Market cap: £432.3m
(at the time of writing, I hold a long position in this share)
Positive full year trading update – quite an interesting touch, to put the word "positive" into the actual title of the RNS. I wonder if other PR companies will pick up on that, and start copying it, I bet they will! No doubt, in the fullness of time, we'll find average updates being entitled as positive updates too.
In this case however, there's no need for cynicism, as the update does sound genuinely positive;
The Board is pleased to announce that the Group's underlying profits before tax will be comfortably ahead of current consensus market expectations for the financial year ending 1 April 2017.
Victoria is a very successful buy amp; build of carpet amp; underlay manufacturers. I was late to the party with this one, but picked up some stock personally a few days after an excellent meeting with the Chairman, Geoff Wilding. I reported back to Stockopedia readers the day after the meeting, here.
There seems to be a good rationale for this buy amp; build – good synergies (e.g. bulk purchasing of raw materials, and manufacturing efficiency, sharing of best practices within the group, etc).
Outlook comments sound excellent to me. This carries weight, because the group has successfully delivered on its previously upbeat comments;
Victoria remains focused on its strategy to create wealth for shareholders. Ongoing operational improvements are expected to continue to deliver very good organic earnings growth over the coming 12 months.

Additionally, Victoria has invested a significant amount of time and energy during the past year identifying further suitable acquisition opportunities within Victoria's existing markets and, importantly, Europe.

The Group's banks continue to be very supportive and there remains considerable headroom in existing facilities.

The Board is confident it will deliver another year of significant, earnings-accretive acquisition growth in addition to underlying organic growth.
So fairly heavy hints there that more acquisitions are on the way. The group doesn't seem to have put a foot wrong with previous acquisitions.
My opinion – my broker has helped me enormously with this one. Whenever I've sent him orders to top-slice my position in Victoria (when I needed money for something else, or for a margin call), he's replied suggesting that I might want to think again. This is because brokers can see additional orders which are not visible to even those of us who pay for level 2 market data.
It's one of those annoying foibles of what is really a rigged market in small caps – the quoted prices are often not the actual prices, with Market Maker stocks. Very often there can be orders hidden from view, which only brokers can see, that are well inside the spread. That was the case with Victoria, and thankfully my broker stopped me from selling. He pointed out that the stock was very well bid (with hidden orders), at prices only just below the offer price. That is usually a precursor to a more upwards in share price – as has indeed happened.
So it's always worth either using a proper telephone broker, or putting in a small dummy trade on an electronic broker website, to find out what the real prices are. In many cases, on making enquiries, I find that the real prices are actually on quite a tight spread. So the published spread between bid/offer is very often best ignored, as it doesn't reflect reality.
Overall then, it looks as if Victoria is likely to see broker forecasts raised again. With a positive outlook, and more acquisitions on the way, I'm inclined to sit tight here, anticipating further increases in the share price.
Debt might be seen as an issue, but the group seems to be very cash generative, so should be able to pay down debt in a reasonable timescale. The end game is a sale of the group, once it has attained sufficient scale to be attractive to a larger, international group. I continue to like this share, and intend sitting tight.
I've just seen a broker note, which suggests that we should expect about 26p EPS for FY2017.
The year that's just begun, FY2018 is forecast for just under 30p EPS, with the suggestion that this is probably likely to be revised upwards in future. Therefore a fwd PER of maybe 15-ish? That doesn't look outrageous, given the remarkable performance of this group in the last few years.
This share is one example of how companies which out-perform tend to keep on out-performing. Hence personally why I think it makes more sense to pay up for decent growth companies, as they often grow into an apparently high valuation.
Whereas the alternative strategy of buying cheap companies, in the hope of a turnaround, usually fails, in my experience.
---
Graham has just emailed me this section:
Ramsdens Holdings (LON:RFX)
Share price: 120.5p (+8%)
No. shares: 30.8m
Market cap: £37m
(NB. This section is written by Graham Neary)
A fantastic update from the pawnbroker Ramsdens, which is relevant to my (Graham's) personal portfolio due to my long position in H amp; T (LON:HAT).
Of course, pawnbrokers see themselves as a lot more than just pawnbrokers nowadays, as Ramsdens describes itself as a "diversified financial services provider and retailer".
This echoes the Hamp;T CEO's comment that his company "is evolving into a provider of alternative credit services" (i.e. a lot more than just pawnbroking).
Anyway, everything is going well at Ramsdens. The shares have only been listed since February, but are now significantly up on the IPO price:
"Ramsdens' strong performance has continued across the Group resulting in further revenue growth and strengthening gross profit when compared to the prior year. As a result, the Board anticipates reporting adjusted* profit before tax for the Period comfortably ahead of management's previous expectations."
("Adjusted" PBT means before IPO costs.)
All four income streams are said to be growing: FX, pawnbroking, precious metals purchasing and jewellery retail.
That's interesting – perhaps the pawnbroking market isn't shrinking after all, or is growing in those parts of the UK where Ramsdens operates (Wales, Northern England and Scotland).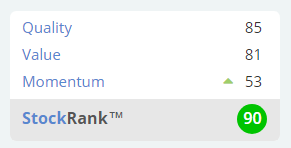 Anyway, the Stockopedia computers love it and for selfish reasons, I will hope that it continues to do well.
---
Sepura
(LON:SEPU)
Share price: 12.1p (down 6.9% today)
No. shares: 370.1m
Market cap: £44.8m
(Paul Scott wrote this section)
UK Government public interest review – this is a fascinating situation. A Chinese bidder is trying to buy this maker of sophisticated radios for the emergency services. The agreed bid at 20p looks distinctly wobbly right now. The share price alone, is clearly signalling to us that the market has grave reservations about the bid going ahead.
If the bid doesn't go ahead, then I think there's a very real risk Sepura could go bust, or have to do another deeply discounted emergency fundraising.
The UK Department for Business, Energy amp; Industrial Strategy has decided to initiate a public interest review,
"as a result of Sepura's commercial arrangements with UK government entities"
Quite right too. Do we really want vital, emergency services communications equipment to be provided by a Chinese-owned company? On the other hand, if our Govt trusts China to help build nuclear reactors in the UK, then maybe it's splitting hairs to quibble over emergency services radios?
My opinion – I think this is a very high risk situation, and I'm keeping well away from it. To my mind there's a considerable risk of this ending in disaster for shareholders, so I'm not tempted to take the risk of buying at 12p in the hope of a 20p bid which may well not happen.
---
Graham has just emailed me another section, so this is from him:
Premier Asset Management (LON:PAM)
Share price: 133p (+0%)
No. shares: 105.8m
Market cap: £141m
(this section was written by Graham Neary)
A solid update from this growing, mid-tier asset manager, leaving the share price unchanged.
It's yet another recent IPO. This one has been on the market since last October.
At the company's final results for the year ending September, it reported assets under management (AuM) up 22% to £5 billion.
It was rather indebted at the time, with a lot of preference shares outstanding, but the IPO proceeds were used to redeem them all and clean up the balance sheet.
Strong AuM Growth
AuM are now up by another 11% in the six months since financial year-end, thanks to £310 million in net flows and £221 million in investment performance. So AuM are already at £5.5 billon.
Needless to say, this is a fantastic result. But of course the asset management industry moves in cycles, and when returns turn negative this is often compounded by outflows.
Performance is excellent. 95% and 96% of funds are above their sector median over three and five years, respectively.
Dividends are another attraction as quarterly divis are planned, and the yield looks set to be in the region of 5.6% versus the current share price.
My opinion (Graham)
This looks like it could be an attractive income stock. Active fund managers are under increased pressure to perform since the proliferation of passive alternatives, but those which prove their worth via good performance should continue to have a bright future, in my view.
In terms of valuation, Premier is trading at a market cap 2.5% of AuM, which I think is probably on the low side for an equity-oriented fund house with a good EBITDA/Revenue margin of 33% (according to the last Annual Report).
So I would be positive on the prospects here.
---
Touchstar
(LON:TST)
Share price: 101.5p (up 9.7% today)
No. shares: 6.3m
Market cap: £6.4m
(at the time of writing, I [Paul] hold a long position in this share)
Results for y/e 31 Dec 2016 – this share is below my usual £10m market cap cut-off, so normally I wouldn't report on it. However, in this case, I think there seem to be some potentially interesting signs of better things ahead.
The actual results for 2016 are fairly unremarkable, as this is only a tiny company;
Revenues £7.6m (down from £8.7m in 2015)
Operating profit of £223k (vs £107k pre-exceptional in 2015, £6.5m loss post exceptional items, mainly goodwill impairment in prior year)
Income tax credit, due to heavy Ramp;D spend, so profit after tax was £475k
Just over £1m spend on Ramp;D
It's the product development, and Ramp;D spend, which interests me. Reading the commentary, the new products sound potentially good. This includes a cloud-based software system for airlines to sell food, drinks, etc, whilst airborne.
On a recent flight, I noticed that BA are using a new, and very clunky system, based on an iPad, which seems extremely slow, and ended up with them only serving a few passengers, and then abandoning cabin service, as it was taking too long. So I hope very much this wasn't TouchStar's system, but I don't know.
Balance sheet – just about OK, but not strong.
My opinion (Paul) - this share is too illiquid for my liking, to I've not added to my existing position today, and am unlikely to do so in future.
However, I do think it might be an interesting one to keep an eye on, if the new products do lead to an improvement in sales amp; margins. I particularly like companies which spend heavily on Ramp;D, as that can sow the seeds of future success, if spent wisely.
---
(going back to Graham now, for this section on XPP)
XP Power (LON:XPP)
Share price: 2432.5p (+10%)
No. shares: 19.2m
Market cap: £467m
(this section was written by Graham Neary)
I last covered XP Power at the final results last month, and today brings a Q1 update for the period ending 31 March.
It includes that beautiful word, "accelerated":
Trading in the first quarter has been strong, as the positive momentum established in the second half of 2016 continued into the first quarter of 2017. Revenue growth, which had been building sequentially over the previous two quarters, accelerated once again in the first quarter of the new financial year.
Q1 revenues are up 40% versus the same period in 2016 (or up 23% at constant currency), reaching £40 million. And orders are up by even higher percentages:
Order intake in the quarter was also very encouraging at £47.0 million (2016: £30.3 million), up 55% on the same period in the prior year. In constant currency order intake was up 36%.
Dividends are quarterly at XP, and the Q1 dividend is increased by 7% to 15p.
Outlook is merely "in line" with expectations for 2017, so perhaps there was a disconnect between the positive expectations of the Board compared to the expectations of shareholders?
The Group has made a good start to its financial year, with continued growth in revenues and strong momentum in order intake. We are encouraged by the outlook and the Group remains on track to be in line with our expectations in 2017.
My opinion (Graham)
It's a highly-rated stock but this should be more than fully compensated for by excellent growth, cash flow and quality metrics. Remember that they design most of their own products: this is a lot more than just a distribution network or customer support offering.

---
Cloudcall (LON:CALL) – a quick comment from Paul (I hold a long position in this share, at the time of writing) - the company has today announced new iPhone and Android apps for its cloud telephony product, with a key point of difference – that it integrates with customer CRM systems.
I've downloaded the app onto my iPhone, but can't get it to work yet, due to a configuration problem. With software companies, I always like to try out the product, and to become a paying customer. so I can personally verify that the product works.
Trying out products amp; services is a great way to test out your views about a share. This is a good thing to do, and Globo shareholders might have listened to the bear case a bit more, if they had bothered to try out its products – which were close to useless. As well as the accounts containing numerous red flags, as I reported on in 29 articles here.
Also, it enables you to experience customer support, for example. CloudCall are outstanding on customer support, in my experience. Very rapid response times, and problems usually get solved quickly amp; efficiently.
My opinion – I'll let you know what the App is like, once I've got it working.
As regards the company itself, I think it's getting there, gradually, despite a painful journey to date.
Will the cash last until breakeven? Probably not, is my hunch. The company has consistently failed to deliver breakeven in the past, despite promising to do so. However, I think it's making enough progress to mean that one final cash top-up probably won't be a problem.
You only have to look at LoopUp (LON:LOOP) to see how, once breakeven us reached, the valuation can go through the roof, when strong recurring revenues amp; decent organic growth are combined. CALL is maybe a couple of years behind LOOP, but its valuation is less than a third of LOOP's. So who knows, this one could yet surprise the doubters.
EDIT: I'm pleased to say that, within 3 hours of me logging a support request with CloudCall, then responded and activated my App. I've just tried it out, and it's great! Looks exactly like making a normal call, using your existing Contacts on iPhone, except the call goes via the CloudCall system, and gets tagged to the relevant CRM system contact. Seems to work fine. So a useful addition to the existing product, for sure.