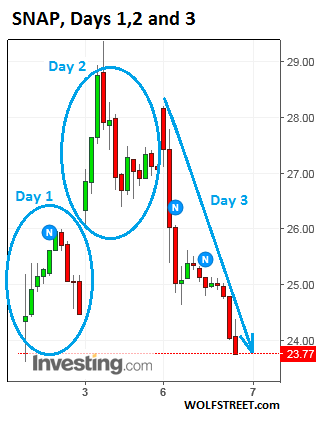 wolfstreet.com / by Wolf Richter •  
Top indices might refuse to include Snap's shares. 
The third day was not the charm. Not for Snap, the company that owns the Snapchat app. An investor revolt, spearheaded by the Council of Institutional Investors, against Snap's non-voting class A shares is now deflating a big part of the hype around its IPO.
The hype worked like this: The market capitalization of Snap would be pushed so high that major indices, including the S&P 500 index and the MSCI USA Index, would include the stock, and that index and pension funds that track these indices would all have to buy the shares, and thus drive up the share price even further.
That was the bet. And now news of the revolt is spreading.
Snap's class A Shares plunged 12.3% to $23.77 at the close on Monday. Down 16% from their high in the morning. Shares now trade below the price at which they opened on March 2 during their first moments in the public market.
The post Snap plunges 12% as Investor Group Attacks its No-Vote Shares appeared first on Silver For The People.
Source:
http://silveristhenew.com/2017/03/06/snap-plunges-12-as-investor-group-attacks-its-no-vote-shares/