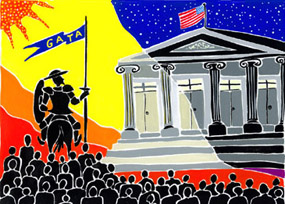 gata.org / By Swansy Afonso / Tuesday, March 14, 2017
It seems the only way to stop Indians from buying more gold is to take their money away.
Prime Minister Narendra Modi's government spent 16 months trying to persuade Indians to deposit their jewelry in the bank to earn interest, in an effort to curb soaring imports of the precious metal. But the program has only lured a tiny fraction of the $900 billion of gold that families and temples are estimated to have stashed away.
On the other hand, Modi's controversial decision to withdraw all high-value banknotes did the job instead.
Coupled with a higher import tax, the abolition of 86 percent of the nation's banknotes in an anti-corruption drive helped push gold imports down 39 percent last year to 558 metric tons. Overall consumption in India tumbled to 676 tons, the lowest since 2009, according to the World Gold Council.
That's bought Modi some breathing space to persuade Indians to recycle their gold in a country where jewelry plays an important role in weddings and festivals and is handed down to daughters for their own weddings. …
The post The only way to stop Indians from buying gold? Take away their cash appeared first on Silver For The People.
Source:
http://silveristhenew.com/2017/03/15/the-only-way-to-stop-indians-from-buying-gold-take-away-their-cash/