Viktor&Rolf: Fashion Artists is the National Gallery of Victoria's (NGV) newest acquisition, opening to the public today; Friday 21 October, 2016.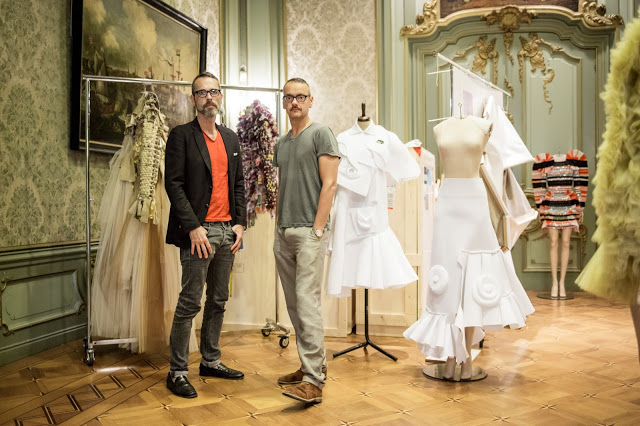 :: Viktor & Rolf ::
The designs exhibited are that of the Dutch luxury fashion duo who are synonymous for their avant-garde approach to wearable art. Viktor&Rolf: Fashion Artists is a collaboration with international guest curator Thierry-Maxime Loriot, who also curated the phenomenal exhibition The Fashion World of Jean Paul Gaultier, and therefore this world premiere fashion exhibition was always destined to be a good egg.
Viktor&Rolf: Fashion Artists the exhibition is indeed an eye opener, and seeing it with your own eyes is such a beautiful surprise.
The exhibition displays the duo's 25 year career in fashion haute couture, ready-to-wear and perfume collections. Viktor & Rolf, who befriended at school during the 80s, sure do push the boundaries when it comes to experimental runway shows.
A stand-out comment by Rolf Snoeren, one half of Viktor & Rolf during the media preview opening, and I quote:
"Couture is like a laboratory, it's where we experiment", he said.

Their 1999 Russian Doll runway show in which model Maggie Rizer was progressively dressed by the designers in nine different layers and 2003's One Woman Show fashion collection inspired by actress and muse Tilda Swinton, in which the actress herself appeared amidst a runway of models made up in her likeness are just some of the most talked about Viktor & Rolf collections.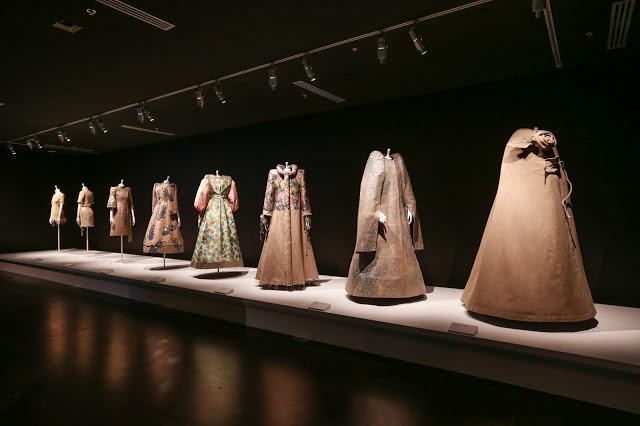 :: Russian Doll Runway Show Collection ::
One of my personal favourites seen in the Viktor & Rolf exhibition, would have to be the Red Carpet Dressing collection; whereby the fashion duo prepared a series of haute couture outfits that explore society's obsession with celebrity 'red carpet' looks. Viktor & Rolf's collection is, literally, red carpet, made into twenty-two looks, made from heavy-duty nylon carpet by Dutch carpet manufacturer Desso.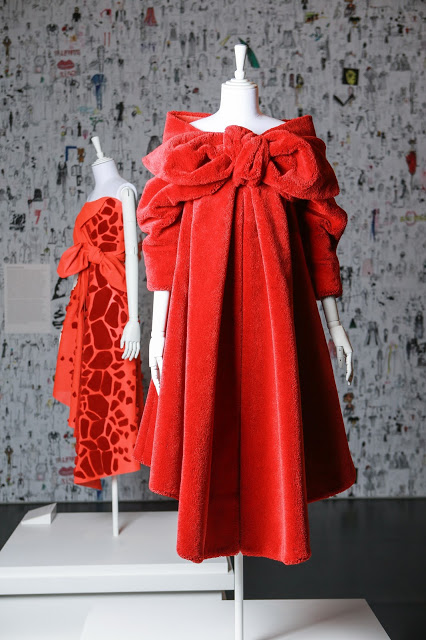 :: Red Carpet Dressing by Viktor & Rolf ::
Viktor & Rolf's most recent collection is one that will appeal to Recycled Fashion readers most. Vagabonds is the autumn–winter 2016–17 haute couture collection. Using recycling as a form of expression; the entire collection uses garments and fabrics from previous haute couture and ready- to-wear collections to create highly unorthodox haute couture as a 'new beginning'.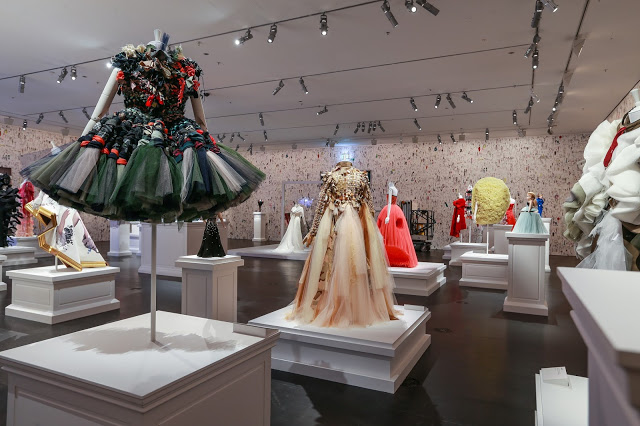 :: The Vagabonds Collection – using recycling as a form of expression
::
Throughout the exhibition's fashion galleries are 21 handmade porcelain dolls (with human hair I might add), each wearing tiny yet intricately crafted miniaturised version of a key collection work. Children who walk through the exhibition are immediately drawn to these tiny dolls, who look so lifelike it's almost a little scary.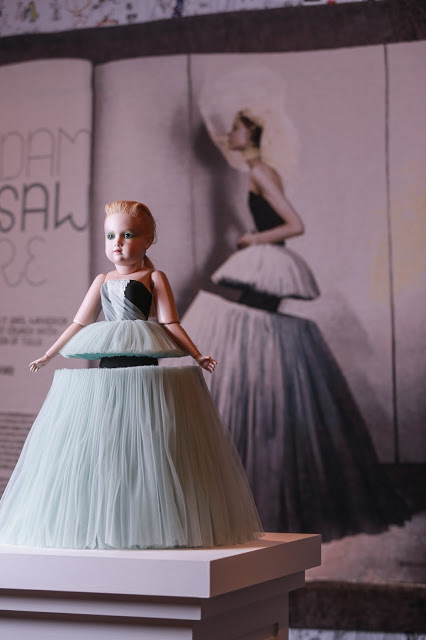 With every new exhibition brings a new gallery space designed for kids, and this time is no different. Atelier: Viktor&Rolf for Kids is a free exhibit, where young visitors can craft their very own fashion creations using crepe paper and raffia, afterwhich they can stage their own fashion shoot in three black and white themed photo booths.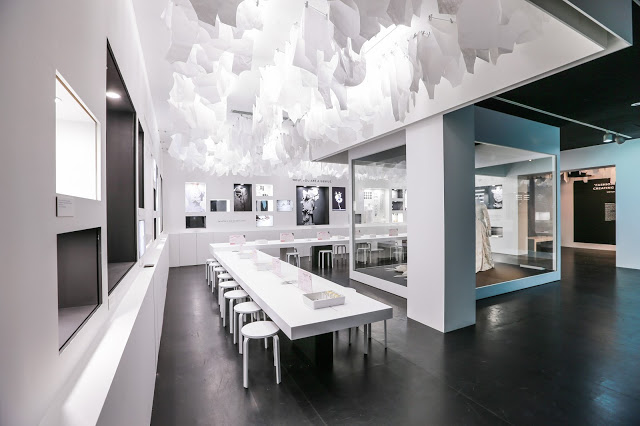 Accompanying the children's exhibition sees the duos' couture wedding dress designed for Her Royal Highness Princess Mabel van Oranje-Nassau for her wedding to Prince Friso of the Netherlands.
Viktor&Rolf: Fashion Artists is a must see. On display at NGV International, 180 St Kilda Road, Melbourne from 21 October 2016 until 26 February 2017. Buy your tickets in advance here.
Source:
http://www.recycled-fashion.com/2016/10/viktor-fashion-artists-exhibition-at.html