There's more to Christmas than turkey and trees. To add more fun to yuletide, festive folk all over the world don their favourite retro Christmas jumpers. You know the ones; cosy but often ugly!
Obviously in the Northern Hemisphere there's a good reason to sport a bad jumper, but here in the Southern Hemisphere, in the midst of Summer, there's another alternative to the Ugly Sweater… more on that later.
Here's a few fun (and surprisingly, not always that ugly) Christmas jumpers we've sourced on etsy, to get you into the festive spirit:
1) The White Vintage 80s Mohair
The first one to top our list is actually not very ugly at all. This feminine looking pink snowflake design adds to the 'white Christmassy' feeling. The fact that it's knitted mohair makes it even so more appealing.
2. Snowflakes and Pastels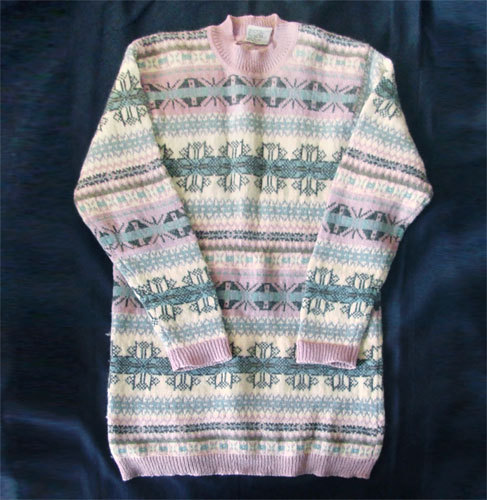 Classic 80s again, this one with its pink, blue and white snowflakes set the festive spirit. Throw over the top of a pair of leggins, and wear as a short dress if you dare!
3. The Christmas Motif Cardigan
Stockings, tree, and festive colours of red, green, and white.. this is your typical 'Ugly Christmas Cardi'. Flashback time with this one for sure.
4. The Snowman
No snow to make a snowman? Just pull-on this sweater with bearded snowman motif instead. Don't you just love those drawstrings complete with puffy white balls? Hello Frosty!
5. The Big Red
The big bright red number. Snowflakes and stars and big-ass stocking; just perfect for Yuletide. Joyeux Noël!
6. Christmas Down Under
As mentioned previously, sweaters and Christmas don't mix well in Australian summertime, so the clever folk at Cancer Council have come up with the perfect solution to festive celebrations in the sun. Behold the Ugly Christmas Rashie, available in kid and adult size. Practical, festive and hilarious!
Do you don an old faithful Christmas jumper for the festive season? What do you think about the Australian beach version of the Ugly Sweater?

Source:
http://www.recycled-fashion.com/2016/11/preloved-christmas-jumpers-to-spread.html