(NaturalHealth365) Eye disease is on the rise – especially for older Americans. Cataracts affect more than 24 million people age 40 and over, while 2.7 million suffer with glaucoma and 2.1 million have macular degeneration.  We want healthy eyes; yet, Western medicine can only offer us toxic drugs and invasive surgical procedures – which rarely offer a real solution.
But, what if I were to tell you there IS a better way. (would you believe me?)
Find out how to eliminate eye problems and restore vision without the use of drugs or surgery. On the next NaturalHealth365 Talk Hour, Jonathan Landsman and Dr. Edward Kondrot, the world's leading homeopathic ophthalmologist, discuss the latest cutting-edge holistic therapies for preventing and treating eye disorders, including cataracts, macular degeneration, glaucoma plus much more. If you suffer with vision problems – don't miss this program.
Sign up now for access to our free weekly show, newsletter plus much more! Simply enter your email address and receive lots of bonus gifts!
A perfect recipe for unhealthy eyes: Antioxidant deficiencies, radiation and other environmental toxins
Cataracts, manifested by clouding and loss of elasticity in the lens of the eye, can be caused by a variety of factors. Poor nutrition, vitamin deficiencies, diabetes, arteriosclerotic changes that come with poor lifestyle decisions and heavy metal toxicity can all play a role in damaging your eye sight.
In addition, with advancing age, the eye loses valuable antioxidants – including inositol, vitamin C and glutathione, the body's most powerful natural antioxidant. In fact, Dr. Kondrot reports that the levels of glutathione in the lens can decrease until they are 4 to 14 times lower than levels experienced in youth.
Fortunately, there are many holistic (homeopathic) remedies that allow patients to avoid cataract surgery – a significant benefit, according to Dr. Kondrot. He warns that cataract surgery can lead to macular degeneration, and should only be used as a last resort.
Keep in mind, there is solid scientific research supporting Dr. Kondrot's use of nutritional supplements.  Many studies confirm the effectiveness of vitamins in reducing the incidence of cataracts, with one Canadian study showing that patients over 55 who consume supplementary vitamins C and E reduce their risk of developing cataracts by 50 percent.
Discover the safest way to protect your eye health. Don't miss the next NaturalHealth365 Talk Hour with Jonathan Landsman and Dr. Edward Kondrot.
Sign up now for access to our free weekly show, newsletter plus much more! Simply enter your email address and receive lots of bonus gifts!
Macular degeneration is the most common cause of blindness in people over 65
Another serious eye condition, macular degeneration, is caused by a thickening of the membranes in the eye – and can eventually lead to hemorrhage, formation of scar tissue, and loss of vision. Early symptoms are blurred vision, difficulty with close work, wavy lines and visual distortions.
According to Dr.Kondrot, microcurrent therapy can reverse macular degeneration – particularly with the recent addition of new Frequency Specific Microcurrent (FSM) technology. With FSM, the eye is exposed to frequencies that are specific to retinal tissue, as well as to individual pathologies. Each tissue and each type of pathology has a frequency, enabling the FSM to match the exact abnormalities that are present in the damaged tissue and to neutralize frequencies that are in disharmony.
Other therapies utilized by Dr. Kondrot include personalized programs for detoxification from heavy metals, syntonics – the science of treating the eyes with selected light frequencies – and ozone therapy to stimulate regeneration and healing.
Take time to hear our next show – you won't be disappointed.
This week's guest: Dr. Edward Kondrot, board-certified ophthalmologist and homeopath
Find out how to treat eye disorders and reverse vision loss naturally – Sun. Apr. 2
Dr. Edward Kondrot is the host of Healthy Vision Talk Radio and the author of five books, including Ten Essentials to Save Your Sight, Healing the Eye the Natural Way and  Microcurrent Stimulation: Miracle Eye Cure.
He is president of the Arizona Homeopathic and Integrative Medical Association, and clinic director of the American Homeopathic Medical College. Dr. Kondrot's philosophy is to promote wellness of sight, body, mind and spirit by offering holistic, non-toxic and non-invasive therapies for eye disorders.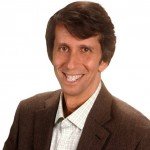 About the author: Jonathan Landsman is the host of NaturalHealth365.com, the NaturalHealth365 Talk Hour – a free, weekly health show – and the NaturalHealth365 INNER CIRCLE, a monthly subscription to the brightest minds in natural health and healing.
Reaching hundreds of thousands of people, worldwide, as a personal health consultant, writer and radio talk show host, Jonathan has been educating the public on the health benefits of an organic, non-GMO diet along with high-quality supplementation and healthy lifestyle habits, including exercise and meditation.