Chivis Martinez for Borderland Beat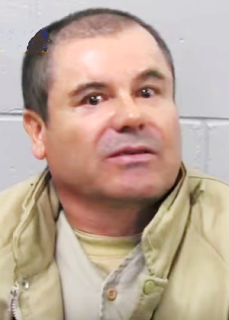 Different prison, different country….same old song incarcerated Sinaloa capo, Joaquin "El Chapo" Guzmán Loera, is singing while in his Manhattan prison cell.
Not many that are long time followers of the Mexican narco war, will forget that Chapo has escaped from two high security prisons, one supposedly via a laundry cart, and more recently, when he became the first inmate to escape Mexico's highest security prison, Altiplano No.1. From No.1 he fled through one of his famous tunnels, constructed from a farm near the prison. He descended through a hole created through the concrete shower floor.
While Chapo was in No.1 he filed several complaints about his conditions. He was transferred to No. 9 in Juarez. He began immediately filing about the conditions at the Juarez prison. It was cold, it was loud, he was awaken every hour causing high blood pressure and other ailments. He actually won a transfer back to No. 1 but was given a different transfer instead…to New York City. When he was awaken for the extradition he asked if he was being taken to No.1, he was told no, "the United States".
As soon as he landed in the U.S. the complaints began. And make no mistake; they are taking precautions as seldom seen before. It is not solely an escape that concerns authorities; it is for the safety of those working towards a long incarceration. It has been alleged that Chapo has ordered killings in the past, even to transpire in foreign countries, so authorities are taking no chances.
He is in a private cell, windowless, visits from his attorneys twice a day, and no outside time. He is not allowed visits from his wife, Emma Coronel. Coronel provided a marriage certificate to the court. However if the court checked with Mexican prison authorities they would see that Chapo is still legally married to his first wife, who he never divorced, and who he listed as his wife on prison records.
Nevertheless, the court was not going to allow the visits.
The Special Administrative Measures aka as SAMS, include:
"Government seeking to keep in place draconian conditions of confinement imposed on Mr. Guzman by the Department of Justice through so-called Special Administrative Measures ("SAMs").

The Government posits that the oppressive nature of Mr. Guzman's solitary confinement, as well as complete isolation from his family, are necessary to address "a substantial risk that the defendant's communications or contacts with persons associated with the Cartel and certain other third parties could result in death or serious bodily injury to persons, including potential witnesses in this case." (Govt. Memo. 2). Furthermore, the Government contends that this Court has no jurisdiction to consider Mr. Guzman's objections to the SAMs.

Furthermore, the nature of Mr. Guzman's confinement under the SAMS violates his Sixth Amendment rights to have effective assistance of counsel, develop a defense, conduct a meaningful investigation, and his right to a fair and impartial jury; his Fifth Amendment right to due process; and his First Amendment rights to free speech and freedom of religion."
He contends he is being denied meeting with a Spanish speaking priest.
His defense team called on Amnesty International to investigate.
Worried about what the contention made by the defense team, they have asked to have access to Chapo and the conditions to investigate. Especially the possibility that Chapo's mental health is being compromised. He has complained of hearing voices.
He has asked for a transfer.
Below is the complete filing
Source:
http://www.borderlandbeat.com/2017/03/el-chapo-complains-to-court-of.html