Chivis Martinez for Borderland Beat *Big thanks, once again, to Narcomics!*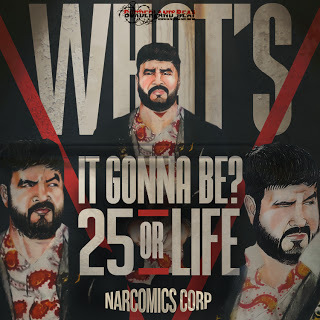 Alfredo Beltran Leyva will have his sentencing hearing today in a Washington DC Courtroom. It is set for 2:30PM.
The U.S. is asking for a life sentence. The court found that sentencing enhancements asked for by the U.S. are applicable. The government also asks that his guilty plea result in no sentencing credit for his accepting responsibility. This is based because of his filing to withdraw the plea. The filing to rescind was denied by the court. This means that although he is not permitted to withdraw his plea, so in effect he is pleading guilty, the U.S. wants no credit be awarded when calculating sentence.
In the sentencing process, various credits favorable to the defendant, and enhancements which give weight to a greater sentence, are calculated by using a number scale. Refer to the image below to view the U.S. contention of how they determined a life sentence was in order with a tally of 50.
One of the enhancements is the contention of cartel leadership. When he pleaded guilty, he was questioned by the judge regarding leadership role. He was clear that he was a member of BLO, and worked for his brother Arturo, but he was not the leader.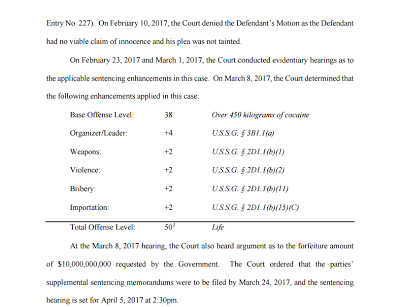 Click on image to enlarge
In his recent evidentiary hearing testimony was presented as evidence. However it was two agents who simply recited information given to them by 3 cooperators. The agents testified they were simply repeating what the cooperators said, and presented no evidence to validate the information.
The cooperators themselves did not testify, nor sworn statements offered from the cooperators.
An appellate attorney has been brought into the case in preparation of the appeals process.
From his guilty plea hearing regarding leadership: (click on any image to enlarge)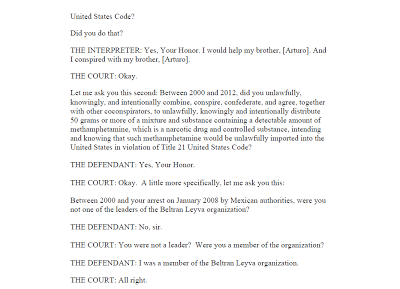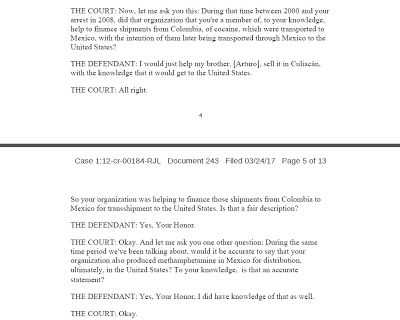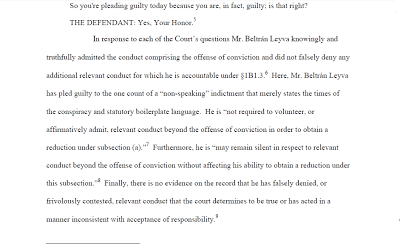 Source:
http://www.borderlandbeat.com/2017/04/alfredo-mochomo-beltran-leyva-set-to-be.html