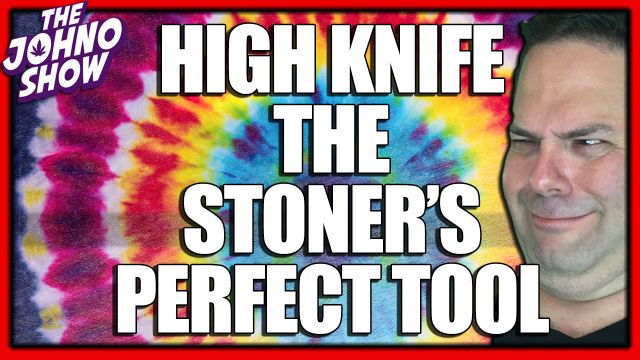 Hey Stoners! Welcome to The Johno Show I'm your host Jonathan. It is Wednesday March 29th 2017 and today we are talking to entrepreneur and CEO of the High Knife company George Weddington. Yeah!
Welcome to The Johno Show George…
Now I met George at a previous High NY meet up in New York City and I had a chance to check out her product and I thought it was super cool.
Then I went onto your website a read this about you and the product:
Utilizing 15 years of design experience in both residential staging and commercial set design/styling, High Knife creator Georgiana Weddington developed an overall brand aesthetic drawing on the architecture of Manhattan. As New York City is the birthplace of the High Knife (and Georgiana),the knife, its packaging, and website design are all steeped in the Art Deco style.
When alcohol Prohibition ended in 1933, America saw the advent of high end design in all manner of cocktail shakers, glasses, swizzle sticks and bar accessories. The 21st century will similarly see a new era of prohibition ending and the creation of equally creative accessories. While utilitarian implements will always have a place in the market, the new-found freedom will inspire people to seek more elegant solutions.
The High Knife is particularly suited for the modern user, as it serves as a discreet and versatile multi-function pocket tool. It is as beneficial for the 85 year old who lacks dexterity as it is for the 25 year old who also uses it as a handy beer and wine bottle opener. It is truly poised to be The Knife of the Party.
That's a perfect description of what this is and what I love is that you and I are on the same page regarding prohibition. We both understand that the legalization of marijuana is just the tip of the iceberg for the industry and where the real money is, is in the ancillary products.
No risk of the DEA kicking down your door or some bozo stealing your harvest. You're building a company that works as a component of the industry. I love it.