Yes you read the headline correctly. Captain America which should be now spelled correctly as Kaptain Amerika was a Double Agent Spy working for Hydra and was the creation of two Jewish "komic book kreators" who knew all along and spun these fancy tales of saving and protecting Amerika when they were actually plotting for its demise and downfall all along. Sedition from within is called Treason as far as we know and understand, but in the world of "konspiracy theories" we were the ones being "konned"? The believers of "konspiracy theories" or the naysayers who denied everything as they sailed down the Nile?
Sailing down the Nile; a children's reading book.
Time Magazine reports;
Sure, he wears red white and blue on the outside, but on the inside? It turns out Steve Rogers, a.k.a. Captain America, supports the evil, former Nazi organization, Hydra.

Marvel comics introduced the shocking twist Wednesday morning when Captain America: Steve Rogers #1 went on sale — and it turns out there have been hints that this was coming for a long time. TIME spoke with Marvel executive editor Tom Brevoort about the decision, the clues and why Hydra's rhetoric sounds an awful lot like that of a certain presidential candidate.

What does this mean for the Marvel Universe?

It means on the most fundamental level that the most trusted hero in the Marvel universe is now secretly a deep-cover Hydra operative, a fact that's really only known to the readers and to him. That makes every interaction he has with anyone take on a second layer, a second meaning.

In the comic the Red Skull of Hydra talks about "criminal trespassers" who "make a mockery" of America's borders and calls the refugees in Germany an "invading army" bringing "fanatical beliefs and crime" to Europe. Obviously, this hate speech is nothing new for the organization, but it sounds like rhetoric we've been hearing this election. Is that purposeful?

But I certainly believe it's not a gimmick. It's a story that we spent a long time on, that's compelling and captures the zeitgeist of the world. It will make readers wonder how the heck we'll get out of this.
Operation Paperclip and the Nazi roots of Khazarian Zionism masquerading as a part of the Jewish religion has now finally been revealed and all of our previous posts on this topic are now vindicated and it would be useful for the reader to catch up to reality and connect the dots as they are staring you in the face now; Amerika.
Captain America Zola Scene. How odd that the "Z" just keeps reappearing in our modern day news over and over again as if it was just another "koincidence" just like the "Zika" virus and the movie "Z" financed and scripted by the "Zionists".
All the previous speculation about the Nazi roots of modern day Israel and its inflitration into the Amerikan Administration which we just reported on the other day is now confirmed by the Jewish writers themselves and was a "secret" they had been holding on to all along from the very beginning.
The Black Magicians of Hollywood are telling you something oh Amerika if you are listening. The name of his last film was called "Captain America; Civil War"! Are we connecting the dots yet?
A recap for new readers.
From Wikiquote;
Steve: HYDRA died with the Red Skull.
Zola: Cut off one head, two more shall take its place.
Steve: Prove it.
Zola: Accessing archive. [The computer screen shows them old footage of the Red Skull and the original S.H.I.E.L.D founders] HYDRA was founded on the belief that humanity could not be trusted with its own freedom. What we did not realize was that if you try to take that freedom, they resist. The war taught us much. Humanity needed to surrender its freedom willingly. After the war, S.H.I.E.L.D was founded and I was recruited. The new HYDRA grew. A beautiful parasite inside S.H.I.E.L.D. For seventy years, HYDRA has been secretly feeding crisis, reaping war. And when history did not cooperate, history was changed. [The computer screen shows field reports with photos of the Winter Soldier, carrying out top-level assassinations for HYDRA]
Natasha: That's impossible, S.H.I.E.L.D would have stopped you.
Zola: Accidents will happen. [The computer screen shows them HYDRA had killed Howard and Maria Stark making it look like a car accident, along with the recent death of Fury] HYDRA created a world so chaotic that humanity is finally ready to sacrifice its freedom to gain its security. Once the purification process is complete, HYDRA's new world order will arise. We won, Captain. Your death amounts to the same as your Life; a zero sum. [In anger Steve suddenly smashes the computer screen. Zola's face reappears on another] As I was saying…
Steve: What's on this drive?
Zola: Project Insight requires insight. So I wrote an algorithm.
Natasha: What kind of algorithm? What does it do?
Zola: The answer to your question is fascinating. Unfortunately, you shall be too dead to hear it. [bunker door starts to close; Steve throws his shield to keep it open, but it bounces off and the door closes]
Do these words sound familiar to readers? It should if you are a regular on this website. It is the old Hegelian [German] Dialectic of Problem Reaction Solution and something also called Jewish Zionist Parasitism that Eustace Mullins eluded to a long time ago and which we to our detriment chose to ignore.
https://www.youtube.com/watch?v=pIvRQr0bJWY
Description for first half: The Biological Jew by Eustace Mullins, narrated with a small amount of commentary by Sven Longshanks.
Mullins was the first to scientifically study the Jew's parasitical tendencies.

In this work he shows that the great civilisations of old did not fall apart due to natural causes, but because they were infected with a parasite.

There are many similarities between the Jew's effect on the nation he lives among and the parasite's effect on it's host.

Parasites in the animal world are usually associated with the excretory organs and we find the Jew has an inexplicable fascination with them too.

Just like venereal lice, the Jew also takes advantage of the reproductive organs.

Where you find one parasite you soon find many and once a few Jews get into a society it won't be long before they start advocating for more to be allowed in.
Discernment is certainly required in these end times and it s most important to realize who is your enemy. Was the Star on the SHIELD really inverted in reality and that is why it was featured so prominently all over this Double Agent? The Inverted Star of David of the Inverted Star of the Republican Party and of Lucifer?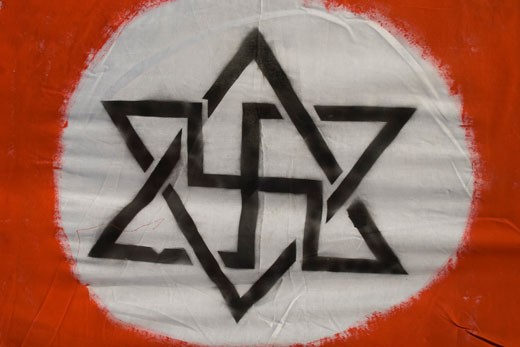 A few words on Nick Spencer and Jesus Saiz, the two Jewish Zionist "kreators" of the comic book series and who according to Bleeding Cool Magazine are now receiving death threats;
So who got death threats yesterday? Oh that's right, Nick Spencer, for writing a Captain America comic book that they didn't like (though with art from Jesus Saiz, how could they not??)
Just in time for Jewish History month: Captain America, the secret Nazi. When will the evidence suffice for discernment to quick in?
---
Sources: