Story Views


Now:
Last Hour:
Last 24 Hours:
Total:
MAINE: New Film on Battle of Penobscot River Territory
Sunday, October 4, 2015 12:17
% of readers think this story is Fact. Add your two cents.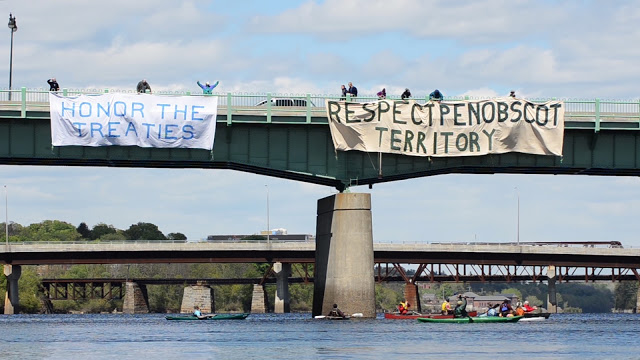 Sunlight Media Collective Releases Documentary on the Battle Over Contested Penobscot River Territory
I
ndian Island, MAINE: On Friday,
Sunlight Media Collective
released
The Penobscot: Ancestral River, Contested Territory,
a documentary film that explores the conflict between the state of Maine and the Penobscot Nation over contested river territory. Spanning from the 1700's to the present-day legal battle of
Penobscot Nation v. Mill
s, the film illustrates the Penobscots' centuries-long fight to retain their territory and their inherent, treaty-reserved sustenance fishing rights for future generations. Featuring first-person accounts, the
film tells the urgent, inspiring story of a struggle for justice and cultural survival in the face of an astonishingly open abuse of state power.
The documentary release closely follows a meeting between Penobscot Chief Kirk Francis and President Obama, where they discussed the
Penobscot Nation v. Mills
case. The Penobscot Nation is suing the state of Maine in response to a decision by former Attorney General William Schneider that the Penobscot Indian reservation, which includes more than 200 islands in the Penobscot River, does not include any portion of the water— a decision that amounts to territorial theft by the state. Oral arguments for the case are scheduled for October 14th at the US District Court in Portland, ME.
The case is taking place in the context of a larger state battle over river jurisdiction and water quality standards. In February, the federal EPA ruled that Maine must improve its water quality standards to protect Penobscot sustenance fishing rights. Governor Paul LePage has called the ruling
"outrageous"
and threatened to relinquish state regulatory responsibilities to the federal EPA if they did not reverse the ruling.
The Penobscot: Ancestral River, Contested Territory
chronicles
the Penobscot's struggle to maintain their centuries-long stewardship to ensure a healthy ecosystem for all of Maine, a struggle exemplified by these contemporary legal battles. According to Penobscot Chief Kirk Francis,
the
Penobscot v. Mills
case "is really not about controlling the river system, or controlling individuals within the system. It's really about our ability to manage a subsistence resource that we have a responsibility for, for multiple generations."
Funded by Broad Reach Fund of the Maine Community Foundation,
The Penobscot: Ancestral River, Contested Territory
is available for free on the Sunlight Media Collective website (
www.sunlightmediacollective.org
), and DVDs are available by order. To schedule a screening, please email
[email protected]

com
.
The Sunlight Media Collective is a collaboration between Penobscot and non-native filmmakers. The film is just one example of an
up-swell of activism and work on issues affecting the Wabanaki tribes. In October, Upstander Productions will also release a short documentary entitled
First Light
, on the recently completed Maine Wabanaki-State Child Welfare Truth and Reconciliation Commission.
Screenings of
The Penobscot: Ancestral River, Contested Territory
currently scheduled:
October 21st, Belfast Free Library, Belfast, 6:00PM
October 24th, Gates Auditorium, College of the Atlantic, Bar Harbor, 1:30PM
Brenda Norrell has been a news reporter in Indian country for 29 years, serving as a writer for Navajo Times and a stringer for AP and USA Today during the 18 years she lived on the Navajo Nation. After being a longtime staff reporter for Indian Country Today, she was censored and terminated. She then created Censored News, focused on Indigenous Peoples and human rights, now in its fifth year.
Source:
http://bsnorrell.blogspot.com/2015/09/maine-new-film-on-battle-of-penobscot.html