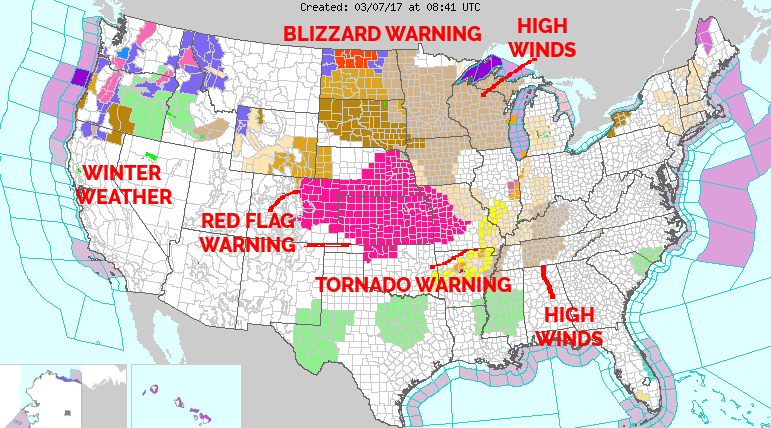 NATIONAL OVERVIEW
…Another round of heavy snow is expected across the Pacific Northwest and inland to the Northern Rockies over the next couple days…
…A line of showers and thunderstorms will continue to push across the eastern U.S. today…
…Snow showers are possible for the northern Upper Mississippi Valley and Upper Great Lakes today and Wednesday…
As has been the pattern, as one low pressure exits the Pacific Northwest, another one approaches. This next incoming low is expected to make landfall by this evening, with a surge of moist air pushing inland ahead of the system. As such, expect yet another round of heavy rain along the coast of Northern California, Washington, and Oregon. Rain will change to snow as it moves inland and into the higher terrain. The snow will be heavy at times, persisting over the next couple of days in many locations. Winter Storm Warnings and Advisories are in effect from the Cascades eastward into the Northern Rockies for the incoming snow.
Meanwhile, a robust surface low pressure system is still driving the weather for much of the eastern U.S. This low is expected to slowly move northeast along the Quebec/Manitoba line today and tonight, reaching the Hudson Bay by Wednesday. A potent cold front extending southward from this low will continue to sweep eastward, impacting areas east of the Mississippi River and near the Gulf of Mexico today. Widespread rain and thunderstorms will be the main concern ahead of the cold front. The Storm Prediction Center has outlined a portion of the lower Mississippi and Tennessee Valleys as being in a slight risk for severe thunderstorms through today, and an area extending from Eastern Texas into the northern Tennessee Valley in a marginal risk. Please refer to the Storm Prediction Center for additional information on the threat for severe weather.
Another reinforcing cold front will protrude southward from Canada on the backside of the low. This will result in a strong push of arctic air into the north central U.S. Lingering moisture across the region will collide with this cold air to produce snow showers along the Canada border in the Upper Mississippi Valley today, and in the Upper Great Lakes tonight and Wednesday.
LOCAL NEWS
The Franklin Town Board of Aldermen met for their regular monthly meeting. Video and supporting documents are on the blog. [LINK]
LOCAL OUTLOOK
Rain chances increase ahead of a cold front passage Wednesday morning. Dry weather will persist following the front through Thursday before a weak system slides quickly by on Friday. Another, more substantial low pressure system will move across the area late Saturday into Sunday, bringing cooler temperatures and beneficial rainfall.
THREE DAY OUTLOOK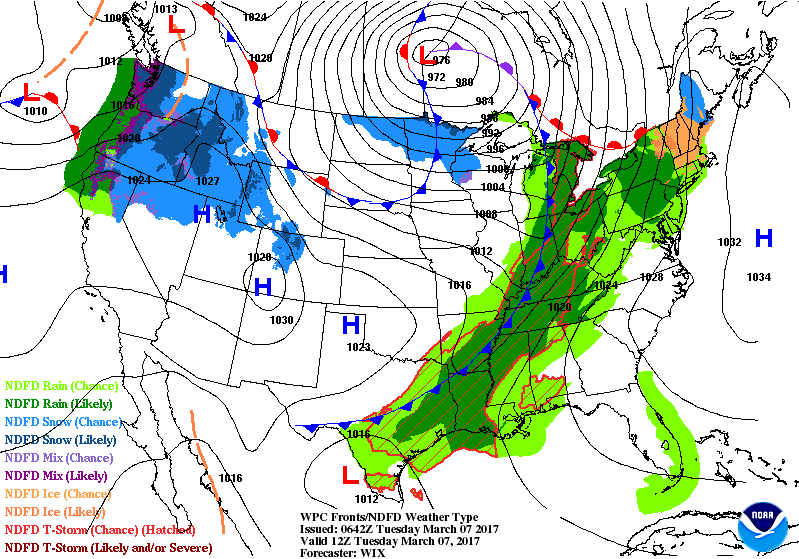 TODAY
Cloudy with highs near 60 and winds out of the south around 10 mph. 80% chance of rain, mainly after noon, with rainfall amounts between a quarter and a half an inch expected.
TONIGHT
Rain, mainly before 3 am, with lows near 40 and winds calming after midnight. Rainfall amounts between q quarter and half an inch expected.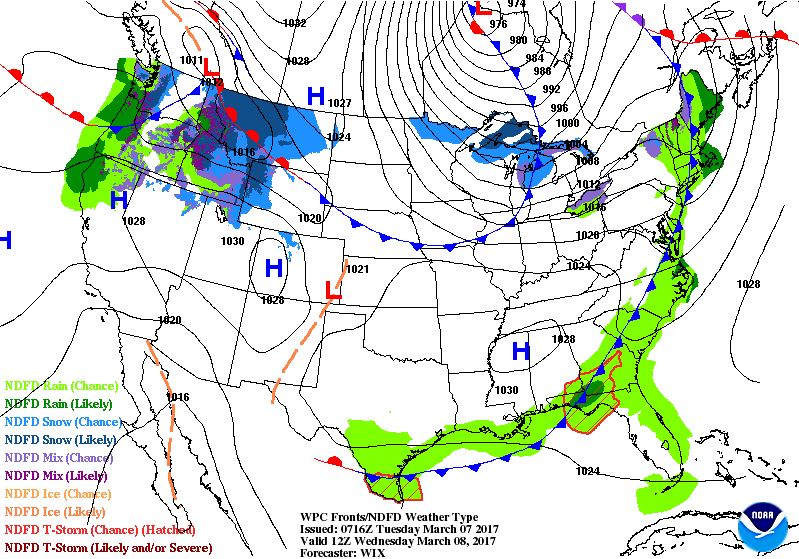 WEDNESDAY
Sunny with mid near the low to mid 60sand winds out of the northwest 5 to 10 mph, gusting to the 20 to 25 mph range.
WEDNESDAY NIGHT
Mostly clear with lows near 30 and light winds out of the northwest.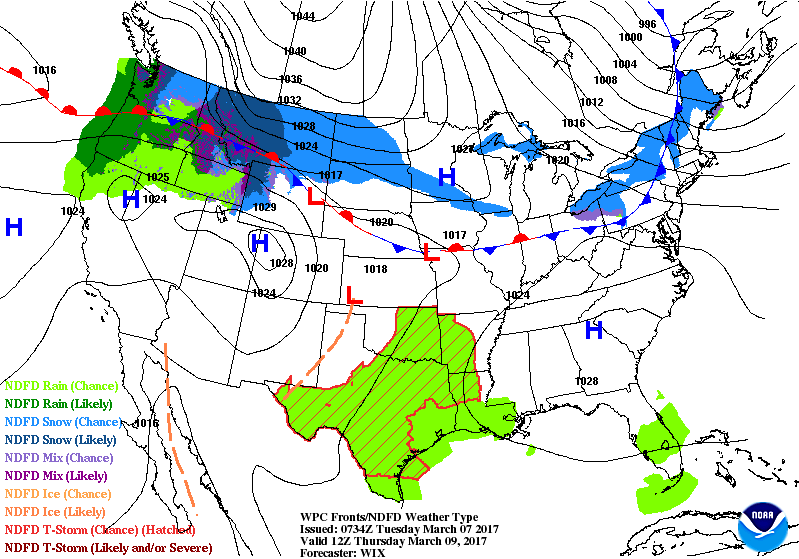 THURSDAY
Sunny with highs near the mid 60s.
THURSDAY NIGHT
Partly cloudy with lows near 40.
HAZARDS

Hazardous weather is not expected today.
As always, you can check to see what advisories, watches and warnings are in effect for Macon County by visiting http://is.gd/MACONWARN
MACON CALENDAR
If you have an event you wish to be added to this calendar, please send the information, along with a flyer of photo, to [email protected]
There is no charge for civic, educational or non profit groups.

BENEFIT 4 BRITTANY & DIANE
Saturday, March 25 at 5 PM – 9 PM
at Cartoogechaye Elementary School
Learn more about it on Facebook at https://www.facebook.com/events/1271875169584301/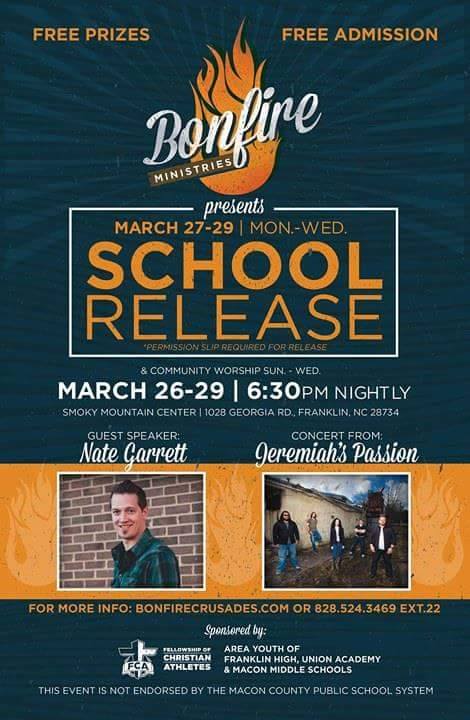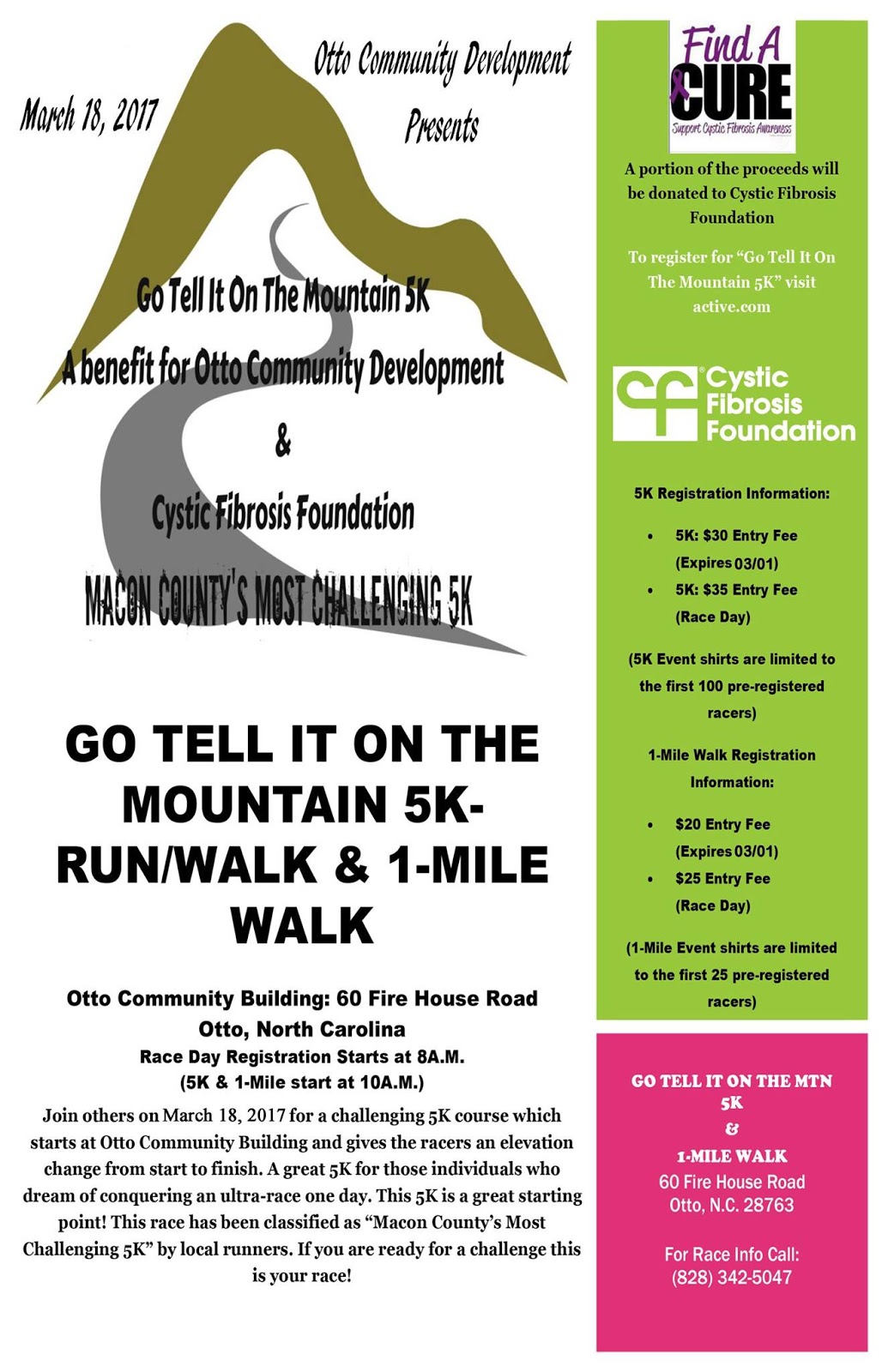 CROWD FUNDING OR DAY SPONSORSHIP OPPORTUNITIES
If you receive value from what Macon Media provides to the community, please consider becoming a supporter and contribute at least a dollar a month.
If you have a business or event you are interested in sponsorship opportunities or underwriting coverage, send an email to edit[email protected] for more information. Serious inquiries only.
Thank You to the people who have been sending in donations and those businesses who are underwriting coverage of news and events. You have kept Macon Media online. You have made it possible for Macon Media to begin purchasing state of the art equipment and begin work on building a real website with features not employed by any local news outlets.
You can find out more information on how to do that and some of what I plan to accomplish if I reach certain levels of funding at >>
https://www.patreon.com/MaconMedia
Published at 4:20 am on March 07, 2017
#WNCscan #MaconWx #MaconSafety
Source:
http://thunderpigblog.blogspot.com/2017/03/wx20170307.html