Hat tip Inner Peace
"Misogyny plays a role. That just has to be admitted."



It never ceases to amaze me how a woman can say so many words and say nothing of substance. Hillary Clinton spent an entire campaign doing just that. Now she is writing yet another book and starting to speak publicly again. Why not? She gets over $250,000 a speech.
In this interview last week with liberal NY Times writer Nicholas Kristof, she blames misogyny (as well as the FBI director) for her defeat in the election.
"Anybody's fairer than you."
This woman is incapable of telling the truth and is incapable of admitting her own flaws. There is always an excuse. It's always someone else's fault. Narcissism? Sociopathy? I have no idea. I am not a psychiatrist, but there is something deeply wrong with this woman's thinking. The American people finally realized it in sufficient numbers. She should be embarrassed to lose to a businessman who had no previous government experience and his own flaws dripping off his sleeve.
Fortunately, due to her advancing age, I think we don't have to worry about her any longer in the political front. However, she will find a way to keep herself in the public spotlight with her dopey books and empty speeches that will bring her more millions.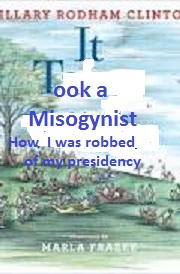 Misogyny!!