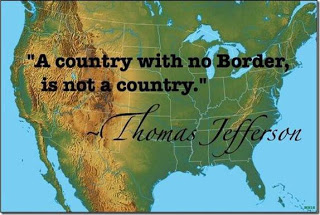 By Douglas V. Gibbs
The exodus of illegal aliens out of the State of Maryland is about to begin.
Maryland has been among the States with legislatures working on creating a bill to make their State a Sanctuary State. Never mind that such a move is in opposition to constitutional federal immigration laws, making Sanctuary laws a violation of the Supremacy Clause in Article VI. of the United States Constitution. The legislature in Maryland withdrew the bill after outrage surfaced from citizens of the State, Trump's Attorney General Jeff Sessions sent a rebuke, and the governor of Maryland threatened to veto the bill.
The bill was called the
Maryland Law Enforcement and Governmental Trust Act
, and its defeat may be linked to the outrage of Maryland's population over two Montgomery County high school students, at least one of whom is an illegal immigrant, being accused of raping a 14-year-old girl inside a school restroom.
The other States pushing legislation for "sanctuary" status are California, New York, Illinois and Nevada.
The Democrats in Maryland are vowing to continue the fight, unhappy that the leadership of their party in the Maryland legislature has compromised on the issue.
"We are not going to stop until we have justice and protections for everyone in the State of Maryland," Delegate Cheryl D. Glenn, Baltimore Democrat, said in a rally Monday afternoon in Annapolis.
U.S. Immigration and Customs Enforcement's list of sanctuary cities tallies three communities in Maryland that have local policies shielding illegal immigrants from federal agents: the city of Baltimore and Montgomery and Prince George's counties. Across the country the list is 142 jurisdictions long – which has actually been reduced from last week, which had it at 151 jurisdictions.
– Political Pistachio Conservative News and Commentary