This is where material will go for live coverage for people who don't have facebook. Posts will be in reverse chronological order (newest at the top and oldest at the bottom).

Local Public Safety Radio Traffic
Live Audio of local Public Safety Radio Traffic so you can be aware of what areas to avoid and so you can get the gist of local weather conditions is available at MaconScan.com. It is a function of public safety to have radio traffic available so the public can be aware of potential local hazards and they can know when it is dangerous to be out and about and what areas to avoid for their own safety.
---
SEVERE THUNDERSTORM THREAT FOR TODAY AND TONIGHT
APRIL 5 ,2017
9:00 am
There is potential for severe weather in two rounds today. The first will occur in the mid morning to early afternoon hours and the second, more dangerous situation, will occur around or after 8 pm tonight. Please be weather aware and keep a radio or other weather alerting device on nearby today and tonight.
The National Weather Service has issued a Hazardous Weather Outlook that includes Macon County. A copy is posted below:
..WEDNESDAY...Severe weather possible. A strong cold front will approach the region from the west late Wednesday. Scattered to numerous thunderstorms are expected to develop along and ahead of the front. Conditions are expected to be favorable for severe thunderstorms capable of producing damaging winds, large hail, and isolated tornadoes. Localized flash flooding will also be possible.
..THURSDAY…High winds possible. In the wake of the cold front, strong west to northwest winds will develop across the area. Winds may become strong enough from Thursday into Thursday night to cause at least isolated downed trees and power lines.
As always, you can check to see what advisories, watches and warnings are in effect for Macon County by visiting http://is.gd/MACONWARN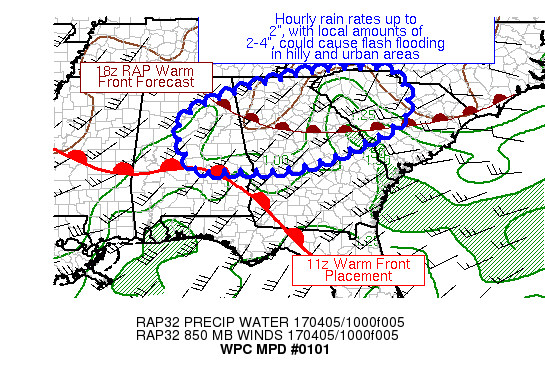 MESOSCALE PRECIPITATION DISCUSSION 0101…Correction
NWS WEATHER PREDICTION CENTER COLLEGE PARK MD
827 AM EDT WED APR 05 2017
AREAS AFFECTED…PORTIONS OF AL, GA, AND SC
CONCERNING…HEAVY RAINFALL…FLASH FLOODING POSSIBLE
VALID 051220Z – 051805Z
SUMMARY…BURGEONING CONVECTION IS EXPECTED TO SHOW PERIODS OF TRAINING OVER PORTIONS OF AL, GA, AND EVENTUALLY NORTHWEST/CENTRAL SC. WITH HOURLY RAIN RATES UP TO 2″, AND LOCAL AMOUNTS UP TO 4″, FLASH FLOODING IS POSSIBLE IN HILLY TERRAIN AND URBAN AREAS.
DISCUSSION…THUNDERSTORMS CONTINUE TO INCREASE IN COVERAGE AND INTENSITY (WITH COOLING CLOUD TOPS) UP TO 100 NM NORTHEAST OF A WARM FRONT, WITH A RECENTLY DEVELOPED LONG CONVECTIVE BAND ACROSS PORTIONS OF CENTRAL AL AS OF 12Z. INFLOW AT 850 HPA TO THE SOUTHEAST OF AN OCCLUDED CYCLONE IS BROADLY 30-40 KTS OUT OF THE SOUTHWEST PER VAD WIND PROFILES, WHICH IS IMPORTING MUCAPES OF 2000-3000 J/KG OVER THE BOUNDARY. DIVERGENCE ALOFT IS PLENTIFUL SOUTHEAST OF THE DEEP CYCLONE. PRECIPITABLE WATER VALUES, PER THE BMX SOUNDING, ARE ABOUT 1.5″ (GPS PW INFORMATION LOOKS WAY TOO LOW ACROSS AL/GA).
A LONG BAND HAS ALREADY SET UP IN AL (WHICH HAS BEEN HANDLED REASONABLY WELL BY THE 06Z NAM CONEST). UNFORECAST CONVECTION HAS BEEN FORMING ACROSS PORTIONS OF GA AND RAP BASED MASS FIELDS DO NOT APPEAR TO BE MOIST ENOUGH PER THE BMX SOUNDING. BELIEVE LOCAL AMOUNTS IN THE 2-4″ RANGE SHOULD BE EXPECTED, MAINLY WITHIN LONG TRAINING BANDS THOUGH SOME BACKBUILDING IS POSSIBLE AS LOW-LEVEL INFLOW RAMPS UP SLIGHTLY FURTHER, WITH BACKBUILDING MOST LIKELY NEAR THE WARM FRONT. LONG BANDS WILL GENERALLY BE NECESSARY FOR HIGHER RAIN RATES AS FORWARD PROPAGATION TO THE EAST-NORTHEAST AT 40-50 KTS IS EXPECTED. WITH INCREASING MOISTURE/INSTABILITY BEING IMPORTED AHEAD OF THE OCCLUDED CYCLONE, HOURLY RAIN RATES SHOULD LOCALLY PEAK IN THE 2″ RANGE, WHICH WOULD BE PROBLEMATIC IN URBAN AND HILLY AREAS WITHIN THE REGION. THERE IS A WINDOW ROUGHLY BETWEEN 14-16Z WHERE CONVECTION SHOULD EVOLVE FROM MORE ELEVATED TO MORE SURFACE BASED AS CIN ERODES, WHICH COULD ALSO ALLOW FOR POTENTIAL BACKBUILDING. FLASH FLOODING IS MOST POSSIBLE WITHIN URBAN AREAS AND HILLY TERRAIN.
END UPDATE
---
Source:
http://thunderpigblog.blogspot.com/2017/04/severe-thunderstorm-coverage-am-edition.html