"Like Rubies Ringed With Gold"
by Chet Raymo
"Here's a Hubble Space Telescope
composite photograph
of two colliding galaxies in the constellation Corvus.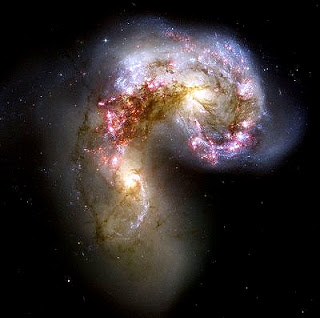 Each of the three books of Dante's "Divine Comedy" ends with the same words: "the stars." The Inferno concludes with distant stars glimpsed through the narrow exit of hell. "We emerged," says the poet, "and saw the stars." The poet's journey through Purgatory ends on Earth's highest mountain, with the heavens seemingly not so far away. He is "ready to ascend to the stars." Finally, Dante looks down upon the stars from above, from the luminous realm of Paradise. He has experienced "the Love that moves the sun and the other stars." The beauty of that final destination, the Empyrean Sphere that encloses the created universe in divine brilliance, taxes the poet's powers of description:
"I saw light in the shape of a river
Flashing golden between two banks
Tinted in colors of marvelous spring.
Out of the stream came living sparks
Which settled on the flowers on every side
Like rubies ringed with gold…"
Nothing in Dante's experience could have prepared him for the splendors of the heavens as revealed by the Hubble. The photograph of colliding galaxies in Corvus is a work of genius in the tradition of the "Divine Comedy" – imagination in service to humankind's loftiest aspirations and longings.
In Dante's time, astronomy was one of the seven liberal arts – with grammar, rhetoric, logic, arithmetic, geometry, and music – required of every student who aspired to a university degree. Of all the secular sciences, astronomy was deemed most likely to lead one to the contemplation of things divine. Yesterday's Hubble pic made the hair stand up on the back of my neck, which is about as close to the divine as I ever get. Dante's "Divine Comedy" is based on the medieval astronomical conception of the world – a system of concentric spheres centered on the Earth and bounded just up there by the Empyrean.
In the Hubble photograph of colliding galaxies we see something akin to Dante's paradisal vision, but it is not a cosmos centered on the Earth. Here are other Suns and other Earths being born, in prodigious numbers, massive stars destined to die soon as supernovas, and other less massive stars that will live long lives, perhaps evolving life or consciousness on their planets. We see in the Hubble photograph a universe of a fullness and dimension that makes Dante's human-centered cosmos of concentric spheres seem like a dust mote in an immense cathedral.
Astronomy is no longer a required course of study in our universities, and it's something of a shame. Who can look at the photograph of colliding galaxies and not be moved to rapture? An understanding of the size, age, and prodigality of the universe should be part of every liberal arts graduate's intellectual furniture."
- http://
blog.sciencemusings.com/
Source:
http://coyoteprime-runningcauseicantfly.blogspot.com/2017/03/chet-raymo-like-rubies-ringed-with-gold.html