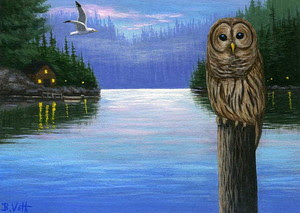 "The hiding places of my power
Seem open; I approach, and then they close;
I see by glimpses now; when age comes on,
May scarcely see at all, and I would give,
While yet we may, as far as words can give,
A substance and a life to what I feel…"
"These few lines from Wordsworth's "The Prelude" leapt off the page at me this morning. They capture well enough what my life has become. All those years of teaching, of writing in the Boston Globe, were years of sharing public knowledge, knowledge that had been vetted by the scientific community. The work was not about me. The teacher was me, the writer was me, but what I taught and wrote was reliable, consensus knowledge of the world. A student in my classes or a reader of my newspaper columns would have been hard pressed to know my politics or my religion or the nature of the questions that came in the darkest hours of the night. And that is the way it should have been; that was my homage to objectivity.
Those were valuable years, years of building up a sturdy polder in the sea of mystery, a place to stand with a firmness of foot. And now, in retirement, with time on my hands- and on my mind- I find myself more inclined to explore what Wordsworth called "the hiding places of my power." I approach. They close. I touch with my hand the surface of the pond that Pat wrote about the other day; my hand comes out of the depths to meet me. I see by glimpses. It is, I suppose, a kind of forgetting. With the forgetting comes a certain freshness. My fingertip touches the surface of the world from above and from below, and concentric circles spread outwards, rippling, like a soundless sound, and I struggle, in words, as best I can, to give a substance and a life to what I feel.
This does not mean, I trust, that I am going soft, finding supernaturalist religion or getting all New Age squishy as "age comes on." I keep my feet planted on solid fact and read my weekly "Science" and "Nature" along with my Wordsworth. No, it is rather a simple freedom to explore the hiding places, attending to private particulars as opposed to public universals, listening for the small voice that whispers from the nooks and crannies of yet unassimilated reality.
There is a passage in "The Prelude" where a young Boy (the poet?), standing in evening air by the glimmering lake, makes a mimic hooting with his hands to his mouth and the owls answer. Twooo-twooo. And the reply. Twooo-twooo. Then, unaccountably, the answers cease. And in the silence the boy becomes more keenly aware than ever of water, rocks, and woods, and mountain torrents, "that uncertain heaven, received into the bosom of the steady lake." Thoreau has something similar. He rejoiced in owls; their hoot, he said, was a sound well suited to swamps and twilight woods. The interval between the hoots was a deepened silence, suggesting, to Thoreau, "a vast and undeveloped nature which men have not recognized." It is that that I now attend: the deepened silence between the hoots."
Source:
http://coyoteprime-runningcauseicantfly.blogspot.com/2017/03/chet-raymo-silence.html