Story Views


Now:
Last Hour:
Last 24 Hours:
Total:
Ryan's Unforgettable TrumpCare Failure!!!
Saturday, March 25, 2017 12:25
% of readers think this story is Fact. Add your two cents.

As it turned out Freedom Caucus Tea Party Republicans, who wanted no real replacement to help Americans buy insurance, resulted in moderate Republicans voting no on Paul Ryan's TrumpCare monstrosity. Take note, every Wisconsin GOP Representative would have voted for the final version of this cruel inhumane joke.
The fact that Paul Ryan never came up with, or tried to put together, an agreeable GOP plan in seven years cannot be lost in all of this. TrumpCare finally exposed this self-righteous fraud.
Trump:

"We will have so much winning if I get elected that you may get bored with the winning."
Ryan Comment #1:
"Moving from an opposition party to a governing party…?"
No, really, you think?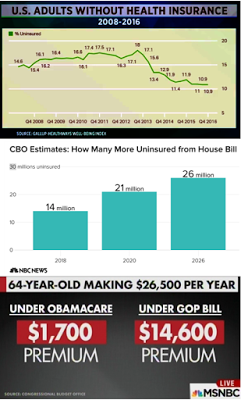 Ryan Comment #2: "Are we willing to say yes to the good, the very good even if it's not the perfect?" 24 million losing their health care is "very good" and "not the perfect?" Like it's close, right?
Ryan Comment #3:
"I'm really proud of the bill we produced. It would make a dramatic improvement in our health care system, and provide relief for people hurting under ObamaCare."
My god what is wrong with this guy…see picture —————————–
Ryan Comment #4: "So I don't think the architects of ObamaCare…I'm sure they may be pleased right now, but when they see how bad this thing gets…I don't think they're going to like that either." Sneaky. Ryan is promising not to lift a finger to fix the ACA in the future. And repeal still hangs over insurers, who may see no future in staying on the exchanges. That makes this the GOP's fault. Modern HealthCare:

Experts expect HHS Secretary Tom Price to try to pare down those mandates through rule-making.



Insurers have complained that the huge uncertainty caused by the GOP effort to repeal and replace the ACA has made it difficult or impossible for them to make plan and rate decisions for 2018. Some say they're weighing whether to withdraw from the individual market. And that was before House Republicans and the White House last week unveiled their proposal to erase the ACA's minimum essential benefit requirements. "This is adding even more uncertainty to an already-uncertain situation, making it unlikely insurers would continue to participate," said Cynthia Cox, associate director of health reform and private insurance for the Kaiser Family Foundation.
Trump wont fix ACA, also set it up to die from uncertainty for insurers, and then blamed the Democrats? Here's Trump's promises, his failure and MSNBC's Joy Reid showing Democrats just how to drive the point home over and over again, never letting Republicans off the hook:
Changes proposed to attract additional Republican votes for the party's bill will narrow the amount of deficit reduction by more than half, according to the nonpartisan CBO.
Many
Republican governors
were relieved they wouldn't have to make really really unpopular cuts:
The nonpartisan Kaiser Family Foundation found in a study this week that trying to maintain the existing levels of Medicaid coverage would have taken cuts equal to one-fourth of some state governments' education budgets to keep the coverage without raising taxes, the report found.
Trump Denied ever saying Repeal and Replace? Well….



NJ Democrat Frank Pallone nailed Republicans for voting yes…should have gotten more press:



Important Health Care Points:

There also were concerns that eliminating the federal benefit rules or delegating benefit determinations to the states could drive up premiums for people with chronic conditions. In addition, removing the essential benefits requirement would essentially neuter the ACA's ban on insurers setting annual and lifetime caps on benefits, since they could set limits on services that are not required benefits. Removing the basic benefits mandate also would make it harder for consumers to shop and compare plans.
Oops, Ad's thanked Republicans for ACA repeal! Premature victory laps are embarrassing enough, but don't be surprised if the GOP starts congratulating itself for not repealing the ACA…that's next:
Basketball fans in several Republican-adjacent TV markets are enjoying a series of ads, prematurely bought by the American Action Network PAC, inviting viewers to call their representatives to thank them for repealing Obamacare today—something that did not happen.



Ads praising Virginia's Barbara Comstock; it ran during the Wizards-Nets game … ads for Fresno's David Valadao and Des Moines's David Young; both ran on CBS stations before March Madness coverage. Money well-spent, we think.
A former liberal radio talk host who likes to ask the "follow-up question" at Democurmudgeon.blogspot.com
Source:
http://democurmudgeon.blogspot.com/2017/03/ryans-unforgettable-trumpcare-failure.html