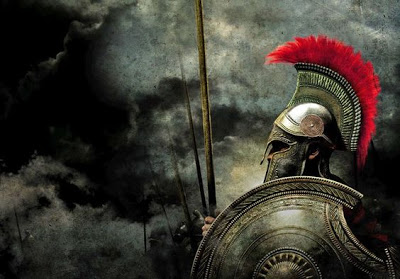 "Earth & Water, Part I – Feet of Clay"
"All of my heroes have feet of clay."
"I don't recall exactly which thread the above quote originated from but it has been stuck in the back of my mind for months. Like a mosquito on a hot summer night, while you're trying to sleep, it hums in my ear and distracts me from the task at hand. Most of the time it sounds like he's close so I slap and grab in the dark but realistically, in the silence of the night he's probably a good foot or two away which means all I'm swatting and grabbing at is air. So now I've got a choice. I can hope he goes away and that eventually I'll get some sleep or I can get up, turn on the light and do something about it.
So I'm getting up and turning on the light.
Now I don't know if Hardscrabble even remembers writing these words, but I do even though I can't remember the context or whether he was lamenting the loss of virtue in our leadership or making a simple statement of fact. Either way, it set me to thinking about a lot of things but mostly about men, history, our expectations and the future.
That's a lot to think about, coming from an off the cuff comment on a blog, but then I guess that's the reason a lot of us show up.
So anyways, I start thinking about this statement and how there's a lot of clay to go around and how there probably always has been. And I wonder if maybe that's just the nature of the beast?
As I look back further into history I see a common thread emerging amongst heroes and great men.
The Athenian's success at Marathon is largely attributed to Miltiades and a handful of other generals including Themistocles. Yet neither man was virtuous, even though they are revered today for the roles they played in defeating Darius and eventually Xerces during the Greco-Persian wars.
Miltiades was a governor and a tyrant in the Thracian Chersonese whose colony was eventually overrun by the Persians and who was subsequently pressed into the service of the Persian army as Darius and his troops made their way into Scythia. Eventually, Miltiades fled his Persian masters, took part in the Ionian revolt and when that collapsed, returned to Athens where he received a cold reception, the Athenians being less than impressed with his style of governance in the Eastern colonies.
Miltiades likely avoided either prison or exile by convincing the Athenians that his knowledge of Persian culture and tactics would be useful in a conflict with the Persian Empire that at that stage appeared unavoidable. The Athenians agreed and made him a general.
By modern standards, Miltiades was an assh**e. I'm not sure if he was a "pussy grabber" but I suspect given the age in which he lived he was probably that and worse. Yet without his misadventures and failures in the Thracian Chersonese and without his perspective on the Persian thought processes, the Western world might look differently today as a result. Miltiades may have been an overbearing tyrant at a time when the Athenians were discovering democracy but he was clever and strong and was able to not only route a Persian army three times Athen's size at Marathon but to completely and utterly crush it in the process.
Themistocles was probably a better man than Miltiades but he was still a politician and a man who coveted power. He was a populist of sorts among the Athenians because he came from a non-aristocratic background. He rose to power in Athens on the backs of the lower classes and occupied the position of Archon Eponymous. For years he battled other politicians and probably used political subterfuge to dispatch his rivals while he built a new navy for Athens in preparation for future conflict.
His political ambition coupled with a streak of arrogance and skill eventually led to victory over the Persians during the naval battle of Salamis. It also led to his downfall and eventually his self-imposed exile from Greece itself. In a twist of cruel fate, after the Persians had been defeated on the rocky plain of Plataea, Themistocles, who was now embroiled in more political conflict than he could handle, fled to Asia and entered into the service of the Persian king, Artaxerxes where he lived out his days as a governor in the Persian empire.
The lives of these men, these heroes of ancient Greece, the forefathers of western civilization, makes me pause and think.
Each day I seem to read another article or watch another video telling us that the west is finished, that there is no hope. Often the authors, mostly libertarian types like me, lament a lack of principled leadership, of nations overrun by marxist filth and invading hordes of foreign men who spit on our laws and traditions. Periodically they even piss on anyone bold enough to attempt to do anything about it.
This happens so frequently in the blogosphere these days that I admit, at times, things seem truly bleak. But those who say it is too late or that we are at the end of western history are ignorant of time's and life's complexity.
In part, I think our minds have been poisoned by the media and we simply fail to realize it. We keep expecting a knight in shining armor, flawless and principled to lead the way. This is Hollywoodism. It is also a sign of our own naivete.
Our heroes are here today. In some places,
they occupy obscure political positions
and in others, they walk among us. We cannot see them because they do not meet our expectations and because they are of our own time. But make no mistake they are here and their moment is approaching.
Our error is in believing that they will be good men. But like Miltiades, not all heroes are virtuous. They just need to be the right men in the right place at the right time. And they will need to be strong. Indeed, history shows us that as fleets of men float helplessly in the currents of time that a few, both the virtuous and unvirtuous, will raise their sails and 'heave to' into the storm.
Poetic license aside, some twenty-five hundred years later these men, with feet of clay, are still heroes. Of course, this begs the question, who and where are they today and why do we need them?"
Source:
http://coyoteprime-runningcauseicantfly.blogspot.com/2017/03/earth-water-part-i-feet-of-clay.html