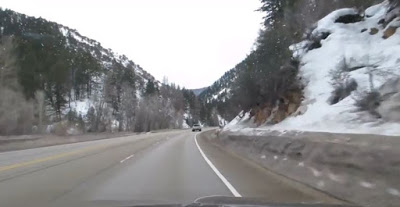 The Rocky Mountain Sasquatch Organization travels through bigfoot country, Daniels Canyon, on their way to Skinwalker Ranch. If you haven't heard of Skinwalker Ranch, you should Google it sometime.
In northern Utah there exists a "ranch" so strange, so bizarre, that the National Institute for Discovery Science (owned by Las Vegas businessman and billionaire Bob Bigelow) purchased it solely for scientific research purposes.
Located in the Uintah Basin near the town of Fort Duchesne, paranormal phenomenon such as strange creatures, bizarre objects, flying black triangles, animal mutilations, and telepathic messages, have been reported on the 480 acre Skinwalker Ranch for hundreds of years.
It is estimated that over half the population in the area surrounding the ranch have witnessed unusual paranormal activity on, or near what became known as the "Strangest Place on Earth". Even the local Ute Indians believe the land to be cursed – and tribe members are strictly forbidden to enter the property. – Altered Dimensions
Thanks http://bigfootevidence.blogspot.com
Check out more contributions by Jeffery Pritchett ranging from UFO to Bigfoot to Paranormal to Prophecy
~~~~~
Most people who use social media have figured out that Facebook and Google are in cahoots with the government. For those who are well aware of the issues, it's high time you switched over to Seen.life. It is a website that is similar to Facebook but without all the censorship.
Firearm friendly, you may buy sell or trade anything allowed by site TOS rules.