The Old Hag Syndrome, UFO Abduction or Sleep Paralysis?
By Paul Dale Roberts, HPI General Manager/Ghostwriter/Fortean Investigator
BELOW IS A BLAST FROM THE PAST!
Deanna Jaxine Stinson as the Spider Goddess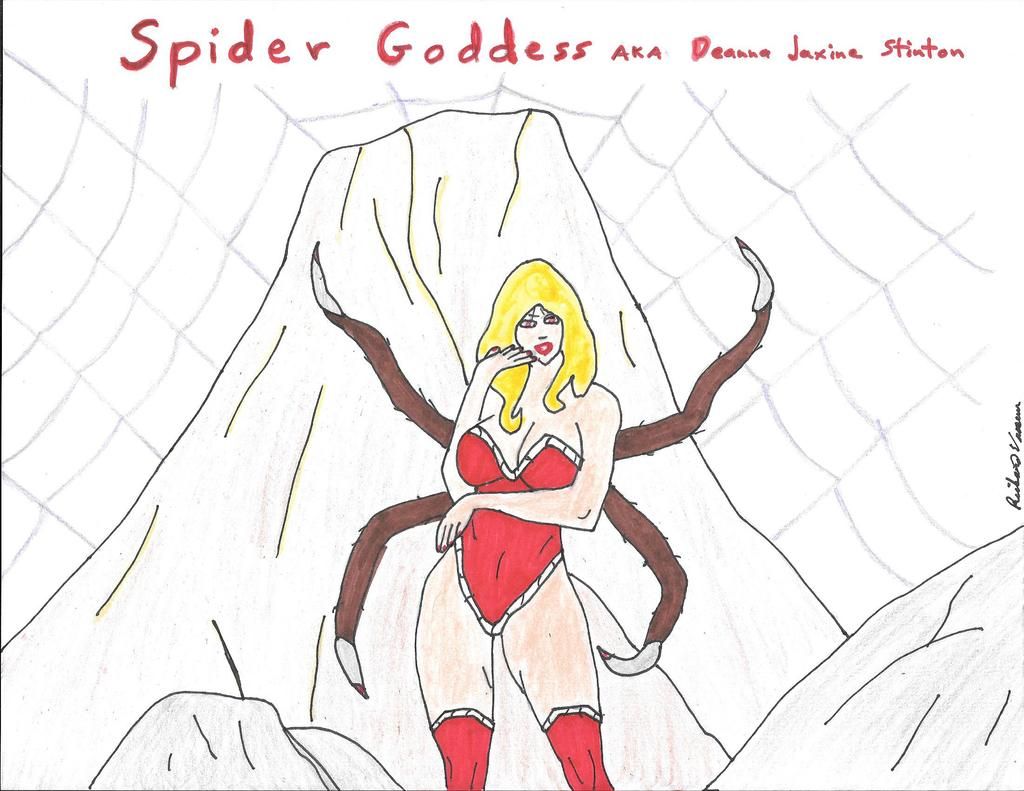 It's July 14, 2009, Tuesday. The day is extremely hot and I am headed to a residential home in Citrus Heights with Shannon 'Ms. Macabre' McCabe in her vehicle a blue Pontiac Solstice that we affectionately call Ectoplasmamobile 1. Jason Buchello, occupant of this home is excited to see us. The first thing he has us hear are the EVPs that he has collected from his home. We hear an EVP of a strange knocking in the hallway and we hear an EVP he has recorded that almost sounds mechanical in nature.
He tells us that he once saw a short dark figure that came from the back of his bed towards his fish tank. He has seen many lanky tall shadowy creatures around his bed looking down upon him, while he tried to sleep.
Most of the occurrences happen from 2:30am to 3am. His friend Bryan Clay once felt something touch his thumb, like it was pressing down on his thumb. When he looked at his thumb, it had the impression marks of something pressing hard against his thumb. Another night Bryan felt a strange coldness around his feet area, when the room was warm. The coldness around his feet happened quickly and he has no explanation for it.
Jason has seen the dog bed move after his dog walked away from the bed. The lights have turned on by themselves. Once Bryan crawled into the bed and the bed cover felt like an X-ray blanket, it was heavy and he felt confined to the bed.
Jason at times when laying in bed, feels like he is paralyzed, he can't move, he feels like he is fighting an invisible force and sometimes his bed cover will feel extremely heavy. Jason will never forget when the pillow was actually stuck behind his neck. It was like if someone glued the pillow to his neck.
Jason also gets plenty of nightmares, like running through yellow grass and ends up at an oak tree. The ground will get muddy and he does not understand this dream or its elusive interpretation.
Jason has some of the examples of a classic alien abduction case. He sometimes hears a buzzing sound. He sees tall entities around his bed (but, not your classic Grays). He has missing time episodes. He hears strange mechanical noises. He experiences the Oz Factor and everything is very surreal to him. The occurrences happen from 2:30am to 3am. His computer will start for no reason at all.
What is missing is that he has no scoop marks on his skin. No alien implants that he knows of. He has no flashbacks of being someplace that would be considered 'alien'. He sees no strange lights. He can't see any faces of the entities that stand over his bed. He doesn't feel like he has ever floated anywhere (like some abductees feel like they levitate from their beds to the spaceship). He is missing some elements of a classic alien abduction case.
He feels a heaviness on his chest, struggles to breathe as in some cases like the Old Hag Syndrome, but does not see an old hag sitting on his chest. As we continue the interviews and investigation, Shannon and I pick up on two possible EVPs using the 'McCabe Method' and they will have to be analyzed further. 8pm we get what sounds like a female whisper EVP, then at 8:07pm we get an EVP that sounds like a woman saying 'hey you'.
Jason plays back an EVP he recorded that sounds like a man saying 'Ow!'. Jason is a subject to neuropathy, the loss of feeling in one leg and I wonder if this may have any complications to what he is experiencing?
Shannon left her video camera running all night and we will be analyzing any evidence captured on video. This case is pending.
Marysville Investigation was on Channel 13, see broadcast here:
http://cbs13.com/watercooler/marysville.paranormal.investigators.2.1082169.html
Watch "2012 The Real Truth" by Shannon McCabe & Paul Dale Roberts. A behind the scenes documentary of the Penn & Teller "Bull****" Show. "The Apocalypse" is airing on Penn & Teller's "Bull****"- Showtime Television July 16th, 2009, now see the videos at this link:
http://www.shannonmccabe.com/home.html
Marysville Investigation Article, found here:
http://sacramentoparanormalonline.com/Blog/?p=30
The Ghost in the Garage: Marysville Video by David Mace:
http://www.youtube.com/watch?v=N7uCpaPz5cc
Learn how you can go with Paul Dale Roberts on preliminary scouting missions! Read about it here, this will happen on every furlough Friday!
http://forums.jazmaonline.com/topic.asp?TOPIC_ID=1150
Shannon & Paul on Pay-for-View TV:
http://www.facebook.com/ext/share.php?sid=130057555349&h=cXbco&u=kwszs&ref=mf
Chantal Apodaca aka Lady Luminous, see it at this link:
http://s643.photobucket.com/albums/uu157/PaulDaleRoberts_2009/Capay/?action=view¤t=LadyLuminouscolored.jpg
HPI T-Shirts can be found here:
http://hpiparanormal.spreadshirt.com/us/US/Shop/Index/index
Paul Dale Roberts, HPI General Manager, Paranormal Investigator &
Ghostwriter
Shannon McCabe's HPI
Haunted and Paranormal Investigations International
www.HPIparanormal.net
My comic book The Legendary Dark Silhouette is being made into a movie, see link below:
www.tldsmovie.org – You can actually get involved with this movie, find out how!
Mysteries of Angels & Demons featuring Demonologist Paul Dale Roberts can be purchased at:
www.ivesstreetentertainment.com
Paul on Wikipedia, click link below:
http://en.wikipedia.org/wiki/Paul_Dale_Roberts
www.jazmaonline.com
Staff Writer – Alien Seeker News – http://www.alienseekernews.com/
WPRT Paranormal Radio – Content Editor
Email: [email protected]
Paranormal Cellular Hotline: 916 203 7503 (for comments on this
story).
If you have a possible investigation call: 1-888-709-4HPI
Copyright 2009 Paul Dale Roberts, HPI Ghostwriter Copyright 2009
all rights reserved.