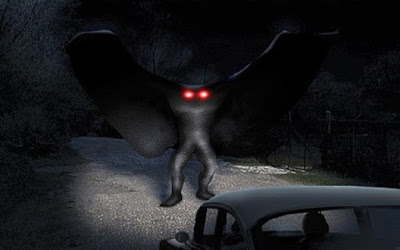 Phil Poling of the Parabreakdown youtube channel takes a look at a couple of new photos of one of my favorite cryptids, the moth man.
People who spotted Mothman described him as part human, part moth. The creature's wings reportedly expanded to 10 feet wide, and his eyes were described as glowing red. Mothman did not speak, according to witnesses, but emitted a shriek or a squeak.
The first reported sighting of Mothman happened near Clendenin, West Virginia. The next sighting happened five days later in Point Pleasant, which lies to the northwest of Clendenin. Some reports stated that the creature was white, while others compared it to an oversized bird. According to sightings, some of Mothman's activities include attacking cars and taking dogs.
No proof of Mothman's existence remains from the year of sightings. Analysts have postulated that the creature was actually a sandhill crane or a heron, while others suspect that Mothman was the work of local pranksters.
Thanks http://bigfootevidence.blogspot.com
Check out more contributions by Jeffery Pritchett ranging from UFO to Bigfoot to Paranormal to Prophecy
~~~~~
Most people who use social media have figured out that Facebook and Google are in cahoots with the government. For those who are well aware of the issues, it's high time you switched over to Seen.life. It is a website that is similar to Facebook but without all the censorship.
Firearm friendly, you may buy sell or trade anything allowed by site TOS rules.