The image of this area was blacked out by Google Sky as you can see in the video. Once this area was revealed on Sky View, It shows a pretty wild image.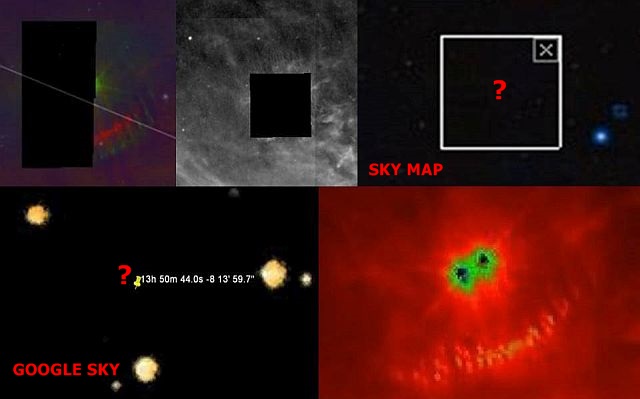 But the question remains, why would they want to black out this out on Google Sky? What is even more interesting it that it appears between the legs as the Virgin as Jupiter is set to pass through the womb area in September, 2017.
Many people see this Red Dragon-like object as part of the vision that matches to the event directly to biblical references from Revelation and other books.
They are convinced that these events align in this window around September 23rd and signs in the heavens will happen, right before the Big Solar Eclipse this year.
His tail drew one third of the stars of the sky, and threw them to the earth. The dragon stood before the woman who was about to give birth, so that when she gave birth he might devour her child.
The Woman and the Dragon
Then another sign appeared in heaven: a huge red dragon with seven heads, ten horns, and seven royal crowns on his heads. His tail swept a third of the stars from the sky, tossing them to the earth. And the dragon stood before the woman as she was about to give birth, ready to devour her child as soon as He was born. 5And she gave birth to a son, a male child, who will rule all the nations with an iron scepter; and her child was caught up to God and to His throne.…
Thanks http://ufosightingshotspot.blogspot.com/
Check out more contributions by Jeffery Pritchett ranging from UFO to Bigfoot to Paranormal to Prophecy
~~~~~
Most people who use social media have figured out that Facebook and Google are in cahoots with the government. For those who are well aware of the issues, it's high time you switched over to Seen.life. It is a website that is similar to Facebook but without all the censorship.
Firearm friendly, you may buy sell or trade anything allowed by site TOS rules.