Police State: States Are Cracking Down on the Biggest Protests Since '60s
Republicans in statehouses across the U.S. are devising legal tools to regulate public dissent as demonstrators take to the streets to protest President Donald Trump in waves not seen since the Vietnam War.
At least 10 bills to limit protests have been introduced in recent months. North Dakota is considering protection for motorists who unintentionally kill protesters blocking roads. Washington state Senator Doug Ericksen would punish those who "disrupt our economy." Next week, North Carolina Senator Dan Bishop will call for imprisoning people who intimidate ex-officials, after former Governor Pat McCrory was pursued down a Washington, D.C., alley by a group chanting "Shame!"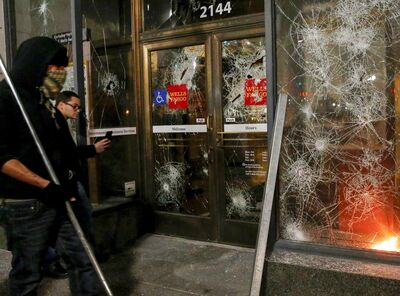 Damage from protests in Berkeley, California, on Feb. 2.
Source: Anadolu Agency/Getty Images
"That extends over the borderline of decency," Bishop said in an interview. Though such demonstrators are "constitutionally entitled" to express their views, he said, they aren't free to threaten violence.
Many of the bills, which critics say impinge on constitutional freedoms, were filed before Trump's election in response to Black Lives Matter and oil-pipeline protests. They've gained fresh relevance amid global women's marches and nationwide airport demonstrations over Trump's immigration ban. On Wednesday night, black-clad protesters set fires and smashed glass at the University of California at Berkeley, forcing the cancellation of a speech by a conservative writer.
Trump has expressed disgust with the displays, saying Thursday in a Twitter message that he might cut federal funds to Berkeley.
"Professional anarchists, thugs and paid protesters are proving the point of the millions of people who voted to MAKE AMERICA GREAT AGAIN!" Trump wrote on Twitter on Friday.
Protesters Unmasked
At the state level, bills have been proposed in Missouri to prohibit demonstrators committing illegal acts from wearing masks or robes; in Iowa, to levy five years in prison for traffic disruptions; in Washington, to punish protesters who interfere with commerce; and in Minnesota, to keep roads clear and allow governments to sue violators for costs. All are awaiting committee hearings or other legislative hurdles.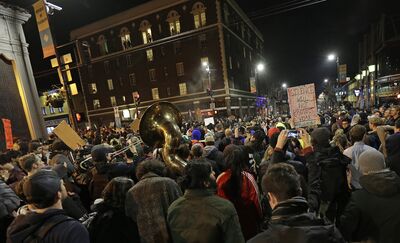 Demonstrators in Berkeley.
Photographer: Ben Margot/AP Photo
"I've been monitoring free speech legislation for about a dozen years now, and I've never seen anti-protest legislation in the states anywhere near as large as we're seeing this year," said Lee Rowland, a senior staff attorney for the American Civil Liberties Union. It's no coincidence that the bills are being introduced as record numbers of people protest, she said.
In Michigan, Representative Gary Glenn said he will reintroduce a bill to increase penalties for pickets who interfere with business or the enjoyment of one's home. The legislation, driven by demonstrations at the residence of an attorney general and $15-an-hour pay demands at fast-food restaurants, died in December.
"A bill like this is all the more needed in the current environment," Glenn said in an interview.
In recent years, opponents of financial injustice, police brutality and pipeline projects such as the Keystone XL have rekindled mass demonstrations — some with violent elements at their fringes — at a scale unseen since the Vietnam War. Unrest after police shootings cost Ferguson, Missouri, at least $5 million, and Baltimore at least $20 million, according to state and city officials.
In the two weeks since Trump was sworn in, protests worldwide have challenged the legitimacy of a president who won without a majority of the popular vote and who has moved to bar refugees from predominantly Muslim nations.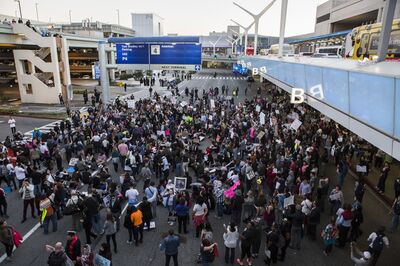 Demonstrator gather outside Los Angeles International Airport on Jan. 29.
Photographer: Dania Maxwell/Bloomberg
Legislative sponsors say the goal of their bills is to ensure public safety, not to squelch unpopular opinion.
"Imagine 100 people standing on a freeway, blocking the road and refusing to let you through because they're upset about the results of a court case or the decisions made by voters during an election," Minnesota Representative Kathy Lohmer wrote in a Jan. 27 post on the legislature's website.
In July, traffic on Interstate 94 in Saint Paul, Minnesota, was blocked for about five hours by 300 demonstrators protesting the fatal shooting of Philando Castile by police. Lohmer is sponsoring a bill to triple the $1,000 fine for such activity and allow for as much as a year of jail time.
The bill, pending in a transportation committee, hasn't been scheduled for a vote. Lohmer didn't return a phone message left at her office….Read more »