HAARP PICTURED ABOVE!
By: Voice of Reason
FOR MORE NEWS BY VOICE OF REASON CLICK HERE!
FIRST AND FOREMOST: If you are not familiar with HAARP or DARPA, might I suggest going HERE for a great background on HAARP from Forbidden Knowledge.com. The following is what DARPA is alleged to be:
DARPA – Defense Advanced Research Projects Agency is:
… an independent agency of the United States Department of Defense (DOD) that focuses on developing cutting edge technology to ensure that the United States remains ahead of its enemies. The organization has contributed a number of technologies to the United States military and the world in general, including the groundwork for the Internet. Many of the workings of this agency are kept concealed from the public, in the interests of keeping its technology under wraps so that it is not exploited by other nations.
The agency was founded in 1958, after the Soviet Union launched Sputnik, the first satellite. The United States government realized that it needed a small, mobile, independent research organization if it wanted to meet threats to American security quickly and decisively. Initially, the agency was called the Advanced Research Projects Agency (ARPA), and it focused on aerospace research and threats to national security such as nuclear testing by other nations.
By 1972, the organization's mission had evolved, and the government had added "Defense" to the title, turning it into DARPA. It began to focus on looking forward into the future, working on highly experimental technology in small, focused groups. This system continues to be used by the agency today, with it focusing on goal-oriented projects that are intended to improve America's military and defense systems.
DARPA has a number of divisions that are divided into smaller teams focusing on a variety of issues. Information technology is an important part of its research, for example, as are tools that are used on the battlefield, such as drones, armored vehicles, and communications jamming equipment. The agency also focuses on the threat of weapons of mass destruction, and it counters emerging threats to American security and information awareness. It has many small but very dedicated groups of active researchers and experiments, who may work together for up to five years developing a project and delivering a prototype.
Because DARPA technology is used to protect national security and make the United States more effective militarily, it is largely classified. It is also extremely advanced, since the organization focuses on technological superiority. Periodically, information about agency projects does reach the public, but the details are usually deliberately obscured. Civilians, for example, might be aware that it is working on a cloaking device for camouflaging soldiers, but they will not be aware of the mechanics of the system.
As a general rule of thumb, if you see DARPA and HAARP in the same paragraph, there is some REALLY CRAZY STUFF going on. It has largely been said that the technology that DARPA is working with TODAY is roughly 75-80 years past anything man could comprehend TODAY… so we'll know in about 80 years what the U.S. government was up to in 2015 by around 2100. Doesn't sound realistic?
PERHAPS YOU SHOULD LEARN WHAT OUR GOVERNMENT WAS DOING 70 YEARS AGO!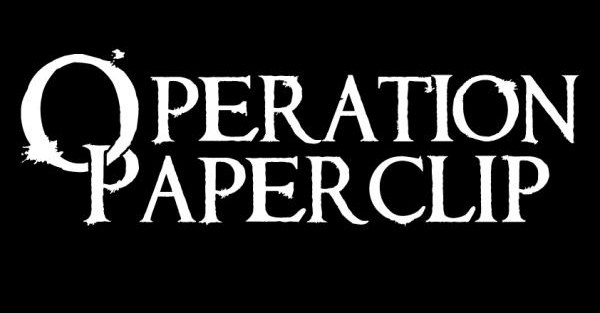 OPERATION PAPERCLIP SHOULD FREAK YOU OUT PRETTY GOOD!
It's no secret that Lockheed Skunkworks is the ultra top secret laboratory for Lockheed Martin where a great deal our nation's most precious high tech military hardware originated, and has had close ties to DARPA over the years. To put the previous paragraph in context:
"Ben Rich, former President and CEO of the Lockheed Skunkworks. "We now have the technology to take ET home." This a must see for anyone who doesn't think faster-than-light travel is possible, or harbors any doubt that we don't already know how to do it. Of course, for Mr. Shermer and the other paid, propaganda ministers at "Skeptic" Magazine, it IS just a story…right?"
[Audio/Video below cannot be seen in Newsletter - have to go to Blog]
If you're still reading this, then either 1) You aren't completely ignorant to the reality of how SICK and TWISTED our government is already, so none of this is a shock so far; or 2) You just read the post about OPERATION PAPERCLIP and are sufficiently horrified at what our government is capable of and figure you might as well read on…
Join my Twitter feed | Like my Facebook page
WHAT IS THIS HAARP THEN?
t's absolutely fascinating how many people still don't know about HAARP and weather modification. It is almost as if the information does not reach the masses as so many remain completely unaware of what this global military operation is about. I have a few articles about it on my website but it's not a major focus for me right now.
Are people in my audience familiar with HAARP and DARPA and their capabilities, or should I produce more articles on the topics? Our advice on HAARP is to be aware that it exists, but although very relevant today, there is some evidence coming forward that this project will not be functional in the coming decade.
In the meantime, know that the weather you see, whether in front of your window or around the world, may not be naturally occurring at all.
HERE IS A QUICK OVERVIEW:
HAARP is a large 180 antennae grid across the world that projects powerful electromagnetic pulses to heat a specific point in the earth's ionosphere. This has the effect of creating electromagnetic frequencies that can be bounced back to earth at desired locations, causing major disruption to weather and geophysical elements, even deep underground. Up to 3.6 billion watts can be generated by HAARP, heating the ionosphere to over 50,000 degrees and "lifting a 30 square kilometre area of the ionosphere, thereby changing localized pressure systems or even altering the route of jet streams."
It can create any weather phenomena in almost any part of the world when desired. That includes long periods of drought, torrential rains, flooding, snow storms, ice storms, prolonged warming, prolonged cooling, tornadoes, and many other types of weather patterns.
The frequencies generated can also tap into to the brain frequencies of every living thing, distorting the natural rhythms of which can influence specific areas of the brain.
HAARP can exercise a form of complete "weather control", a situation bearing a marked similarity to the Monsanto corporation's stated ambition "to control the food chain." It is noteworthy that there are currently more than 500 'climate ready' genetically modified plant gene patents awaiting licensing approvals in Washington and Brussels. 'Climate Ready' GM seeds and plants are promised by their creators to be capable of producing a crop under both flood and drought conditions.
HERE ARE SOME REALLY COOL SHOWS ON HARP. THIS MATERIAL IS AWESOME, ESPECIALLY IF YOU CAN AIRPLAY TO A TV. ENJOY!
ALL THREE VIDEOS CANNOT BE VIEWED VIA NEWSLETTER!
Read the article at Occupy the Rabbit Hole:
FOR SOME VERY INTERESTING ARTICLES ON DARPA, HAARP, CHIPPING, ETC.:
WHAT DO YOU SUPPOSE THIS IS?
Join my Twitter feed | Like my Facebook page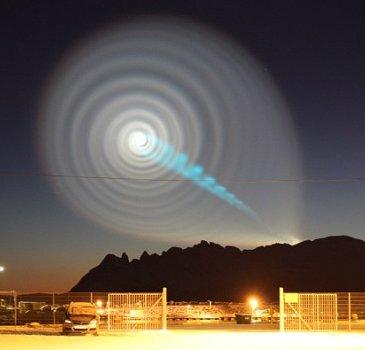 Metabunk.org reports: So was it really a failed Bulova missile launch or was it caused by EISCAT, the European version of HAARP?
Despite early denials that they had launched a missile, the Russians quickly recanted and admitted responsibility and a failed launch. So, why would the Russians be so willing to accept responsibility, (and embarrassment), if they were not responsible?
But significantly, the phenomenon appeared near Tromso, which is also the location of EISCAT. if the missile malfunctioned over the White Sea as reported, it should have been visible in northern Russia, Finland and Sweden as well as Norway and yet no sightings were reported in Finland or Russia.
Further, since then there have been many similar spirals worldwide, showing up both visually and on radar.
Australia appears to have the best documented examples of this.
This is undeniably an interesting phenomenon which is apparently becoming more and more prevalent, (although there are some very dubious instances). Also, is it linked to at least some of the strange noises which have been heard worldwide of late?
Below is an interesting paper on the spiral's origin, trajectory and dimensionswhich actually tracks the source to the Russian White Sea.
[Audio/Video below cannot be seen in Newsletter - have to go to Blog]
NOW WE LEARN HAARP IS CAPABLE OF TIME TRAVEL?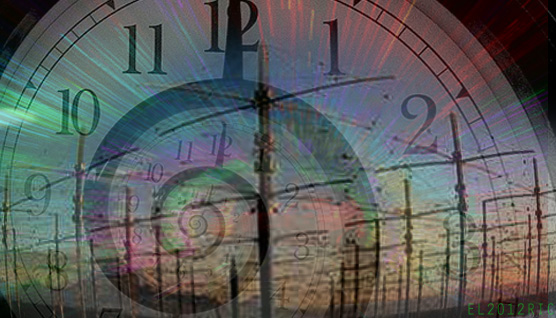 Join my Twitter feed | Like my Facebook page
A brilliant physicist published a revolutionary paper citing 30 other scientific papers that reveal HAARP has incredible powers far beyond what most investigators of the high frequency energy technology suspect. Dr. Fran De Aquino asserts a fully functional HAARP network, activated globally, can not only affect weather and geophysical events, but influence space and gravity…even time itself! Now the network is almost complete with the activation of the newest HAARP facilities at the bottom of the world: the desolate and alien Antarctic. Will the masters of HAARP become the masters of time too?
Join my Twitter feed | Like my Facebook page
Physicist: HAARP May Create Incredible GODLIKE Powers
THE MOST DANGEROUS MAN ALIVE?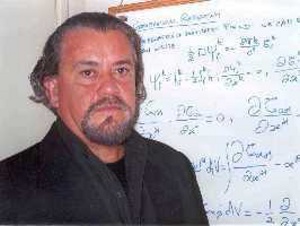 Factions of three of the largest governments in the world—the United States of America, the Russian Federation, and the Peoples Republic of China—may be cutting orders to eliminate a man who they see as one of the most dangerous in the world. No, he's not the world's most hunted multi-national terrorist, nor even a mad scientist with a new virus that can wipe out humanity.
Dangerous man: Brazilian physicist Dr. Fran De Aquino
The most dangerous man in the world may be Brazilian physicist Dr. Fran De Aquino.
De Aquino hasn't developed a death ray or obtained secret launch codes to the world's nuclear missiles. He's done something potentially much worse: he's spilled the scientific and technological beans of the greatest secret in the world: the ultimate purpose of HAARP.
Expanding HAARP network almost completed
HAARP (High Frequency Active Auroral Research Program) now has installations criss-crossing the world and extends from pole-to-pole. The Antarctic facilities are near completion.
Strange space-gravity waves
De Aquino, whose paper High-power ELF radiation generated by modulated HF heating of the ionosphere can cause earthquakes, cyclones and localized heating, lifts the veil hiding the HAARP wizards—and unlike the erstwhile Wizard of Oz, the HAARP wizards have some real power at their disposal.
The physicist's scholarly work—citing 30 other scientific papers, many peer-reviewed—reveals much more than the incredible title the paper promises.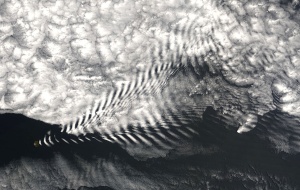 HAARP interfering with gravity over Pacific Ocean
HAARP CAN MANIPULATE GRAVITY
Most researchers of HAARP suspected for some time that the technology can trigger earthquakes and ignite hurricanes. De Aquino's paper tends to confirm those suspicions, but goes farther.
Utilizing high frequencies, he says, HAARP can modify, even control gravity by blocking gravity waves locally.
De Aquino claims heavy objects can be moved, even transported by creating "gravitational shieldings." But, the scientists stresses, HAARP can do even more.
The ELF technology can generate "Gravitational Shielding Mantles which are made by layers of high-dielectric strength semiconductor sandwiched by two metallic foils and insulation layers. The Gravitational Shielding Mantle can be made so that it is only 1 millimeter in thickness."