(H/T @charlescwcooke) This will set the tone for the Clinton candidacy: "A person familiar with the Clinton team's plans confirmed that she will make the initial announcement [that she's running for President] in a video on Sunday before heading to Iowa."  Basically, the Clinton campaign has decided to do the bare minimum necessary to signal that she's running for office, while at the same time giving the press the same mushroom treatment that Barack Obama pioneered.  No questions taken, no opportunities to see how the woman reacts under pressure*, and this may be the first time in history that a major political candidate deliberately attempts to avoid media coverage of her campaign rollout: Ed Morrissey argues here that Hillary wants the media to stay focused on Sen. Marco Rubio (R-FL)Heritage ActionScorecard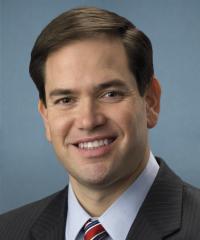 Sen. Marco Rubio
Senate Republican Average
See Full Scorecard82%'s campaign announcement Monday, and not raise inconvenient questions about hers**.
Speaking in terms of meta-analysis [insert whatever other pretentious, half-understood tedious jargon you prefer there]: I understand the theory behind the approach that Team Clinton is trying. I merely think that it will still gloriously explode in their faces.  If you look at the 2008 election it was clear that Obama's path to victory lay through a series of events that his supporters would call 'mass enthusiasm' and I would call 'mass hysteria.' Squabbles over terms of art aside, there's some general agreement that Barack Obama was able to sell himself (or a workable facsimile) to a crowd.  …Fine. We lacked candidates who could do that in 2008 and 2012.  It happens.
Those recent events, however, do not suggest that the Clinton campaign can safely emulate Max Headroom's stillborn 1988 Presidential campaign*** .  In fact, it suggests the opposite. If the Democrats think that they can duplicate the 2008 election without some sort of hysteria-inducing Presidential candidate – indeed, if they think that they can duplicate the election without any candidate at all – well, that should be a fascinating thing to see.  In much the same way that watching a car smash into a wall in slow motion is fascinating, and for much the same reason.
You see, electoral politics, at bottom, is a fundamentally emotional exercise. There's a lot of room for plans, and strategies, and tactics, and principles… but there's just as much room for camaraderie and shared experiences.  People like to get together in a crowd and huzzah their candidate. So if you end up giving them this…
(credit: @calebhowe) …they're not going to like it. Well, they may think that they like it.  But they're not going to love it, and they're not going to decide that it's deep and meaningful enough to keep them motivated during the endless grind that is the other half of electoral politics.
But don't mind me!  The Democrats should feel free to experiment with the packaging for this particular candidate.  Goodness knows that Hillary Clinton's intrinsic qualities aren't enough to move the product…
Moe Lane (crosspost)
*Spoiler warning: badly.
**Such as What, exactly, is the point of Hillary Clinton running for President?
***I almost wrote 'abortive,' except that if I had then the people running the Democratic party would applauded the movie's cancellation for all the wrong reasons.
The post Hillary Clinton to go the Max Headroom campaign strategy route. No, really. appeared first on RedState.
Source:
http://www.redstate.com/2015/04/10/hillary-clinton-max-headroom-election/