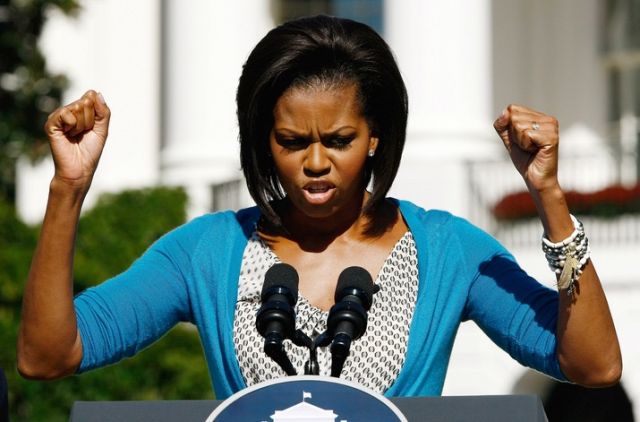 By: Voice of Reason
FOR MORE NEWS BY VOICE OF REASON CLICK HERE!
MICHELLE CAN GO TO HELL AS FAR AS I'M CONCERNED…
SHE IS THE WORST KIND OF RACIAL BIGOT!
Listen to this NONSENSE coming from the mouth of the Nazi word police. It comes from my post titled: MICHELLE OBAMA: "WE MUST TEACH YOUNG BLACKS TO ALWAYS VOTE DEMOCRAT NO MATTER WHO'S ON THE BALLOT"
WELL DONE MOOOOOCHELLE!
NO BIGOTRY IN THAT COMMENT!
I might go as far as saying she is using her platform as First Lady to coerce young black voters. If I did go so far as to say that, which would NOT be a stretch, that would be a FELONY! But, since when do the Obama's care about those anyway right?
DICTIONARY.COM SAYS:
COERCION: Verb (used with object), coerced, coercing.
1. To compel by force, intimidation, or authority, especially without regard for individual desire
They coerced him into signing the document.
2. To bring about through the use of force or other forms of compulsion; exact:
3. To dominate or control, especially by exploiting fear, anxiety, etc.:
The state is based on successfully coercing the individual.
SOUNDS LIKE COERCION TO ME!!!!!!
18 U.S.C.§610 COERCION OF POLITICAL ACTIVITY
It shall be unlawful for any person to intimidate, (I.R.S., TEA PARTY, COUGH!) threaten, command, or coerce, or attempt to intimidate, threaten, command, or coerce, any employee of the Federal Government as defined in section 7322(1) of title 5, United States Code, to engage in, or not to engage in, any political activity, including, but not limited to, voting or refusing to vote for any candidate or measure in any election, making or refusing to make any political contribution, or working or refusing to work on behalf of any candidate. Any person who violates this section shall be fined under this title or imprisoned not more than three years, or both.
Join my Twitter feed | Like my Facebook page
Monday on TV One, a cable channel who's programming is geared for African-American adults, first lady Michelle Obama told Roland Martin the candidate on the ballot and what they say or do should not matter to African-Americans because voting for a straight Democratic ticket best serves their communities.
The first lady said, "Thats my message to voters, this isn't about Barack, It's not about person on that ballot, its about you, and for most of the people we are talking to, a Democratic ticket is the clear ticket that we should be voting on regardless of who said what or did this, that shouldn't even come into the equation."
[Audio/Video below cannot be seen in Newsletter – have to go to Blog]
Join my Twitter feed | Like my Facebook page
NOW SOMEHOW MICHELLE THINKS SHE IS THE ARBITER OF WHAT SHOULD OR SHOULD NOT BE SAID? I DON'T THINK SO!
ANYONE REMEMBER THIS THIS ONE?
ALLOW ME TO BE THE ARBITER OF FIRST LADIES: YOU'RE FIRED!
[Audio/Video below cannot be seen in Newsletter - have to go to Blog]
Michelle Obama has taken the racism bait hook, line and sinker it appears as most of her speeches lately seems to be heavily saturated in the leftist argument. Most recently though, she has taken to urging high school students to monitor their own family members for racial intolerance and to go even one step further and correct it.
Addressing the High School graduating classes of Topeka, Kansas she said, "Our laws may no longer separate us based on our skin color, but nothing in the Constitution says we have to eat together in the lunchroom, or live together in the same neighborhoods." She then added, "There's no court case against believing in stereotypes or thinking that certain kinds of hateful jokes or comments are funny."
She then stated her wacky plan saying that students should, "drag my generation and your grandparents' generation along with you," down the path of racial tolerance.
Join my Twitter feed | Like my Facebook page
Explaining exactly what she meant, she noted, "Maybe that starts simply in your own family, when grandpa tells that off-colored joke at Thanksgiving, or you've got an aunt [that] talks about 'those people.'" She continued by saying, "Well, you can politely inform them that they're talking about your friends."
"Or maybe it's when you go off to college and you decide to join a sorority or fraternity, and you ask the question, how can we get more diversity in our next pledge class?" Michelle went on. "Or maybe it's years from now, when you're on the job and you're the one who asks, do we really have all the voices and viewpoints we need at this table?"
Making her grand stand, the FLOTUS exclaimed, "But no matter what you do, the point is to never be afraid to talk about these issues, particularly the issue of race."
So what do you guys think – does the need for Liberal tolerance surpass that of our First Amendment rights? Michelle certainly thinks so. Let us know how you feel about this in a comment below.
Robert Rich VIA MR CONSERVATIVE
By: Voice of Reason
FOR MORE NEWS BY VOICE OF REASON CLICK HERE!
THE VOICE OF REASON
DESTROYING FIRST AMENDMENT RIGHTS IS NOTHING NEW TO OBAMA:
FOR MORE ON FACEBOOK'S SHADY DEALINGS:
BE SURE TO CHECK OUT THE GIFT SHOP!