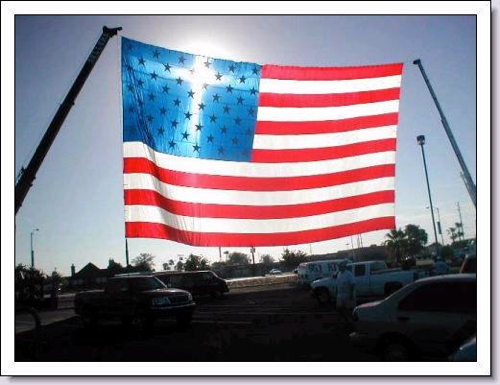 By: Voice of Reason
FOR MORE NEWS BY VOICE OF REASON CLICK HERE!
THE LONGER I HAVE BEEN WRITING… THE MORE I AM ASKED, "IF THIS WERE TRUE, IT WOULD BE ON FOX NEWS OR SOMETHING," SO I THINK IT'S TIME TO ADDRESS THE PINK ELEPHANT IN THE ROOM!
WHY IS ALTERNATIVE MEDIA SO IMPORTANT?
ASK ANDEW BREITBART!
CITIZEN JOURNALISM HAS BEEN THE BACKBONE OF AMERICAN SOCIETY SINCE THOMAS PAINE WROTE "COMMON SENSE" OR "THE CRISIS!"
"THESE ARE THE TIMES THAT TRY MENS' SOULS…"
Does that sound familiar? That was Thomas Paine and Citizen Journalism! For more on "The Crisis" see below. That was before we had our state run soviet style propaganda that masquerades as "news." How Stuff Works Writes:
Citizen journalism refers to any type of news gathering and reporting — writing and publishing articles about a newsworthy topic, or posting photographs or video of a newsworthy event — that is done by members of the general public rather than the professional news agencies commonly referred to as "mainstream media." Citizen journalism has been in existence at least since Thomas Paine wrote self-published pamphlets like Common Sense that stoked the fires of independence in 1776 [source: Glaser]. But any conversation about citizen journalism in the modern age is mostly a conversation about the transformative effect of the Internet on the democratization of information.
Whenever I write something, regardless of the topic, I always try to put my best foot forward, so hear goes: In today's day and age, If you are still getting all your news from the major media networks, that is about as intelligent as getting your news from watching WWF wrestling, only it's LESS ENTERTAINING, and LESS INFORMATIVE than the WWF! At least as you read this, there will be no ambiguity on where I stand on the matter.
When it comes to "JOURNALISM," or "NEWS," there is a reason Fox News has more viewers than the other networks combined, and that's because at least they make an attempt to let both sides of issues be heard on their various programs. Fox News used to have Glenn Beck and Sean Hannity, but Beck is gone, and other than Hannity, I don't think there are any other "conservative" shows on Fox News. Even if there are ones I am not aware of, here is the point that other networks and Fox Haters miss: BOTH of those hosts make it known they are BIASED, and don't profess to offer "NEWS." They offer "OPINIONS."
The other "NEWS" networks, and their counterparts in print should burst into flames for even suggesting they are unbiased. Bias is only ONE of the TWO major issues with today's media, and why there is more of a need than EVER for citixen journalsim and ALTERNATIVE MEDIA.
ISSUE 1: For the major netowrks to say they offer unbiased news is both patently false, and equally as offensive to ANYONE reasonably educated on the "FACTS" of whatever story is being presented. Agree with the network? Disagree with it? Both are Irrelevant. There are FAR more people in this country who are NOT informed of all the facts, and take the "OPINIONS" they hear on a "NEWS" network as "FACT."
ISSUE 2: There isn't a soul on any of the networks that reports anything NEWSWORTHY anyway!
Did you know in the 1983 there were over FIFTY different media companies in the United States? That meant increased COMPETITION, which lead to increased QUALITY! Today, those same 50 have been merged into SIX COMPANIES. Whether I agree or disagree with what I hear on Fox News, AT LEAST it's different than the other networks most of the time. Try recording the primetime news broadcasts of all the other networks and then watching them back to back. It's MADDENING! There may as well be ONE network, or TWO if you include Fox News, because the rest all regurgitate the exact same garbage.
With enough time or motivation, I'm sure I could make a case that in reality, there is only ONE ACTUAL media outlet in the United States, and it's known as: WHATEVER GOVERNMENT APPROVES OF. That defies the heart and intent of the first Amendment and free speech. Thank goodness for blogging, podcasting, and all other forms of ALTERNATIVE MEDIA that have arisen with due to tot the advent of the Internet. I'll share with you why I trust alternative media more than I trust the SIX traditional media outlets: THE DEMOCRATIC LEAD SENATE TRIED PASSING LEGISLATION TAKING FREEDOM OF SPEECH AWAY FROM BLOGGERS.
FEINSTEIN'S VERSION OF FREE SPEECH
If you listen to these boobs on the television, it boggles the mind how Americans buy into the nonsense the networks put out, but they do. People buy what they networks are sellinig hook, line, and sinker. The best analogy I can give would be if a Category 5 Hurricane made landfall in the U.S. in August, and the weatherman was covering the surf report in Maui. It's not that the the information given about the Maui surf report is a lie, but there is MUCH more important news that people need first.
MORE AND MORE, PEOPLE DEMAND TRUTH! THE HISTORY WE ARE BEING TAUGHT IS A LIE! Do you have any idea how many skeletons have been found that blow Darwin's THEORY (let me say that again… THEORY) of evolution out of the water? For over a hundred years the Smithsonian has collected THOUSANDS OF GIANT SKELETONS FROM ANTIQUITY that disprove Darwin in order to maintain an enormouse cover up about our anscestoral origins. Has anyone who reads my political posts looked into the PLANET NIBIRU, or more correctly said, the DWARF STAR WITHIN OUR SOLAR SYSTEM the has several planets orbiting it, of which Nibiru just happens to be the most outermost and most visible planet? They knew in the late 1800's about the dwarf star, and the planets orbiting the dwarf because when the system passes by the outmost planets in our solar system, there is SUCH gravitational mass to the dwarf system, that it YANKS our planets out of their orbits.
THIS IS NEWS!
Gravity is not a Republican or Democratic issue. It's a law of nature, and there is ample evidence the masses of great Americans in this nation are being lied to on a GRAND SCALE on just about EVERY issue imaginable. Have you heard MULTIPLE VIDEOS HAVE BEEN TURNING UP OF HUGE UNDERGROUND TUNNELS THAT APPARENTLY LEAD TO GOVERNMENT COMPLEXES FOR THE NSA, DOD, MiB, DHS, CICs, DFCS and BK? Have the media outlets told you that HUMAN REMAINS have been discovered in the tunnels leading to these government installations, or that a Navy Seal familiar with the program said the storage components need to be socked within six months? What's in six months? Wouldn't YOU like to know!?!?!?
As I mentioned in the post titled: DEAD BODIES IN TUNNELS? – "OPERATION JADE HELM" JUST GOT MUCH MUCH WORSE, we have a military practicing the use of force or MARTIAL LAW on it's own citizens in what appears to be close to 30 STATES at this point that we know of, and for all we know, perhaps even all 50 states when you include these mystery underground tunnels and bases.
THIS IS NEWS!
WHY IS THE UNITED STATES GOVERNMENT IN A MAD PANIC TO GET SENSITIVE ELECTRONIC EQUIPMENT INTO THE COMPLEX AT CHEYENNE MOUNTAIN, OTHERWISE KNOWN AS NORAD?
THIS FACILITY HAS BEEN A HOLLOW SHELL OF ITS FORMER SELF SINCE THE END OF THE COLD WAR, SO WHY NOW IS IT BEING RENOVATED AND STUFFED TO THE GILLS?
There is a never ending list of real news stories that would NOT ever get out if not for the alternative media sources today. As government becomes LESS and LESS transparent (regardless of what it SAYS about transparency), the need for citizen journalists grows MORE and MORE.
By: Voice of Reason
FOR MORE NEWS BY VOICE OF REASON CLICK HERE!
FEEL FREE TO CONTACT ME AT: [email protected]
IF I DON'T RESPOND RIGHT AWAY, I WILL. I PROMISE!
THESE ARE THE TIMES THAT TRY MENS' SOULS – THOMAS PAINE
THESE are the times that try men's souls. The summer soldier and the sunshine patriot will, in this crisis, shrink from the service of their country; but he that stands by it now, deserves the love and thanks of man and woman. Tyranny, like hell, is not easily conquered; yet we have this consolation with us, that the harder the conflict, the more glorious the triumph. What we obtain too cheap, we esteem too lightly: it is dearness only that gives every thing its value. Heaven knows how to put a proper price upon its goods; and it would be strange indeed if so celestial an article as FREEDOM should not be highly rated. Britain, with an army to enforce her tyranny, has declared that she has a right (not only to TAX) but "to BIND us in ALL CASES WHATSOEVER" and if being bound in that manner, is not slavery, then is there not such a thing as slavery upon earth. Even the expression is impious; for so unlimited a power can belong only to God.
…
I have as little superstition in me as any man living, but my secret opinion has ever been, and still is, that God Almighty will not give up a people to military destruction, or leave them unsupportedly to perish, who have so earnestly and so repeatedly sought to avoid the calamities of war, by every decent method which wisdom could invent. Neither have I so much of the infidel in me, as to suppose that He has relinquished the government of the world, and given us up to the care of devils; and as I do not, I cannot see on what grounds the king of Britain [INSERT OBAMA] can look up to heaven for help against us: a common murderer, a highwayman, or a house-breaker, has as good a pretense as he.
'It's surprising to see how rapidly a panic will sometimes run through a country. All nations and ages have been subject to them… Their duration is always short; the mind soon grows through them, and acquires a firmer habit than before. But their peculiar advantage is, that they are the touchstones of sincerity and hypocrisy, and bring things and men to light, which might otherwise have lain forever undiscovered. In fact, they have the same effect on secret traitors, which an imaginary apparition would have upon a private murderer. They sift out the hidden thoughts of man, and hold them up in public to the world…
…
I shall conclude this paper with some miscellaneous remarks on the state of our affairs; and shall begin with asking the following question, Why is it that the enemy have left the New England [INSERT RED STATES] provinces, and made these middle ones the seat of war? The answer is easy: New England is not infested with Tories [INSERT LIBERALS], and we are. I have been tender in raising the cry against these men, and used numberless arguments to show them their danger, but it will not do to sacrifice a world either to their folly or their baseness. The period is now arrived, in which either they or we must change our sentiments, or one or both must fall. And what is a Tory? Good God! What is he? I should not be afraid to go with a hundred Whigs [INSERT PATRIOTS] against a thousand Tories, were they to attempt to get into arms. Every Tory is a coward; for servile, slavish, self-interested fear is the foundation of Toryism; and a man under such influence, though he may be cruel, never can be brave.
But, before the line of irrecoverable separation be drawn between us, let us reason the matter together: Your conduct is an invitation to the enemy, yet not one in a thousand of you has heart enough to join him. Howe is as much deceived by you as the American cause is injured by you. He expects you will all take up arms, and flock to his standard, with muskets on your shoulders. Your opinions are of no use to him, unless you support him personally, for 'tis soldiers, and not Tories, that he wants.
I once felt all that kind of anger, which a man ought to feel, against the mean principles that are held by the Tories [INSERT LIBERALS]: a noted one, who kept a tavern at Amboy, was standing at his door, with as pretty a child in his hand, about eight or nine years old, as I ever saw, and after speaking his mind as freely as he thought was prudent, finished with this unfatherly expression, "Well! give me peace in my day." Not a man lives on the continent but fully believes that a separation must some time or other finally take place, and a generous parent should have said, "If there must be trouble, let it be in my day, that my child may have peace;" and this single reflection, well applied, is sufficient to awaken every man to duty. Not a place upon earth might be so happy as America. Her situation is remote from all the wrangling world, and she has nothing to do but to trade with them. A man can distinguish himself between temper and principle, and I am as confident, as I am that God governs the world, that America will never be happy till she gets clear of foreign dominion. Wars, without ceasing, will break out till that period arrives, and the continent must in the end be conqueror; for though the flame of liberty may sometimes cease to shine, the coal can never expire.
…
Quitting this class of men, I turn with the warm ardor of a friend to those who have nobly stood, and are yet determined to stand the matter out: I call not upon a few, but upon all: not on this state or that state, but on every state: up and help us; lay your shoulders to the wheel; better have too much force than too little, when so great an object is at stake. Let it be told to the future world, that in the depth of winter, when nothing but hope and virtue could survive, that the city and the country, alarmed at one common danger, came forth to meet and to repulse it… The far and the near, the home counties and the back, the rich and the poor, will suffer or rejoice alike. The heart that feels not now is dead; the blood of his children will curse his cowardice, who shrinks back at a time when a little might have saved the whole, and made them happy. I love the man that can smile in trouble, that can gather strength from distress, and grow brave by reflection. 'Tis the business of little minds to shrink; but he whose heart is firm, and whose conscience approves his conduct, will pursue his principles unto death…
…
I thank God, that I fear not. I see no real cause for fear. I know our situation well, and can see the way out of it… None can say that our retreat was precipitate, for we were near three weeks in performing it, that the country might have time to come in. Twice we marched back to meet the enemy, and remained out till dark. The sign of fear was not seen in our camp, and had not some of the cowardly and disaffected inhabitants spread false alarms through the country, the Jerseys had never been ravaged. Once more we are again collected and collecting; our new army at both ends of the continent is recruiting fast, and we shall be able to open the next campaign with sixty thousand men, well armed and clothed. This is our situation, and who will may know it. By perseverance and fortitude we have the prospect of a glorious issue; by cowardice and submission, the sad choice of a variety of evils — a ravaged country — a depopulated city — habitations without safety, and slavery without hope — our homes turned into barracks and bawdy-houses for Hessians, and a future race to provide for, whose fathers we shall doubt of. Look on this picture and weep over it! and if there yet remains one thoughtless wretch who believes it not, let him suffer it unlamented.
The Crisis — Thomas Paine
THE VOICE OF REASON