Story Views


Now:
Last Hour:
Last 24 Hours:
Total:
Ambitious Politicians Fueling Scary Immigration Debate And Defy Reality–Illegal Immigration Over Southern Border Has Been Dropping For Years [Picture,Video]
Sunday, September 6, 2015 10:43
% of readers think this story is Fact. Add your two cents.

The fearmongers and political demagogues have been puushing fear in the illegal immigration debate. Truth is: the flow of illegal immigrants acoss oiur outhern border have beeen decreasing for a decade. According to the Wadhington Post:
In 2000, considered the peak of the flood of illegal Mexican migration, more than 1.6 million people were apprehended, according to DHS data. Those numbers have plunged to around 400,000 per year since 2012 and are down 28 percent in the first part of fiscal 2015 compared with last year. Even last year's widely publicized spike in unaccompanied minors crossing the border from El Salvador, Guatemala and Honduras has receded dramatically, the data show. SOURCE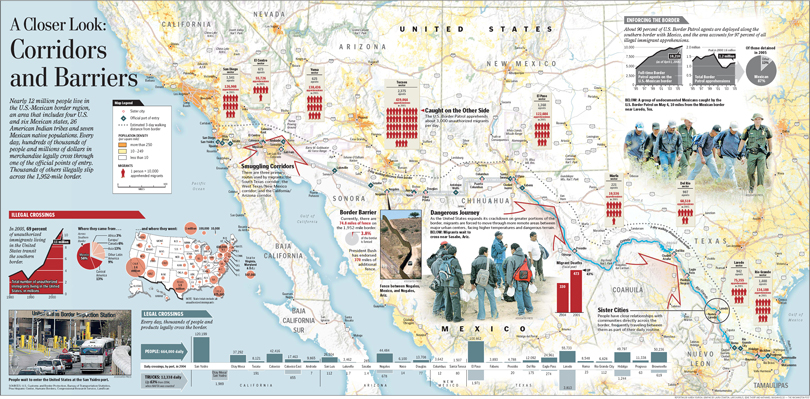 There are several factors which lead to the decline in people crossing the border for the US: one of which is women are having fewer childrren, which decreases the pressure to try for a "better life" in the US. And, Mexico is cracking down on illegal immigration, which decreases the numbers of potention US-bound immigrants.
But those jinds of stsatistics tke the win out of the immigration fearmongers funning for office. Where woiuld some of them be if they couldn't scare the base with immiges of brown hordes oozing across the border, tainting wannabe Whiteland, "raping yoiur daughters', 'straling yoiur jobs', sucking at the welfare sugar tit with their anchor babies?
The US is shooting itself in the foot, with the unintended consequenes of the border crackdown: those who are here illegally and who want to go back, have a hard time crossing the border.