Projekt GuRu 09.10.2015
EU turn: 'European policies must not be dictated by Washington'
UK joins TACET & increases support for Ukraine
Does Saakashvili Fail in Odesa? Residents see no change after Georgia ex-leader appointed governor
Poroshenko and Obama share the Nobel Peace Prize (not!)
8:44 AM
Peace prize laureates pose for portraits before emplaning for Stockholm Florian SCHAAR in Allge…
An optimistic view of Novorossiya's future
1:24 PM
October 9, 2015 – Andrey Volkov, RusVesna – Translated for Fort Russ by J. Arnoldski
"Everything will be ok – Donetsk columnist to 'Russian Spring'"
Among residents of the DPR and LPR, panic and rumors have spread in recent times. It's said that Russia is leaving us, switching to Syria, and now they will put us back in Ukraine.
Let's reason logically.
What will there be after the October 18 (DPR) and November 1 (LPR) elections? The certification of passports, conditional independence, long years of waiting for recognition by the world community, and the situation of "neither war nor peace, with the constant danger of unexpected shelling and the penetration of Ukrainian sabotage-reconnaissance groups as a permanent hassle.
Prospects of the republics in the conditions of isolation
Defense is an expensive area, and Donbass can't pull its own. In order to effectively protect a 500-700 km border with Ukraine, an entire army and serious engineering structures are needed. This is completely unaffordable, as the republics simply have no money.
Is it possible to do without a full banking service? Yes. But it's wildly uncomfortable. Citizens and entrepreneurs are suffering. The former don't have the opportunity to get a loan, and the latter can't develop business given the modest purchasing capacity of the population. Dooming Donbass to further economic blockade is a path towards degradation. But without recognition by at least several countries, not a single bank will be able to enter Donbass, as its SWIFT will be a cut, without which there will be no ATM's or terminals in stores.
Donbass is an industrial region. But our industry can't develop in the conditions of economic embargo. There is coal trade, but that goes with great difficulties and interruptions. In order to develop engineering, revive the electronic industries and other traditional professions, international connections are needed. In the end, for the republics to go the "fast" path, we are waiting for industrial degradation and a lack of perspectives of development.
There is, of course, a chance to live a fulfilling life in the case of a reunification with Russian, which would allow much of the above to be avoided.
But! Imagine how many new displeasures would befall a large country as a result of such a step? And Novorossiyans will be a scapegoat in the yes of some liberal-minded citizens…and we don't want to disturb our own.
A chance for Ukraine – what in fact does this mean?
Ukraine has already demonstrated utter inability to comply with a single point of Minsk-2. For European guarantors of the agreement, this means a loss of face and confidence. And knowing European traditions, it is easy to assume what will happen next.
And further, if Poroshenko does not fulfill the Paris commitments, Merkel and Hollande will stop pushing him morally and move on to more effective measures. And at the same time they will recognize the right of the negotiating DPR and LPR, in fulfilling obligations, to independence. Rather, the unilateral declaration of independence. If Russian diplomacy works well and professionally (and to this day there is no reason to cast doubt on this), then on the international level, the right to proclaim independence will be recognized not only for the current territories, but for the Donetsk and Lugansk regions. That is, we will have the opportunity to return the occupied territories without firing a shot!
Suppose, hypothetically, that Poroshenko meets the obligations? What will this mean for Donbass?
Absolutely nothing will change. The special status in the wording of the DPR and LPR refers to a broad confederation, and this means that we will have the opportunity to hold a referendum recognized by the world community. And as the people will decide in such a referendum, so be it! The international community will have no choice but to recognize the results of the plebiscite and the new states on the world map. And further – here's the trick – one more referendum, and I think you all know which questions will be written on the bulletins.
A small remark on the question of exciting all residents of Donbass. Borders. Will it come to be that, after gaining control of borders with the Russian Federation, Ukraine will simply cram us into a reservation and starve us to death?
It's not going to happen. Control over the border is the last point of the Minsk Agreements, and it will be fulfilled after the full implementation of all the preceding points, among which are the points about the people's militia, the election of prosecutors and judges, and the armed forces and security services (which includes the border guards). So, even if Poroshenko (or the one that will replace him in his post) vouched for some fantastic way to fulfill all of the agreements, there won't be any new faces seen at the checkpoints of Uspenka, Marinovka, Izvarino, and others.
How long will the wait be?
I don't think that we will have to wait a long time. The Ukrainian authorities already declared their refusal to fulfill Minsk-2. The whole world hears this and is drawing conclusions. Even considering the little interest that Europe and the US have in our fates, they will have to accept the Ukraine's irresponsibility as a given. If Ukrainian deputies and ministers maintain the current degree of "separation," they will recognize us already in December-January. But this process won't last later than February-March.
The price that won't have to be paid
For an imaginary well-being, which some just can't wait to attain today and now, we have had to pay in blood. The blood of residents of Mariupol, Kramatorsk, Severodonetsk, and other occupied cities. Even taking our cities by force means endangering the lives of their residents. Aren't peoples' lives worth two or three months of inconvenience? Yes they cost a hundred, thousand times more. Yes, it's necessary to save the lives of our heroes, defenders, servicemen of the NAF, avoiding victims. They, without argument, are ready to sacrifice the future of Donbass, but it's better that we stick it out for a while. We will not pay such a price for uncertain prospects, the failure of which is described above.
What if the UAF go on an offensive?
Firstly, they have nothing with which to attack. According to the intelligence of the armed forces of the DPR, they are running a few columns here and there along the contact line, creating the illusion of a serious movement of armed forces. Actually, 85-90% of the equipment aimed at Donbass is of third and fourth category, that is, have been kept in open-air storage for 30-40 years with questionable fighting prospects and rusty metal. Add to this low morale, low professionalism, moral decay, and a lack of incentives, and a probability of the occurrence of an offensive can be understood.
But if by some miracle the UAF go on the offensive, breaking all conceivable and inconceivable norms, those European guarantors under the slight pressure of Russian (and possibly without) will initiate pressure on Ukraine up to the imposition of sanctions, which the country can hardly endure. The last thing that Europe needs today is a mass-scale war in the center of the continent. To whom do you think anyone will trust the operation to force Ukraine to peace?

What to expect from the future
In my opinion, only good things can be expected. We've already survived the most difficult times. Let's look around: integration is not simply going, it's at full steam ahead! Every day, new laws are made and new innovations are published. All areas of our lives are being transferred to new standards. Do you think that they would do this if they ditched us?
The ruble zone, school programs, Russian diplomas – is this not evidence that we are moving in the right direction and that we are not about to go wrap things up? Not everyone can voice our leaders and those who make decisions, but believe me, before we can go independently, it's worth including logic.
I want to end with a banal phrase, because we all need it: everything will be ok!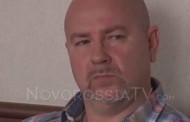 Vladislav Berdichevskiy, MP of the People's Council of the DPR from the fraction Free Donbass about postponing of elections (VIDEO)
October 09, 2015 No comments
Vladislav Berdichevskiy, MP of the People's Council of the DPR from the fraction Free Donbass about postponing of elections, conflict in Syria, Ukrain… Read more
Ukraine's military to begin withdrawing artillery in LPR October 10
October 09, 2015 No comments
The Ukrainian military will begin withdrawing the artillery from the Lugansk republic under its control on October 10, speaker of the force mission's… Read more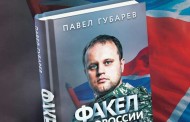 We invite you to the presentation of the book Torch of Novorossia written by Pavel Gubarev that takes place in Donetsk, 10th October
October 09, 2015 No comments
The presentation is on Saturday, 10th October at 14.00 in Donetsk shop Eridan, Artema Street, 79. Events in the South-East of Ukraine cannot leave som… Read more
Defence Ministry off the DPR fixed 2 violations of the ceasefire by Ukrainian side for the last 24 hours
October 09, 2015 No comments
Ukrainian forces subjected to fire the North-West suburb of the DPR'S capital. It was reported to DAN by the Defence Ministry. UAF fired area of Volvо… Read more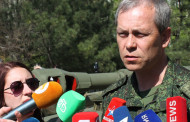 Two more Ukrainian military men joined the DPR's Army in the Novoazovsk area
October 09, 2015 No comments
Ukrainian fighters keep on joining the side of the militia. Two more militants did this for last 24 hours. It was reported yesterday to DAN by the dep… Read more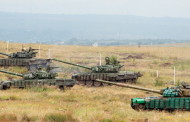 Ukraine military refuses to withdraw artillery from Lugansk Republic
October 09, 2015 No comments
A Ukrainian military spokesman on Thursday announced Kiev's refusal to withdraw artillery from the eastern Luhansk region despite agreement last week… Read more
Source:
http://blogdogcicle.blogspot.com/2015/10/novorussiaukraine-update_9.html