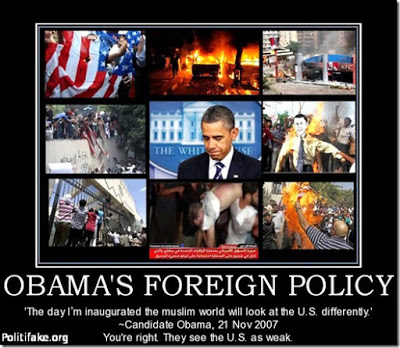 Unfortunately, in 2015, those Americans who have faithfully and dutifully followed THIS leader seem to have apparently and finally learned the truth about Barack Obama!

That truth is that he is no leader, unless of course you consider leading the United States down the wrong path in each and every decision that he has made leadership!
Of course the infuriating part of all of this is that America did not need to find itself in the position that we do today if some in the electorate had been willing to open their eyes (Obama's Master Plan: Because No President Could Be This Bad By Accident! (List)).
Democrats and far-left liberal lemmings who would vote D no matter who was on the ballot are now learning the hard way that elections have consequences but unfortunately, by extension, they have dragged the rest of us down with them.
When I hear liberal pundits on television talk shows admitting to the failures of this President I say that is all well and good but it is too damn late!
By putting party and power over country and national security they and their ilk have allowed irreparable damage to be done to the United States and the world.
And now, this morning, we wake up to Turkey shooting down a Russian fighter.
Where do we go from here?
From March 2011…
'Note to Obama: If you want to be treated like a superpower then act like a superpower!'

In a scene out of Bizarro World the United States is pissed at the French for being too aggressive in Libya!
Is this what the United States has become under the Obama administration? Upset because the French have become too aggressive by taking the lead in the attack and implementation of a no-fly zone over Libya? The French???
Obama ceded mission control in Libya to the U.N., Arab League and NATO while bypassing the Congress. He has since relabeled the mission goals from humanitarian to the taking out of Gaddafi and back several times. It is simply another glaring representation of an Obama attempt to be all things to all people.
As further indication of his global lack of standing, once the mission commenced his "coalition" that included the Arab League, NATO member Turkey and abstaining Security Council member Russia all hung him out to dry.
As I heard one commentator say he handled the crisis as a community organizer would, but certainly not as the commander-in-chief of the United States should.
All of this was being accomplished while President Obama was kicking a soccer ball around in Brazil on a junket that never should have been taken?
Note to Obama: If you want the U.S. to be considered the global superpower, do us a favor and lead like the commander-in-chief of the global superpower. But I suppose the obvious point is that he does not want us in that position.
Lead and stop being led so that we won't ever have to take a back seat to France again!
From the Financial Times
: "French attempts to sidestep Nato at the outset of military operations against Libya have divided the international coalition enforcing a no-fly zone over the country, western diplomats said.
The French moves, which western diplomats said included launching the first attack on Libya without fully informing its allies, angered US and UK officials
and are hampering efforts to transfer command of the operation to Nato, officials said. Relations grew so tense on Monday that French and German ambassadors to Nato walked out of a meeting of the North Atlantic Council, the alliance's decision-making body, after Anders Fogh Rasmussen, secretary-general, criticised Paris for impeding Nato involvement and Germany for not actively participating."
Advertisement
Source:
http://politicsandfinance.blogspot.com/2015/11/flashback-2011-note-to-obama-if-you.html