http://simplyjews.blogspot.com/ I sincerely hoped that no one will try to score political points and dance on the graves (actually on the bodies of the victims). But here comes one Wesley Brown, "Loving Husband and Father, Labour Party Activist, The New Politics. Special Adviser to RT. Hon Jeremy Corbyn MP". (Emphasis mine).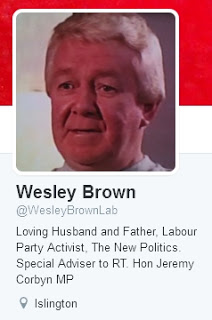 With the following message:
The Paris attacks had nothing to do with Islam. The Zionists & Israel should take full responsibility for this deadly massacre

— Wesley Brown (@WesleyBrownLab) November 14, 2015
Here is a screenshot for posterity, just in case this sorry excrescence decides to erase his tweet:

I couldn't find any corroborating information on Mr Brown and I don't know whether there is one or whether he is a Corbyn's gopher. However, whoever this Mr Brown is, he is still a choice piece of shit.
As for "New Politics" – not so much, is there? Rather old brownshirts in new packaging.
http://simplyjews.blogspot.com/
Source:
http://simplyjews.blogspot.com/2015/11/paris-massacres-and-corbynists-wesley.html