http://simplyjews.blogspot.com/ The tragic story of the Russian Airbus 321 crash in Sinai continues to meander in the fog of speculations, although just yesterday more indications of an act of terror were voiced by US and UK – off the record, of course.
One aspect of the crash, however, escalated quickly, although not quite visible to the Western media. Here is a relatively short article by Medusa – a new Russian Internet publication, supposedly free of the Russian government's pressure. For now, at least.

Vladimir Putin's press secretary, Dmitry Peskov, says the latest caricature by the satirical magazine Charlie Hebdo is blasphemous. The new art contains a caricature of the recent Russian plane crash in Egypt, which claimed the lives of 224 people.

"This is truly unacceptable to us. I don't presume to judge the moral standards of the French, but for us in our country this is blasphemy," Peskov said. "This has nothing to do with democracy or to self-expression. This is blasphemy."
And here is one of the two* offending cartoons: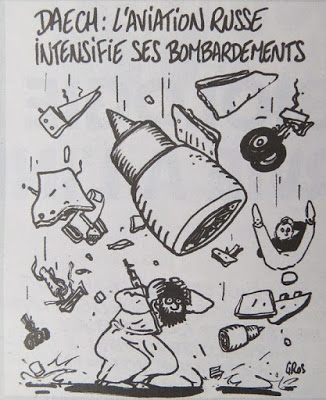 The caption reads, "ISIL: Russia intensifies its airstrikes."
While not funny – Charlie Hebdo is more about satire and sarcasm, in the endearing French manner – this cartoon quite clearly points out the culprit behind the crash and the coming Russian response, if it indeed becomes certain that Daesh/ISIL/ISIS/IS bloody hand was behind the crash.
The Medusa article is relatively short indeed and doesn't convey the storm of responses from various Russian dignitaries. The term "blasphemy", while widely bandied by various Russian VIPs, was one of rather more benign. Here comes the Russian ambassador to France, Alexander Orlov:

The notorious weekly Charlie Hebdo, which belongs to the satirical publications, published in its latest issue a caricature of the crash of the Russian aircraft in Egypt. It's mean! They have no heart, no conscience!
One Pavel Astachov, a man responsible for children's right in the Russian government went much further:

Charlie Hebdo's cartoons spread the stink of sulfur and netherworld for a long time, and their "creativity" is more like public necrophilia. These guys were able to dance even on the blood and bones of their own colleagues and employees, earning a considerable fee. It is unlikely that our condemnation will register with people who voluntarily turned themselves into obscene immoral perverts, who deliberately laugh and sneer where normal people mourn. We can only pray for the salvation of their souls, if they still own such…
And a call to action came from the leader of the party "Rodina", Alexey Zhuravlev:

I believe that such an ugly gesture from a Russophobic marginalized French publication – is not merely an act of misanthropic brutality, but a direct incitement to terrorism and murder. French authorities should close the rotten rag, if they don't want to be complicit in such crimes. And in Russia, Charlie Hebdo is to be entered in the list of extremist materials and officially banned.
To cap this (very small) selection of indignant VIPs, here comes Putin's favorite strongman, the Chechen current leader, Ramzan Kadyrov (yes, read this Wiki entry on the man – it is only a tip of the iceberg, but still illustrious):

It is impossible to come up with more disgusting mockery of the pain of the relatives and the loved ones, the pain of the whole nation. I'm curious to know how this has been seen in Paris. They might say that it is the freedom of speech, democracy, allude to the fact that it is a personal opinion of a journalist? I would also like to see and hear the reaction of hundreds of thousands of Frenchmen and hundreds of world politicians, who had previously expressed support for the magazine after the publication [sic!] of cartoons offensive to Muslims. My personal opinion is – those who drew and published the cartoons are not human. I can't call them animals, as this would offend innocent animals. This creatures are filthy and asexual [?] beings who do not have the right to exist among people.
Now it is time to switch to a more temperate discussion, initiated on Twitter by Yury Barmin, analyst on Russia / Russia's strategy in the Middle East, who resides in Abu Dhabi, according to this. Mr Barmin is not flaming on this Twitter thread, asking all kinds of questions instead. Here is one of his conclusions:

Indeed, but this poll, while it might reflect pretty accurately the attitude and irreverence of Charlie Hebdo, hardly supports the outrage expressed by the above mentioned VIPs.
The Twitter thread, however, brought a few interesting exchanges:

Mr.Makin: why nobody made a caricature of them [Charlie Hebdo] shot?
And immediately:

Vik West: there ya go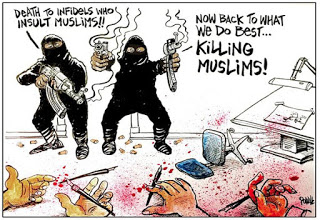 And in another similar exchange, when somebody was "wondering" why Charlie Hebdo didn't publish any cartoons about 9/11, a response came quite swiftly too: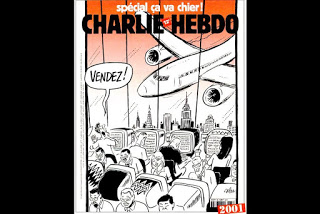 So far the only response from Charlie Hebdo's senior editor to the Russian broadsides was: our employees don't know the meaning of the word "blasphemy".
Quite.
(*) The second cartoon will require too much explanations. While it must be clear to a Frenchman, it is indeed somewhat opaque to a foreigner. But rest assured, Charlie Hebdo is mocking its own as well in this one.
http://simplyjews.blogspot.com/
Source:
http://simplyjews.blogspot.com/2015/11/russian-plane-crash-charlie-hebdo.html