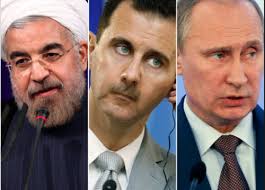 With Russia pulling the bulk of its forces out of Syria and delivering a serious blow to Iran, Supreme Leader Ali Khamenei began introspecting. He ordered more Revolutionary Guards (IRGC) and foot-soldiers dispatched to Syria to pursue their nefarious purposes. In an unprecedented move, Iran has also deployed units from its regular army to join the attacks against Syrian opposition groups, especially in the strategic province of Aleppo. Following the recent agreement sealed between the United States and Russia, along with a significant decrease in airstrikes targeting opposition-controlled areas, Tehran is especially petrified of the status quo returning to conditions prior to September 2015 when the Assad army and its IRGC were fleeing and ceding grounds in the face of fierce Free Syrian Army onslaughts.
Iran's regular army dispatched to Syria
In an extraordinary move surprising many since the end of the Iran-Iraq War back in the 1980s, the army is being used to export Iran's terrorism abroad. Amir Ali Araste, deputy coordinator of the army ground forces, said the 'Nohed' 65th Commando Brigade has been dispatched to Syria, alongside other units scheduled to follow suit in the near future.
The IRGC headquarters in Damascus is located in a site known as the "Glass Base" adjacent to Damascus International Airport. Brigadier Razi Musavi, in charge of Quds Force logistics in Syria, is stationed in this base.
The IRGC has taken over the massive Sheibani base from the Syrian army, located between the cities of Damascus and Zabedani. The former Republican Guard were formerly stationed in this base. The name of the site is now changed to 'Fort Imam Hossein.' A few thousand members of the 'Fajr' 19th Commando Division from Iran's Fars Province, alongside Fatemioun and Lebanese Hezbollah units are stationed in this base. Their current role is fostering a reserve force in position to defend the Bashar Assad palace, showing how concerned Iran and Assad are of the situation. This is no modicum involvement in Syria for the mullahs.
Provisions for military attacks in areas surrounding Aleppo
Recently the IRGC has increased its presence on the ground in the vicinity of Aleppo, as various brigades of the IRGC, the Afghan Fatemioun, Lebanese Hezbollah and Syrian militias are rallying in this region to stage attacks against the Syrian opposition and Free Syrian Army units.
To this end, two independent IRGC brigades from Iran's Fars Province have recently stationed in Syria. Colonel Mohsen Mandani, a senior commander of this force, was killed on March 20th in the Khan Touman region south of Aleppo. He was replaced by Brigadier General Mohsen Elahi, only to be killed a few days later in the same region, along with a number of other IRGC members.
Units of the Nabi Akram Division from Kermanshah Province, western Iran, have doubled their troop numbers on the ground to 1,000 men.
To further their presence in this area the IRGC has established a command center in the town of Mayer near the city of Nabil, commanded on the ground by an IRGC officer by the name of Seyed Rasoul.
Increasing number of IRGC foot-soldiers
According to orders issued by Iran's Quds Force, Iraqi Shiite militia groups including al-Nijba, Badr Organization, Saraya Khorasani, Asaeb Ahl al-Haq, Katayeb and the Lebanese Hezbollah have all deployed more units to Syria. These foot-soldiers have transferred from Iraq to the city of Abadan in southwest Iran, and airlifted to Syria on a daily basis by Mahan Air, a charter company reportedly associated to the IRGC. This is a move to provide for the total implosion of pro-Assad forces prior to Russia's involvement in the country.
The Quds Force is busy recruiting Afghan nationals living in the country to join the fight in Syria. The IRGC is taking advantage of Afghan nationals' deep poverty in Iran and their need of legal papers to lure them to join their militia files in Syria. In many cases Afghan prisoners, including death row inmates, are promised amnesty on the condition of being deployed to Syria.
Syrian militias wounded in battle are sent to Iran to receive medical care. For example, each week around 30 wounded Syrian mercenaries are directly flown to the Iranian city of Shiraz and transferred to the Rajaie Hospital. The IRGC has allocated various religious centers in this city to wounded Syrian militias and their families.
Former CIA officer Scott Modell, with vast experience in the Middle East, put it best on Iran's role in Syria.
"They don't want to just build up their militia groups and leave. This is their way of creating a lasting footprint… This isn't Russia where they make sure to shore up Assad and then they downsize."
Iran's heavy involvement in Syria continues, literally going the limits to maintain Bashar Assad in power and ultimately safeguard its strategic interests in the Middle East. Moscow pulling out and reaching an agreement with Washington over the future of the Levant has left Iran terrified. Considering Syria as a province of their own, losing ground has become unacceptable and a red line for the leading elite in Tehran. Syria has become Iran's "Achilles Heel", and the mullahs should be hit where it hurts.