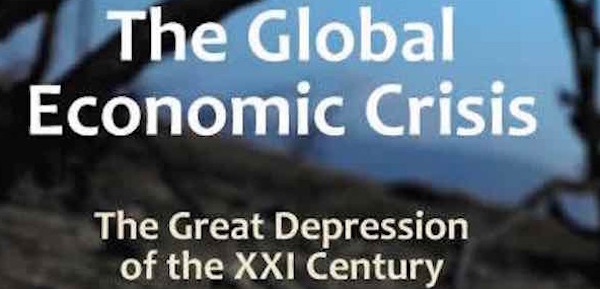 In the first half of this interview titled, Dr. Jim Willie Reveals the Most Unusual About the Looming Next Depression, the good Dr. discussed recent happenings in world financial markets, geopolitics, the precious metals breakout, various unusual forecasts, and more.
Dr. Willie also made it pretty clear that the Western World is so broke, that in addition to all the fun times that come with our currency collapsing, he thinks there's a good chance the U.S. government may adopt a play from the Cypress playbook and force U.S. bank bail-ins. Essentially, bail-ins are the polar opposite of bail-outs. Rather than the taxpayer giving the banks money, the banks seize the assets of the citizens' in instruments like their IRA's, 401k's, or their pensions, because otherwise there won't be enough money to even service the national debt, which I'll discuss in an article a bit later today. The way things have been unfolding just in the last 24 hours, there have been major developments that need to be talked about.
In part two of the interview below with Dr. Willie, he gives us a pretty clear breakdown of the current actions being taken by the international terror management squad, otherwise known as the global bankers, or the Illuminati. It would even be fair to say that at one point, Dr. Willie seems all over the place with topics ranging from a forensic analysis in the case of faked deaths all the way to subjects that might seem a bit too "far out" for most people on things like government Internet censorship, and how dissent will be treated by the government in the near future, but by the conclusion of the interview it's obvious Dr. Willie was merely helping to tie everything together and put it all in context.
SUBSCRIBE TO THE TOP STORIES OF THE WEEK IN THE NEWSLETTER HERE
FOR MORE NEWS BY VOICE OF REASON CLICK HERE!
Let it be known, Dr. Willie is no stranger to talking about the Illuminati and the Satanist global bankers. It's why he's one of the few global economists that really does "get" what's happening on the global scene. He doesn't alter his statistical analysis by removing what might otherwise be referred to as politically incorrect. Just to name a few, some of the other posts where he has covered the elites and their satanist ties were in posts like:
Dr. Jim Willie: The Global "Banksters" Plan For the Economic Markets (Video)
Jim Willie: Global Banking Cabal and Their Satanic Rules Are Ready to Strike
One thing is for sure, however Jim gets his information is no doubt unique. From clients of his who are connected to major world players, to just general tips coming into his website from visitors, Dr. Willie is pinged regularly with data most of us could only wish for. One of the many parts of this two part interview I found fascinating was when Dr. Willie brought up the new "US Dollar," and how it will coincide with the bank bail-ins. I can't help but be reminded of what William Mount said in the post titled, Obama Orders Hammond Ranch Destroyed, when Mount talked about how their would be a new US Currency soon. For now, we patiently wait…
STAY TUNED: ONCE I GET A HANDLE ON SOME OF THE OTHER CRAZY REPORTS THAT CAME IN LAST NIGHT I'LL BE SURE TO GET THE INFORMATION OUT…
FREE DETAILED GUIDE TO SURVIVING ECONOMIC COLLAPSE OR MARTIAL LAW HERE
STOP BY WWW.THELASTGREATSTAND.COM FOR SURVIVAL GEAR
IF YOU READ NOTHING ELSE, THE FOLLOWING POSTS ARE ESSENTIAL:
What Exactly Does Global Economic Collapse Coming May 2016 Mean?
Dr. Willie and Peter Schiff Together: Total Currency Collapse and Reset Coming
When Obama Suspends 2016 Election, a Guide to Survive Martial Law (Videos)
Jim Willie: How the Loss of the US Dollar as Reserve Currency Affects You Personally
Economic Implosion Will Lead to Stock Market at 5,000 by 2017 Forecaster Says
Ron Paul, Jim Willie, Peter Schiff, and Collapse of US Dollar on a Global Scale
FOR MORE GREAT MATERIAL FROM JIM WILLIE:
Dr. Jim Willie Reveals the Most Unusual About the Looming Next Depression
Dr. Jim Willie: Western Economic Markets Collapsing; Eurasian Markets Rise
Dr. Willie: Economic System is Collapsing Right Now; Us Dollar in a "Short Squeeze"
Dr. Jim Willie: The Dollar is Dead! Even Mainstream Media Realizes it!
Dr. Jim Willie – Secret Meeting at the G20 to Take Down the US Dollar
Dr. Jim Willie: Financial Deals Happening Behind Closed Doors; US Not Invited
Dr. Jim Willie: Economic Collapse is On Our Doorstep
Jim Willie: "The Quickening" is Approaching Global Economic Markets
Jim Willie: Both Our Allies and the American People Absolutely Hate Our Government
Jim Willie: U.S. Dollar is Now a Matter of National Security Due to Poor Decisions
Jim Willie: Armageddon Coming to U.S. With Trillions Exposed In Derivatives
Jim Willie, the Crumbling Global Economy, and the Dollar Crisis
FOR MORE GREAT MATERIAL FROM PETER SCHIFF:
Peter Schiff: "Trump's Very Massive Recession May Have Already Begun"
Peter Schiff: Americans Fear Future With 'Dead-End Economy, Crap Jobs, and Awful Wages'
Peter Schiff: "Can Donald Trump Really Make America Great Again?"
Peter Schiff: Dollar Collapse Will Be the Single Biggest Event In Human History
Peter Schiff: Obama "Peddling Fiction" As Unemployed Tops 100 Million People
Peter Schiff: Here Comes the Great, Great, Great, Great Recession!
Peter Schiff: "Whatever Obama Was Calling Recovery… is OVER!"
CNBC Actually Admits Peter Schiff Was Right… Again (Video)
Peter Schiff and Reagan Advisor: Complete Economic Collapse Immediately Ahead
Peter Schiff: Warning! Economic Storm Clouds Ready to Rain
Peter Schiff: Death of the US Dollar Is Imminent; Fed Out of Options
SUBSCRIBE TO THE TOP STORIES OF THE WEEK IN THE NEWSLETTER HERE
FACEBOOK | GOOGLE+ | TWITTER | PINTEREST | STUMBLE UPON | TUMBLER
DONATIONS ACCEPTED VIA PAYPAL TO GET THE RADIO SHOW RUNNING…
AND THEN TO HELP KEEP SPREADING THE MESSAGE!
COMING SOON TO INTERNET RADIO!
STAY TUNED!
FACEBOOK | GOOGLE+ | TWITTER | PINTEREST | STUMBLE UPON | TUMBLER