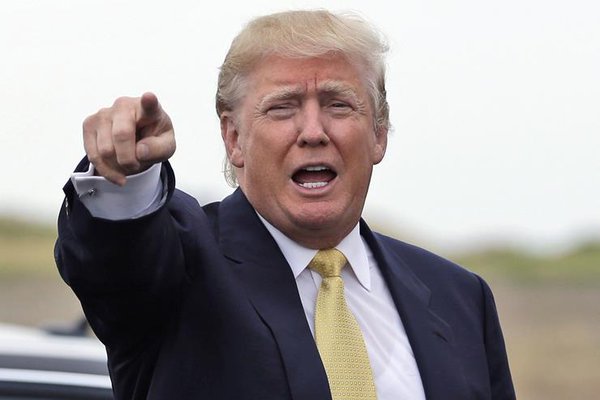 In the following video, Peter Schiff weighs in with his thoughts on a Donald Trump presidency. Some of you may know, Peter made an unsuccessful bid for the U.S. Senate back in 2010, so in addition to economics, Peter is also well versed in U.S. politics. In the video, Peter says that one of the things that makes Donald Trump so attractive to many voters, is the lack of a filter between his brain and his mouth. Trump says what he thinks. It may not always be true, or it may not always be right, and even when he's proven wrong, Trump is normally unapologetic about it.
There's no doubt that seeing a potential politician with a spine, and one who isn't afraid to say what's on his mind is a refreshing change of pace. Recall how nerve-wracking it was last month that on the day the number of unemployed Americans topped 100 MILLION people, Obama was in front of the cameras anyway patting himself on the back and babbling about how unemployment was at 4.9%.
Seriously? The guy is delusional. Sadly, because of a dishonest media that is in bed with the Democrats, because our elected leaders are lying sociopaths, and because of an education system that has failed to educate, somehow 99% of Americans have no idea the extent of the financial Armageddon that is coming our way. Regardless of how rich he is, Peter rightfully points out that even Donald Trump probably doesn't understand the extent of the financial Armageddon that is coming our way. The man is a real estate mogul, not a genius of all things. The point is, Donald Trump recognizes that America has lost her greatness, and at least he's honest enough to say it.
To stress the gravity of how bad things will get, I include an article after the video by Michael Snyder that says Americans are almost $1 TRILLION in credit card debt today. Think of how bad 2008 was, and when that crisis hit the country was at full employment. When this next crisis hits us, we'll be going into it with over 1/3 of the country not working, and both the country and the people completely maxed out on debt. 2008 is going to look like Camelot by comparison.
Anyway, whether someone is a Trump supporter or a Trump hater, most people can probably agree that regardless of whether he can or not, Donald J. Trump believes Donald J. Trump can get the country back on track financially. That is the focus of the video below. Along that line of thinking, that Trump can fix the economy, Peter examines a position taken frequently by Trump on the campaign trail, and one that may or may not prove to be problematic for the country if Trump wins the White House. Since Trump has never held elected office, there's no way to know for sure, which is why many voters are weary of him.
Peter brings up how Trump is often quoted saying that the reason America is in such a steep decline, is because we have total idiots in government, and all they've done is run the country into the ground. That's true. No argument there. However, Trump also implies that with smarter people (like himself of course), the problems can be fixed. Peter is quick to point out that if by "smarter," Trump means he'll let the free market go to work, that's great news for America. If by "smarter," Trump means a different group of people running the same big government, then we're in deep sh**.
The main idea Peter conveys in the video below, is not whether or not Trump would make a good president or not, but rather to say that anyone who is voting for Trump on the basis that because he's built one of the most profitable businesses in the world, that he can make the U.S. "profitable" again couldn't more wrong with their reasoning! There is almost ZERO similarity between the two roles, other than the word President. Peter goes on to explain that the U.S. doesn't need better trade deals, or better negotiators, because that would mean that big government is still involved, and big government is a guaranteed recipe for failure, no matter who is running it. 2000 years of history has proven that. For the power of the U.S. economy to be unleashed again, the free market has to be allowed to work.
For all the rabid Trump supporters out there who freak out if Trump is criticized in ANY way, calm down. First of all, Peter explains in detail why the two roles could not be any more different, and why voting for Trump on that basis makes NO sense. That doesn't mean there aren't other reasons that make Trump the best candidate. Again, if you recall, Peter began by saying that the way Trump views the situation now, may or may not prove to be problematic for the country once he's in office. There's just no way to know until we see him in action. The point is, as you decide which candidate you will cast your vote for, do so from an informed position.
DO NOT MISS THE FOLLOWING RED HOT ARTICLES:
Dr. Willie and Peter Schiff Together: Total Currency Collapse and Reset Coming
Peter Schiff: Dollar Collapse Will Be the Single Biggest Event In Human History
Dr. Jim Willie: Economic Collapse is On Our Doorstep
SUBSCRIBE TO THE TOP STORIES OF THE WEEK IN THE NEWSLETTER HERE
FOR MORE NEWS BY VOICE OF REASON CLICK HERE!
For the first time ever, total credit card debt in the United States is approaching a trillion dollars. Instead of learning painful lessons from the last recession, Americans continue to make the same horrendous financial mistakes over and over again. In fact, U.S. consumers accumulated more new credit card debt during the 4th quarter of 2015 than they did during the years of 2009, 2010 and 2011 combined. That is absolutely insanity, because other than payday loans, credit card debt is just about the worst kind of debt that consumers could possibly go into. Extremely high rates of interest, combined with severe penalties and fees, can choke the financial life out of almost any family in no time at all.
These days, most Americans use credit cards for various purposes, and they can be very convenient.
And if you pay them off every single month, they don't become a problem.
Unfortunately, a lot of people are not doing this. According to CNBC, total U.S. credit card debt rose by an astounding 71 billion dollars last year alone…
Last year, credit card debt in the U.S. surged by approximately $71 billion to $917.7 billion, according to a new study from CardHub.com. The research also found that most of the debt accrued in 2015 came in the fourth quarter, when Americans tacked on more than $52 billion.
"With 7 of the past 10 quarters reflecting year-over-year regression in consumer performance, evidence is mounting to support the notion that credit card users are reverting to pre-downturn bad habits," CardHub CEO Odysseas Papadimitriou said in a statement.
And as noted above, things were particularly gruesome during the 4th quarter of last year.
According to Alternet, Americans added more credit card debt during those three months than during the entire years of 2009, 2010 and 2011 combined…
FOR MORE NEWS BY VOICE OF REASON CLICK HERE!
Not since we headed into the Great Recession of 2008 have we been quite so loosey-goosey with our credit cards, racking up debt with stunning speed. Of our 4Q totals, CardHub notes, "during this one quarter, we added more debt than in 2009, 2010 and 2011 put together." That brings dollars owed to credit card companies by each debt-saddled American family up to $7,879, the highest since the Great Recession.
I can't even begin to describe how unwise this is. When I was in my twenties, I made the same mistakes that so many other Americans are making right now. I very foolishly racked up large balances on my credit cards, and it took years of extremely painful payments to fix those mistakes.
In America today, 37 percent of all households maintain credit card balances from month to month, and the average level of credit card debt for those households is $15,700. The following comes from CBS Minnesota…
According to NerdWallet, 37 percent of American households have credit card debt, which is defined as not paying off the full balance every month. Using data from the Federal Reserve of New York, U.S. Census and its own poll, NerdWallet found the average balance for those in credit debt is $15,700.
What most people don't realize is that by letting balances run from month to month, you can end up paying just about as much in interest as you did for the original purchases.
Here is one credit card repayment scenario that comes from NerdWallet…
For the sake of simplicity in calculating the cost of the average credit card debt, let's assume an APR of 16% and a fixed payment. We'll also assume a minimum payment of 2% of the principal balance of $15,762, the average as of the end of 2015, or $315.
Based on those terms — and assuming you don't add any more to your credit card balance — it would take 84 months, or seven years, to pay off the balance in full. During that time, you'll pay $10,402 in interest — about two-thirds of the original balance — for a total of $26,164. This averages out to about $124 in interest per month.
The scenario above assumes that all payments are made on time. But a single late payment can trigger higher interest rates, penalties and fees that can be absolutely suffocating.
In fact, some people end up paying back three, four or five times as much as they originally borrowed to the credit card companies.
If you use credit cards for convenience or to buy things online or to automatically pay bills, that is fine. Just don't let balances accumulate. As you can see, that can be financial suicide.
And as we head into a new global recession, you definitely don't want to be saddled with high levels of debt. All of us have little luxuries that we can cut back on, and now is not the time to be living on the financial edge.
Just look at some of the troubling signs that we have seen in the news in recent days…
-The U.S. oil and rig count just dropped to the lowest level ever recorded
-One Houston CEO told employees that he was laying off that we have entered a "depression"
-It is being reported that 35 percent of all oil and gas companies around the world are at risk of falling into bankruptcy
-Unemployment in Canada just hit a three year high
-The number of job cuts in the United States skyrocketed 218 percent during the month of January according to Challenger, Gray & Christmas
-U.S. manufacturing activity has been in contraction for four months in a row
-U.S. factory orders have now fallen for 15 months in a row
-Subprime auto loan delinquencies have hit their highest level since the last recession
-Orders for Class 8 trucks in the United States dropped by 48 percent on a year over year basis in January
-The Restaurant Performance Index in the United States has dropped to the lowest level that we have seen since 2008
-Major retailers all over America are shutting down hundreds of stores
And this list does not even include all of the signs of severe economic trouble from around the rest of the planet that I have been writing about lately.
Credit card debt truly is financial poison, and it is not something that you want to have during the hard times that are coming.
Unfortunately, most Americans never learn, and they continue to rack up credit card debt as if there is no tomorrow even as the global economy starts to spiral downhill all around them.
FOR MORE GREAT MATERIAL FROM JIM WILLIE:
Dr. Jim Willie: US Dollar is Being Surrounded By All Sides; It's Tragically Comical
Dr. Jim Willie: We're in the Bottom of the 9th; The US Dollar is Dying (2/28)
Dr. Jim Willie: Economic Collapse is On Our Doorstep
Jim Willie: "The Quickening" is Approaching Global Economic Markets
Jim Willie: When Deutsche Bank Fails, Barclays, Citigroup, and More Will Fall
Dr. Jim Willie and How To Simplify Your Finances To Survive Economic Collapse
Jim Willie: Global Banking Cabal and Their Satanic Rules Are Ready to Strike
Jim Willie: Both Our Allies and the American People Absolutely Hate Our Government
Jim Willie: U.S. Dollar is Now a Matter of National Security Due to Poor Decisions
Jim Willie: Armageddon Coming to U.S. With Trillions Exposed In Derivatives
Jim Willie, The Fed's Week of Reckoning, and an Isolated United States
Jim Willie: After Banks Fail, Government Seizes IRA's, 401k's, and Pensions
Jim Willie, the Crumbling Global Economy, and the Dollar Crisis
Jim Willie: What Do the Oil Black Market, NATO, and ISIS Have in Common?
Jim Willie; One on One -Taking Questions On the Most Pressing Matters of the Day
Jim Willie: The Fed, Yellen, US Dollar, and Negative Interest Are a Joke!
Jim Willie Explains U.S. Nuclear Threats to China & Russia Over Challenging the Dollar
FOR MORE GREAT MATERIAL FROM PETER SCHIFF:
Gold Prices: Peter Schiff Says This Will Send Gold Totally Through the Roof
Peter Schiff: Newest Recession Hiding in Plain View; American Dream Is Dead
Peter Schiff: Dollar Collapse Will Be the Single Biggest Event In Human History
Peter Schiff: Federal Reserve Only Delaying Total Financial Collapse of U.S. Economy
Peter Schiff: Obama "Peddling Fiction" As Unemployed Tops 100 Million People
Peter Schiff: Recovery Fantasy Persists Despite Recession Evidence
Peter Schiff: Here Comes the Great, Great, Great, Great Recession!
Peter Schiff: "Whatever Obama Was Calling Recovery… is OVER!"
CNBC Actually Admits Peter Schiff Was Right… Again (Video)
Peter Schiff: Due to the Feds Antics, the Market is Very Dangerous Now
Peter Schiff and "If The Economy Is Fine, Why Are So Many Large Retailers Imploding?"
Peter Schiff: Take a Good Look at the "New" American Dream!
Peter Schiff and Reagan Advisor: Complete Economic Collapse Immediately Ahead
Peter Schiff: Warning! Economic Storm Clouds Ready to Rain
Peter Schiff: Death of the US Dollar Is Imminent; Fed Out of Options
FACEBOOK | GOOGLE+ | TWITTER | PINTEREST | STUMBLE UPON | TUMBLER
DONATIONS ACCEPTED VIA PAYPAL TO GET THE RADIO SHOW RUNNING…
AND THEN TO HELP KEEP SPREADING THE MESSAGE!
COMING SOON TO INTERNET RADIO!
STAY TUNED!
FACEBOOK | GOOGLE+ | TWITTER | PINTEREST | STUMBLE UPON | TUMBLER