In the video below, Dr. Jim Willie explains that with Euro-zone banks showing renewed signs of crisis (Deutsche Bank deleveraging by a massive €425 billion over the past year- the fastest pace since the 2011 near-Euro collapse, and Barclays admitting a £12.8bn capital shortfall Tuesday) and fundamental indicators in the gold market screaming financial crisis (GOFO rates remain negative for nearly 20 days and massive inventory draw-downs at the COMEX & LBMA),
Willie, who recently stated that Deutche Bank is under major duress and could be the first major bank to collapse in the next stage of the banking crisis, informed The Doc that unlike the collapse of Lehman Brothers in 2008 which the Western Central banks were able to contain thanks to $13 T in bailout funds, a failure of Deutsche Bank would trigger a systemic banking contagion the likes of which the Western world has never seen.
SUBSCRIBE TO THE TOP STORIES OF THE WEEK IN THE NEWSLETTER HERE
FOR MORE NEWS BY VOICE OF REASON CLICK HERE!
When asked by The Doc how Deutsche Bank differs from Lehman Brothers in 2008, and what events could lead to a renewed banking crisis, Willie responded:
My best German source informs me that 3 major banks are in trouble, and these 3 banks are fighting every single night to fight off insolvency and failure. He says CitiGroup in New York, Barclays in London, and Deutsche Bank in Germany- every single night are in trouble.
The important thing to keep in mind about Deutsche Bank is that it won't go down alone if it goes down at all. If it fails, it will take along with it 3,4,5,6 or 10, or 15 other banks! It will be 1 or 2 quickly, then a 3rd and 4th a few weeks later, another, then before you know it, all of Italy and their major banks would be kaput.
My belief is that Deutsche Bank and its constant overnight risk of failure is somewhat tied to derivatives related to LIBOR, and also a risk related to their FOREX derivatives. In other words, derivatives that the banks use to balance off the currencies.
Believe it or not, in the derivatives world, gold is treated like a currency. Isn't that ironic?
The FOREX derivatives that the banks are involved in are very much tied to gold.
The big immediate threat for Deutsche Bank though has to do with their problems in hiding debt for the Sovereign nations applying for the Eurozone. For example, Greece and Italy couldn't have their debt ratios over certain levels, so what Deutsche Bank did was they turned nice big chunks of Sovereign debt into currency swaps.
For an example of how this works: Suppose you have a $250,000 bad business loan that is stinking up your credit report. So you call up your favorite Deutsche banker (or Goldman or Morgan- pick your criminal enterprise that is your personal favorite) and you tell him, look I have a $250,000 debt here and I want to make it go away. They say OK, we can do something clever here. We can pay off your debt so your credit report looks good, and we can establish this $250,000 Euro swap, and we'll keep it off the books!
So you have this $250,000 bad loan stinking up your books, it goes away, and is replaced by something hidden- a euro currency swap! That's precisely what was done on a larger macro scale by Greece and Italy- and Deutsche Bank is involved with several of these, and the total that is becoming disclosed is $400 Billion. Apply your typical ratios and you can conclude that they are $10, $15, $20 billion short for capital requirements!
The big banks are so criminal that they have converted fraud and criminal activity into a small cost of doing business!
FACEBOOK | GOOGLE+ | TWITTER | PINTEREST | STUMBLE UPON | TUMBLER
When asked to clarify his statement that a failure of Deutsche Bank would likely result in a contagion of bank failures Jim Willie responded:
Deutsche Bank is in a slightly different situation than Barclays, even though Barclays just announced a 12.8 billion capital shortfall Tuesday. The former Deutsche Bank CEO Ackermann was forced out last year.
Interpol came into Ackermann's office and conducted a financial document raid. There's a new sheriff in town. Sources indicate that big, powerful Eastern interests hired Interpol to clean things up.
We had events in April, May, and June in which 5,000 metric tons of gold were lifted out of London. Eastern entities were angry as hell that their gold had been leased and rehypothecated. The London banks used the Easterners' gold as equity for futures contracts that went bad- like in Spanish, Greek, and Italian debt.
Deutsche Bank's CEO could not withstand an assault on their office to retrieve data, even though he appealed to several high level politicians.
Fast forward to July 2013, and now we are seeing several Deutsche Bank Vice Presidents being indicted under various fraud charges, and they are almost all cooperating with Interpol! They've flipped to cooperate with the serious fraud division of Interpol.
London and New York remain fortresses (for the cartel banksters), but Frankfurt might be in the process of being penetrated.
Getting back to your question as to why a Deutsche Bank failure would be different than Lehman Brothers, it's because they are involved with all the different Sovereign bonds! Spain, France, Italy, Greece, they're involved with all of them and their balance sheet qualifications for the European Union!
Deutsche Bank is involved very closely with all of the Eurozone currencies and bonds, and they have massive swaps interwoven with all the major Western banks.
I have a client informing me that Deutsche Bank has a bunch of swaps that they wrote against Detroit muni bonds! Deutsche Bank has their fingers in alot of different pies! Lehman Brothers was involved in numerous mortgage instruments.
Dont bet your money that Deutsche Bank will go down, but if it does, the next day its going to be Citi, Barclays, HSBC, Morgan Stanley, Soc Gen, and big threats to JP Morgan and Goldman Sachs!
In conclusion, Deutsche Bank owns $25 trillion in OTC swaps with the Central banks and other major banks, so expect a daisy chain of derivative failures for the $1.6 quadrillion derivative market if it were to fail!
Deutsche Bank cannot break down by itself. It would result in the complete breakdown of the European Monetary Union!
In today's world when a big bank dies, they merge them with another big bank. Another European bank, potentially Barclays. I think we are going to see massive amounts of money flooding into gold!
A bank failure contagion, that's whats going to push gold way over $2,000/oz again.
Silver is going to be moving over $100 and gold is going over $5,000, I'm as certain of it as I am that the sun will rise in the east in the morning come January.
SUBSCRIBE TO THE TOP STORIES OF THE WEEK IN THE NEWSLETTER HERE
FOR MORE NEWS BY VOICE OF REASON CLICK HERE!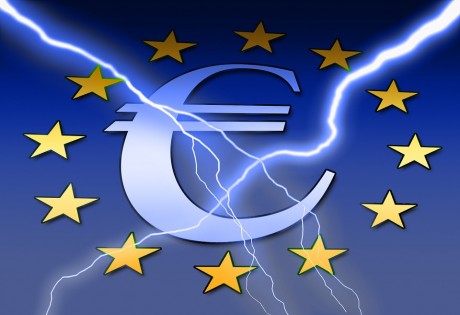 There is so much chaos going on that I don't even know where to start. For a very long time I have been warning my readers that a major banking collapse was coming to Europe, and now it is finally unfolding. Let's start with Deutsche Bank. The stock of the most important bank in the "strongest economy in Europe" plunged another 8 percent on Monday, and it is now hovering just above the all-time record low that was set during the last financial crisis. Overall, the stock price is now down a staggering 36 percent since 2016 began, and Deutsche Bank credit default swaps are going parabolic. Of course my readers were alerted to major problems at Deutsche Bank all the way back in September, and now the endgame is playing out. In addition to Deutsche Bank, the list of other "too big to fail" banks in Europe that appear to be in very serious trouble includes Commerzbank, Credit Suisse, HSBC and BNP Paribas. Just about every major bank in Italy could fall on that list as well, and Greek bank stocks lost close to a quarter of their value on Monday alone. Financial Armageddon has come to Europe, and the entire planet is going to feel the pain.
The collapse of the banks in Europe is dragging down stock prices all over the continent. At this point, more than one-fifth of all stock market wealth in Europe has already been wiped out since the middle of last year. That means that we only have four-fifths left. The following comes from USA Today…
The MSCI Europe index is now down 20.5% from its highest point over the past 12 months, says S&P Global Market Intelligence, placing it in the 20% decline that unofficially defines a bear market.
Europe's stock implosion makes the U.S.' sell-off look like child's play. The U.S.-centric Standard & Poor's 500 Monday fell another 1.4% – but it's only down 13% from its high. Some individual European markets are getting hit even harder. The Milan MIB 30, Madrid Ibex 35 and MSCI United Kingdom indexes are off 29%, 23% and 20% from their 52-week highs, respectively as investors fear the worse could be headed for the Old World.
These declines are being primarily driven by the banks. According to MarketWatch, European banking stocks have fallen for six weeks in a row, and this is the longest streak that we have seen since the heart of the last financial crisis…
The region's banking gauge, the Stoxx Europe 600 Banks Index FX7, -5.59% has logged six straight weeks of declines, its longest weekly losing stretch since 2008, when banks booked 10 weeks of losses, beginning in May, according to FactSet data.
"The current environment for European banks is very, very bad. Over a full business cycle, I think it's very questionable whether banks on average are able to cover their cost of equity. And as a result that makes it an unattractive investment for long-term investors," warned Peter Garnry, head of equity strategy at Saxo Bank.
FACEBOOK | GOOGLE+ | TWITTER | PINTEREST | STUMBLE UPON | TUMBLER
Overall, Europe's banking stocks are down 23 percent year to date and 39 percent since the peak of the market in the middle of last year.
The financial crisis that began during the second half of 2015 is picking up speed over in Europe, and it isn't just Deutsche Bank that could implode at any moment. Credit Suisse is the most important bank in Switzerland, and they announced a fourth quarter loss of 5.8 billion dollars. The stock price has fallen 34 percent year to date, and many are now raising questions about the continued viability of the bank.
Similar scenes are being repeated all over the continent. On Monday we learned that Russia had just shut down two more major banks, and the collapse of Greek banks has pushed Greek stock prices to a 25 year low…
Greek stocks tumbled on Monday to close nearly eight percent lower, with bank shares losing almost a quarter of their market value amid concerns over the future of government reforms.
The general index on the Athens stock exchange closed down 7.9 percent at 464.23 points — a 25-year-low — while banks suffered a 24.3-percent average drop.
This is what a financial crisis looks like.
Fortunately things are not this bad here in the U.S. quite yet, but we are on the exact same path that they are.
One of the big things that is fueling the banking crisis in Europe is the fact that the too big to fail banks over there have more than 100 billion dollars of exposure to energy sector loans. This makes European banks even more sensitive to the price of oil than U.S. banks. The following comes from CNBC…
The four U.S. banks with the highest dollar amount of exposure to energy loans have a capital position 60 percent greater than European banks Deutsche Bank, UBS, Credit Suisse and HSBC, according to CLSA research using a measure called tangible common equity to tangible assets ratio. Or, as Mayo put it, "U.S. banks have more quality capital."
Analysts at JPMorgan saw the energy loan crisis coming for Europe, and highlighted in early January where investors might get hit.
"[Standard Chartered] and [Deutsche Bank] would be the most sensitive banks to higher default rates in oil and gas," the analysts wrote in their January report.
There is Deutsche Bank again.
It is funny how they keep coming up.
In the U.S., the collapse of the price of oil is pushing energy company after energy company into bankruptcy. This has happened 42 times in North America since the beginning of last year so far, and rumors that Chesapeake Energy is heading that direction caused their stock price to plummet a staggering 33 percent on Monday…
Energy stocks continue to tank, with Transocean (RIG) dropping 7% and Baker Hughes (BHI) down nearly 5%. But those losses pale in comparison with Chesapeake Energy (CHK), the energy giant that plummeted as much as 51% amid bankruptcy fears. Chesapeake denied it's currently planning to file for bankruptcy, but its stock still closed down 33% on the day.
And let's not forget about the ongoing bursting of the tech bubble that I wrote about yesterday.
On Monday the carnage continued, and this pushed the Nasdaq down to its lowest level in almost 18 months…
Technology shares with lofty valuations, including those of midcap data analytics company Tableau Software Inc and Internet giant Facebook Inc, extended their losses on Monday following a gutting selloff in the previous session.
Shares of cloud services companies such as Splunk Inc and Salesforce.com Inc had also declined sharply on Friday. They fell again on Monday, dragging down the Nasdaq Composite index 2.4 percent to its lowest in nearly 1-1/2 years.
Those that read my articles regularly know that I have been warning this would happen.
All over the world we are witnessing a financial implosion. As I write this article, the Japanese market has only been open less than an hour and it is already down 747 points.
The next great financial crisis is already here, and right now we are only in the early chapters.
Ultimately what we are facing is going to be far worse than the financial crisis of 2008/2009, and as a result of this great shaking the entire world is going to fundamentally change.
FACEBOOK | GOOGLE+ | TWITTER | PINTEREST | STUMBLE UPON | TUMBLER
FOR MORE GREAT MATERIAL FROM JIM WILLIE:
Dr. Jim Willie and How To Simplify Your Finances To Survive Economic Collapse
Dr. Jim Willie and How To Simplify Your Finances To Survive Economic Collapse
Jim Willie: Global Banking Cabal and Their Satanic Rules Are Ready to Strike
Jim Willie: Both Our Allies and the American People Absolutely Hate Our Government
Jim Willie: U.S. Dollar is Now a Matter of National Security Due to Poor Decisions
Jim Willie: Armageddon Coming to U.S. With Trillions Exposed In Derivatives
Jim Willie, The Fed's Week of Reckoning, and an Isolated United States
Jim Willie: After Banks Fail, Government Seizes IRA's, 401k's, and Pensions
Jim Willie, the Crumbling Global Economy, and the Dollar Crisis
Jim Willie: What Do the Oil Black Market, NATO, and ISIS Have in Common?
Jim Willie; One on One -Taking Questions On the Most Pressing Matters of the Day
Jim Willie: The Fed, Yellen, US Dollar, and Negative Interest Are a Joke!
Jim Willie Explains U.S. Nuclear Threats to China & Russia Over Challenging the Dollar
FOR MORE GREAT MATERIAL FROM PETER SCHIFF:
Peter Schiff: Obama "Peddling Fiction" As Unemployed Tops 100 Million People
Peter Schiff: Recovery Fantasy Persists Despite Recession Evidence
Peter Schiff: Here Comes the Great, Great, Great, Great Recession!
Peter Schiff: "Whatever Obama Was Calling Recovery… is OVER!"
CNBC Actually Admits Peter Schiff Was Right… Again (Video)
Peter Schiff: Due to the Feds Antics, the Market is Very Dangerous Now
Peter Schiff: 2015 Was The Worst Year Since 2008 and Stocks Still Dropping
Peter Schiff: Janet Yellen Strayed From Her Own Plan and Went Nuts!
Peter Schiff: Higher Spending During Holidays Does Not Fix Screwed Economy
Peter Schiff and "If The Economy Is Fine, Why Are So Many Large Retailers Imploding?"
Peter Schiff: Take a Good Look at the "New" American Dream!
Peter Schiff: Did the Fed's Luck Run Out On Friday the 13th?
Peter Schiff and "The 4 Harbingers Of Stock Market Doom"
Peter Schiff and Reagan Advisor: Complete Economic Collapse Immediately Ahead
Peter Schiff: Warning! Economic Storm Clouds Ready to Rain
Peter Schiff: Death of the US Dollar Is Imminent; Fed Out of Options
Peter Schiff: 11 Trillion In Global Stock Losses and Awful Jobs Report
Resolution Drafted For Obama Impeachment Consists of 48 Criminal Charges
Obama Caught Smuggling In Up To 100,000 Refugees Per Year on UPS Planes!
Four-Star Navy Admiral Blasts Obama For Treason, and Reveals Obama's Plans
Top Obama Appointee: "President Knowingly and Willingly Armed ISIS"
Former FBI Assistant Director Risks His Life – Just Exposed Obama In Huge Way!
The Proof You've Wanted Regarding Obama's Treason
Former CIA Director Unloads, Then Issues Severe Warning About Obama
FACEBOOK | GOOGLE+ | TWITTER | PINTEREST | STUMBLE UPON | TUMBLER
DONATIONS ACCEPTED VIA PAYPAL TO GET THE RADIO SHOW UP AND RUNNING…
GO TO: WWW.THELASTGREATSTAND.COM TO MAKE A SMALL DONATION
COMING SOON TO INTERNET RADIO!
STAY TUNED!
FACEBOOK | GOOGLE+ | TWITTER | PINTEREST | STUMBLE UPON | TUMBLER