Stop what you're doing for a second. Turn on the news. Do you hear it? It's in every story on every channel? It used to be a low murmur, and it was difficult to understand, but now it sounds like a marching band right outside your bedroom window, and it's getting LOUDER every day. Get familiar with that sound. It's not going away. That is the sound of the Piper's marching band, and it's coming for us all. The old saying goes, "Sooner or later, you have to pay the Pied Piper," well, guess what? We owe so much he needs an army with him to collect it all, and he's just about on the doorstep.
In the video below, Peter reviews the latest jobs report, which is one of the biggest indicators that a financial tsunami of biblical proportions has reached its crest, and very soon that wave that has been traveling hundreds of miles and several stories high will hit landfall and wipe out everything in its path, countries and families alike. Just to hit a few quick highlights, Peter reaffirms what he's been saying all along, that previous jobs reports that appeared ok on the surface were typical Obama smoke and mirrors, and totally bogus.
Let's use a concrete example. Close your eyes. First, imagine if 50,000 people all lost full-time jobs paying $50,000 per year WITH benefits because of layoffs and companies going out of business, but 100,000 people all got part time-jobs with NO BENEFITS working 15 hours a week at Starbucks, Home Depot, or wherever. Then, imagine that trend had been going on for a few years, and the people putting out the reports were so dishonest, that for personal political reasons they chose to paint the reports in a rosy light rather than warn people of the impending doom. Now open your eyes. Welcome to "Hope and Change" suckers! We have a MASSIVE problem that is becoming evident even to the "economic deniers."
Peter calls this report the missing piece in the puzzle that he hopes will finally begin to bring the problem to the forefront of the mainstream media's attention. The "expectations" (which have all been blissfully bullsh**…. I mean bullish because of who puts them out) for the last three months jobs reports were pathetic by ordinary standards, and we barely hit those numbers by 50%. Add to that problem the incredibly important details about the TYPES of jobs being created, meaning part-time jobs replacing full-time jobs, and you'll see that it's time to strap in, because the wheels are about to come flying off.
With all that Peter has been right about, let's hope he's wrong about the solution the Wise Wizard from Kenya will offer as the fix. If the Fed does QE4, which is sadly almost a certainty, the bubble will get even bigger, making the inevitable pop so much more painful than if we just took the medicine we need now. In the video, Peter connects the dots for those who need things put in layman's terms. Folks, the bottom line is this: Barrack Obama has eviscerated this nation's economic wealth and he's destabilized the world as we see in the Middle East. By the time anyone with any sense takes office, the U.S. will be far too weak to do anything more than desperately attempt to keep our own heads above water, much less be a force for good. It's doubtful we'll even be able to do that. Be warned.
For those still whistling Dixie in the dark crying out, "Conspiracy Theory," I call your attention to the article after the video drawing attention to the $11 TRILLION in assets that have evaporated into thin air over the recent months in global equity markets. The only ones crying, "Conspiracy Theory," are either liars or they are broke already and haven't watched their savings drop like a rock with each new "positive" jobs report. Anyone else ought to be able to see that Rome is burning.
FOR MORE NEWS BY VOICE OF REASON CLICK HERE!
Economic Collapse Blog Writes:
Did you know that 11 trillion dollars in global stock market wealth was wiped out during the third quarter of 2015? When I was emailed this figure by a friend, I was stunned for a moment. I knew that things were bad, but were they really this bad? When I first received this information, I had just finished a taping for a television show in which I had boldly declared that 5 trillion dollars of stock market wealth had been wiped out around the world.
Unfortunately, the final number has turned out to be much larger than that. Over the past three months, the stock markets of all major global economies have been crashing simultaneously, and 11 trillion dollars of "paper wealth" has now completely vanished. The following comes from Fortune…
Global equity markets suffered a bruising third quarter, shedding $11 trillion worth of global shares over three months, according to Bloomberg.
It was the market's worst quarter since 2011. The prolonged slump was due to low prices for commodities such as oil, instability in China's markets, and the anticipation that the U.S. Federal Reserve will soon raise interest rates.
In light of this number, how in the world is it possible that there is still anyone out there that is claiming that "nothing happened" over the past few months?
In China, they sure aren't claiming that "nothing happened". Chinese stocks are down about 40 percent from the peak of the market.
In Germany, they sure aren't claiming that "nothing happened". As of a few days ago a quarter of all German stock market wealth had been wiped out since the peak earlier this year.
Yes, things have been a bit milder in the United States. So far, stocks are only down about 10 percent or so, but we did see some truly remarkable things happen over the past three months. We witnessed the 8th largest single day stock market crash on a point basis in U.S. history, we witnessed the 10th largest single day stock market crash in U.S. history, and we witnessed the single greatest intraday stock market crash in all of U.S. history. On August 24th the Dow plunged 1,089 points before bouncing back.
But every time the markets have an up day there are all these people running around declaring that "the crash is over". Well, that is not how financial markets work. They "stair-step" on the way up and they do the same thing on the way down.
And without a doubt, U.S. stocks still have a long, long way to go down.
In recent years, stocks have soared to unbelievably unrealistic levels. One of the most popular methods of measuring the true value of stocks is something called the cyclically-adjusted price to earnings ratio. It was developed by economist Robert Shiller of Yale University, and it attempts to accurately show how much we are paying for stocks in relation to how much those corporations are actually earning. When this number is very high, stocks are overvalued, and when this number is very low stocks are undervalued.
Earlier this year, CAPE hit a peak of about 27, and by the beginning of August it was still sitting up around 26. The only times CAPE has been higher has been just before other stock market bubbles have been burst…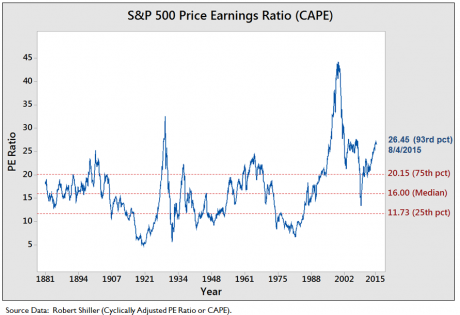 It would take a total drop of about 40 percent from the peak of the market just to get back to average. So far the Dow has fallen about 10 percent or so, so it is going to take another 30 percent crash just to get to a point where stock prices are considered "normal" once again.
Another very common measurement of stock values shows the exact same thing. The ratio of corporate equities to GDP is also known as "the Buffett Indicator" because Warren Buffett loves it so much. When stock prices get very high in relation to the size of the overall economy that is a sign that stocks are overvalued, and when stock prices get very low in relation to the size of the overall economy that is a sign that stocks are undervalued.
The chart below was recently posted by dshort.com and it shows that stock prices would have to fall more than 40 percent just to get back to the historical average (the mean).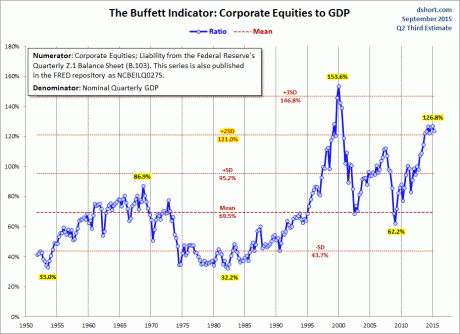 Right now, lots of Americans are rushing to get back into the stock market because "September is over" and they figure that stocks are a good value now since they have gone down a good bit.
But as you can clearly see from the charts that I have just shared, U.S. stocks are still a terrible value.
Even if we don't experience a "black swan event" like a major natural disaster, a large scale terror attack or the collapse of a globally important financial institution in the months ahead, it is inevitable that stocks will go down a lot more at some point. Stocks simply cannot defy gravity forever. These bubbles have always ended in crashes in the past, and the same thing is going to happen again this time.
People that are trying to tell you that "things are different this time" simply refuse to learn from history.
I am writing this piece while waiting for a plane at Denver International Airport. I missed my connection because my first flight was delayed by about an hour. So I am just sitting here watching people walk past. Most of them are just living their lives without any idea of the disaster that is about to hit this country.
Over the past few days I have been reflecting on the fact that our nation has willingly chosen this path. We willingly chose to go into so much debt. We willingly chose to send millions of good paying jobs overseas. We willingly chose to pump up these financial bubbles. We willingly chose to reject the values of our forefathers. We willingly chose men like Barack Obama, Harry Reid and John Boehner to represent us in Washington.
The things that are coming are the logical consequences for decisions that we have collectively made as a nation.
There are still many out there that do not believe that we will have to face any consequences for what we have done.
Unfortunately for all of us, they are not going to have to wait very long at all to see how incredibly wrong they were.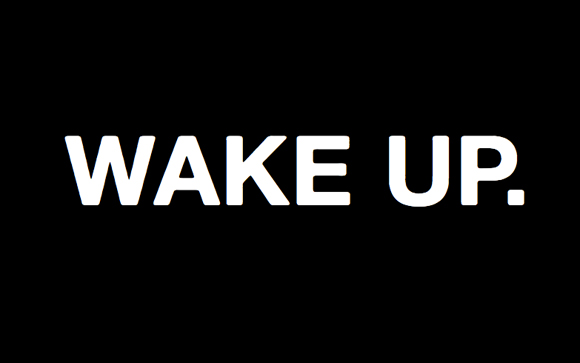 FOR LINKS TO UNDERSTAND THE ECONOMY & THE COMING ECONOMIC COLLAPSE:
Disaster: Will EU Become a New Enemy to the U.S. After Refugees Collapse EU?
Peter Schiff: "The Fed Admits Rates Could Stay at Zero Forever"
Peter Schiff with Mr. "I Have No Fear Of an Economic or Stock Market Collapse"
Peter Schiff Explains Why Financial Bubbles Are Ready to Pop
Peter Schiff: Everybody Is Preparing for Wrong Outcome in US Economy
The Elite Have Prepared For the Coming Economic Collapse – Have You?
China Warns Washington It's Been Liquidating U.S. Treasuries
2 Day Crash That Was Larger Than Any 1 Day Market Crash In U.S. History
10 Signs the US is Transitioning to Third World Country Status (Videos)
Peter Schiff On China's Currency Devaluation and the Federal Reserve Board
10 Horrifying Realities Americans Find Too Awful To Face
Gerald Celente: Massive Market and Trade Instability Will Cause WW III
China Knocking on the Door of Reserve-Currency; World Teeters on Collapse
Peter Schiff: Greece Was a Sideshow. Americans Need to Worry About Starving
Gerald Celente Predicts Economic Collapse Means World War III (Video)
Can You Imagine Empty Grocery Stores?
Putin Makes Chilling Threat to Obama That Could Change Everything
Gerald Celente: America Headed Towards Total Financial Collapse
Peter Schiff: China and Switzerland is Killing U.S. Dollar
Deathblow to the Dollar – Even Our "Allies" Abandoning U.S.
What Will Happen To You When The Dollar Collapses?
Gerald Celente: "America Is A Collapsing Third World Country"
Gerald Celente: A Worldwide Panic Is Beginning And "There Is No Recovery"
FOR MORE NEWS BY VOICE OF REASON CLICK HERE!
CHECK OUT THE NEW GOOGLE+ PAGE!
BE SURE TO GO MY PROFILE'S BELOW AT OTHER SOCIAL MEDIA:
FACEBOOK | TWITTER | PINTEREST | STUMBLE UPON | TUMBLER
THE VOICE OF REASON