On the day before the opening of the 2016 Democratic National Convention, as top Democratic Party members settled into swank hotel suites around Philadelphia, Green Party presidential candidate Jill Stein spent much of that day interacting with the homeless and others in one of Philadelphia's poorest communities.
Stein, a physician, walked the streets of Philadelphia's Kensington section, hosted by anti-poverty activists in that community.
Kensington is a community where poverty in certain sections exceeds 57 percent. The unemployment rate in Kensington averages 19.1 percent, a figure that is nearly five times the current national average. Kensington is also a community with high levels of drug addiction and numerous drug sale locations. Stein stopped at an intersection in Kensington known as one of Philadelphia's top drug sale/use locations.
"Kensington is what too much of America looks like," Stein said. "In America today most people either live in poverty or are near poverty. This must change! Government today works for the wealthy special interests and not in the interests of most people."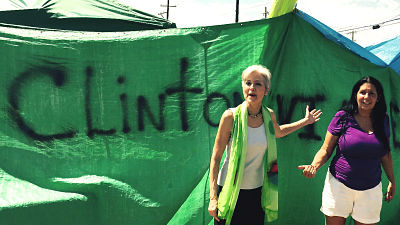 Jill Stein (left) Cheri Honkala (right) LBW Photo

A news collective, founded as a blog in 2004, covering war, politics, environment, economy, culture and all the madness
Source:
http://thiscantbehappening.net/node/3243