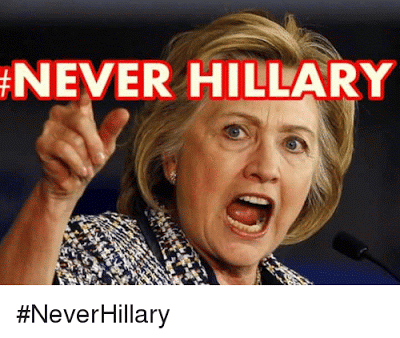 For all the undecided voters out there having trouble getting onboard the Trump Train, myself included, the Top 10 reasons to vote for him in this article make quite a bit of sense!

Much like many other GOP voters, I had hopes that the Trump campaign would inspire me and make casting my vote for The Donald a no-brainer instead of an intense internal debate. But that has certainly not yet come to be.
Of course a vote for Hillary is guaranteed never to happen I asked Donald following over the past week…

Note To Donald Trump: Reel Me In, I'm Slipping Off Of The Hook!
Donald Trump needs to make a vote for him an affirmative action rather than one of simply holding the nose and jumping into an unknown abyss!
Top 10 Reasons To Vote For Donald Trump
Hillary Clinton is unfit to be POTUS,
Hillary Clinton wouldn't know the truth if it bit her in the ass,
Hillary Clinton's 'accomplishments' as Secretary of State made the world less safe than it's been in a very long time by unleashing ISIS, pressing the reset button with Russia, promoting the failed Arab Spring, Libya in anarchy, Syria the home of terrorists and China taking over the South China Sea, to name just a few,
Hillary, like Bill, plays fast and loose with the law and has perfected the skill of using well crafted wording to try and cover it all up. That in addition to apparently also being a pathological liar and having it all covered-up by the mainstream media that's in the Democrats pocket,
Her physical and mental state have been seriously questioned (Video Here),
The Clinton Foundation is seemingly nothing more than a conduit for a pay-to-play scheme that has negatively impacted our nations security,
Hillary showed her true colors when she put politics over patriotism and basically signed the death warrant for four Americans in Benghazi,
Hillary's decision to maintain a private email server to hide her actions, a server that was undoubtedly hacked by foreign foreign governments and other bad actors, once again shows her priority is for self over her country and its secrets,
The unwavering endorsement given by Barack Obama should be a clear signal to the American people that she will carry-on his failed policies,
If voters want to put America back onto the right track, Trump MAY be our last chance because four more years of Obama may just seal our fate!
My message to Donald Trump is clear:
Become the type of candidate that Independent voters, disenfranchised Democrat voters and concerned GOP voters alike WANT to get behind rather than being nothing but the 'NOT HILLARY' candidate that some of us still hesitate to support.
The ball is squarely in your court!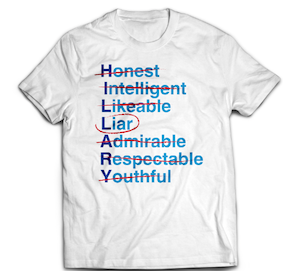 ORDER YOUR HILLARY LIAR T-SHIRT TODAY!
Source:
http://politicsandfinance.blogspot.com/2016/08/top-10-reasons-to-vote-for-donald-trump.html