A new Super PAC for Donald Trump is making waves against the Crooked Media and Crooked Hillary and the left does not like it at all. You know you're hitting a liberal nerve and effective when ninety-nine percent of the Super PACs articles and post on their Facebook fan page have been extremely censored to shut them up. One very good friend of American Right TV Super PAC has been severely censored and even locked out of his Facebook account several times for posting the PACS articles against Hillary. Are Hillarys on-line trolls at it or is Facebook itself censoring the PACs post? This censorship and attacks on social media must stop and you can help by supporting American Right TV Super PAC today to defeat #CrookedHillary and her #CrookedMedia.
American Right TV Super PAC LLC was recently created to raise money to buy TV airtime to get their new special effects Anti-Hillary, Pro-Trump politcial TV commercials on the air in the battleground states. Their commercials are created with a twist to grab the attention of the mainstream voters that do not pay attention to the typical political commercials but they DO believe what the media tells them to believe, most say they 'hate Trump and plan to vote for Hillary because THAT is what the media is telling them to do.
American Right TV Super PAC knows in order to reach the millennial voters, they need to do something different to grab their attention to defeat Hillary Clinton and gain their vote for Donald Trump. "This is a generation that must be entertained and American Right TV Super PAC does that with TV commericals with special effects, memorable attention grabbing sounds and color because the mainstream voters do not pay attention to the typical political commercial in their busy lives."
WATCH this 30 second TV commercial spot and help get it and other special effect commercials on the air today.
ARTSPAC STORM 30 SECONDS – Copy from American Right TV Super PAC on Vimeo.
American Right TV Super PAC knows how to reach millions of mainstream voters but they need your help and donations to buy the TV airtime. You can donate today to their PayPal account at http://www.ameririghttv.com All funds go to the cost of the commercials and TV air time. American Right TV Super PAC LLC takes nothing for granted this election, the liberal media will continue to prop up Hillary and attack Trump. Unlike other PACS, American Right TV Super PAC does not need millions to reach the millions of undecided voters, they know media and can get the job done for about $500,000.00- 700,000.00 and saturate the key battleground states. Please help them defeat the liberal medias fake polls and defeat Hillary Clinton, she must not win this election or we've lost our country forever.
Go to https://www.facebook.com/AmeriRightTV/ and donate today! We're running out of time.
"The Only People Who Don't Want to Expose the Truth, Are People With Something To Hide"
Right Obama and Hillary? The liberal media are lying to their viewers telling them Hillary is ahead in the polls, the truth is this: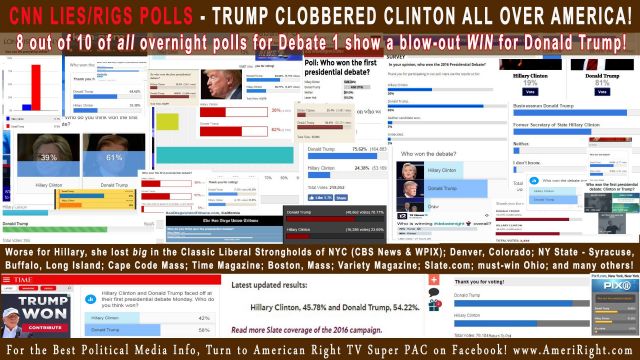 ——————–
* POLLS: TRUMP WON DEBATE 1 AGAINST CLINTON HANDS DOWN *
The Ultimate Truth-Telling Facebook Meme (click image to read the fine print)
Sept. 27, 2016
We were up all night going through every poll, (some even in places as far away as Australia, and no, they do not count here) and we have put together the Ultimate Facebook Meme Graphic to set the record straight and beat back the liberal lies about who won the first presidential debate last night.
The media is already spreading CNN's horrendous journalistic lie, and yes, in our opinion, the poll they published was a lie .In the very few polls In which Hillary Clinton won the debate, she won usually by 4 or 5 points. The huge spreads, even in liberal strongholds, showed Trump winning by gigantic margins, as high as 20 points and more. Therefore, statistically, the huge spread in which CNN showed Hillary winning 60-something – to – 20-something must have been a total, dishonest, agenda-driven fabrication, a lie. No other poll shows such a thing, even remotely, and that makes CNN's poll, in our opinion, an obvious deliberate falsehood.
We only count reliable polls from known and legit media sources, not blogs and so forth.
IT WASN'T EVEN CLOSE. BY 8 OUT OF 10 IN DOZENS OF POLLS ACROSS AMERICA, DONALD TRUMP CLEANED HILLARY CLINTON'S CLOCK BY SOMETIMES POSITIVELY SHOCKING MARGINS. SHE ALSO LOST IN MOST LIBERAL STRONGHOLDS AND MUST-WIN STATES.
Generally, our average of all polls shows Trump beating Hillary in the debate by approximately 11 points overall. In the few polls where Hillary wins, she wins by an average of 4 points, or 1 point outside of the margin of error. That amounts to basically a total and complete blow-out win for Trump. It doesn't get any better in the real world. READ MORE…..https://www.facebook.com/AmeriRightTV/posts/1297549370279454:0?hc_location=ufi
Help get the word out to your friends and share this story on mainstream Facebook and Twitter pages. You are the media, let everyone know the truth the liberal biased media is trying to hide.
If you'd like to donate to help get commercials on the air for Donald Trump that are created to reach the mainstream voters , please donate to http://www.ameririghttv.com Time is running out and you can make a huge difference with your contributions.
Be sure to 'LIKE' American Right TV Super PAC on Facebook https://www.facebook.com/AmeriRightTV/