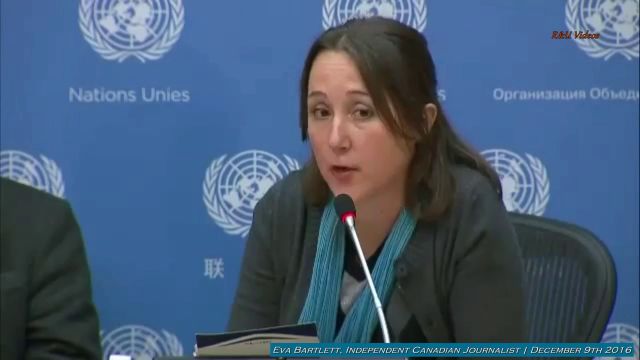 "Independent Canadian journalist Eva Bartlett, (video links below),
speaking at the United Nations Press Conference about her undercover OP in Syria.
She exposes how the western mainstream media is lying to the public about
the War in Syria, the Syrian Army, Syrian President Bashar al-Assad, and Russia.
President Obama has funded terrorism in Syria and hasn't been serious about fighting terrorists. President-elect Trump is aware of this and wants to change this, so the U.S. mainstream media is now trying to destroy his credibility by spreading false propaganda that Russia hacked our election
to help Trump win."
This is cutting edge NEWS everyone! Get the word out, re-post, re-youtube!
CENSORSHIP IS HAPPENING!
After watching and listening closely to the press conference from the United Nations, I am shocked at the level of US corruption.
Detailed facts, evidence, proves that obama is lying, a war criminal, proves that the US corruption
extends from the White House to all government agencies and then to Western Media, US, UK, EU.
All to blame Russia.
Nothing but blatent McCarthyism!
The press conference raised many points about the US supporting, arming, funding terrorists.
From recycling Aya, a child surprisingly rescued multiple times from different locations (Fake News)
To the bombings of Hospitals by Russia that were still standing.
Yet the largest best Cancer Hospital in the Region was utterly destroyed,
and no Western media reported it.
Horrible!
Watch the Press Conference while you can on these youtube links:
52 min https://www.youtube.com/watch?v=ebE3GJfGhfA
18 min https://www.youtube.com/watch?v=HTq3QtDP9Lk
3:45 min https://www.youtube.com/watch?v=rUhe87r5bEE
We are in a Civil War in the United States, and every country in the Western World.
Police State, Propaganda, Censorship, Martial Law, FEMA Camps, Civil Unrest, Civil War, World War
Are you Prepared? Are you Ready? Are you informed? Get the facts, here at BIN, and at:
https://salvationcanada.wordpress.com/
http://www.infowars.com/
http://www.breitbart.com/
http://www.drudgereport.com/
http://rsbn.tv/