Trump Coloring Book – President
During the early hours of November 9th, 2016, Saint Louis publishing house Really Big Coloring Books®, Inc. (RBCB) released fact based upbeat commemorative Presidential book on the meteoric rise of Donald J. Trump. From global business magnate to the most powerful position on the planet, The Presidency of the United States. The book memorializes the firebrand's journey, platform and the ability of this nation to elect Trump. As reported on (*1) ABC News – The Allman Show this book by topic alone is controversial.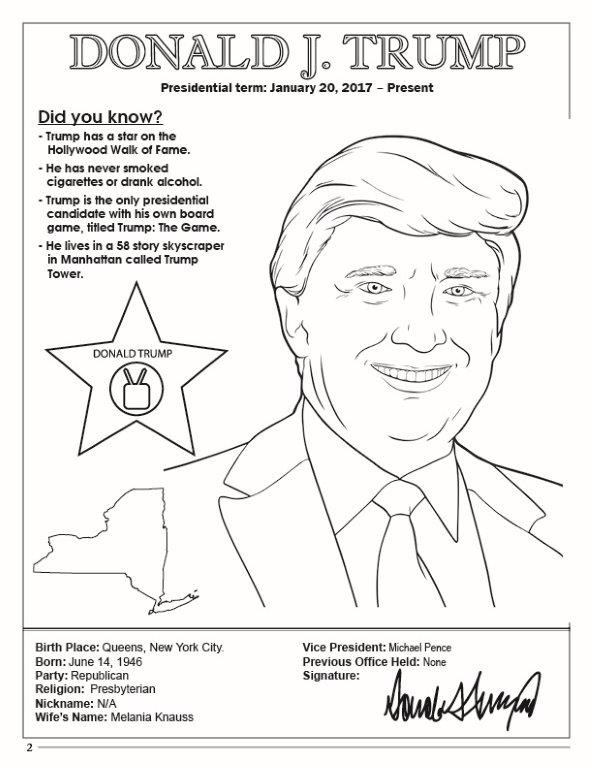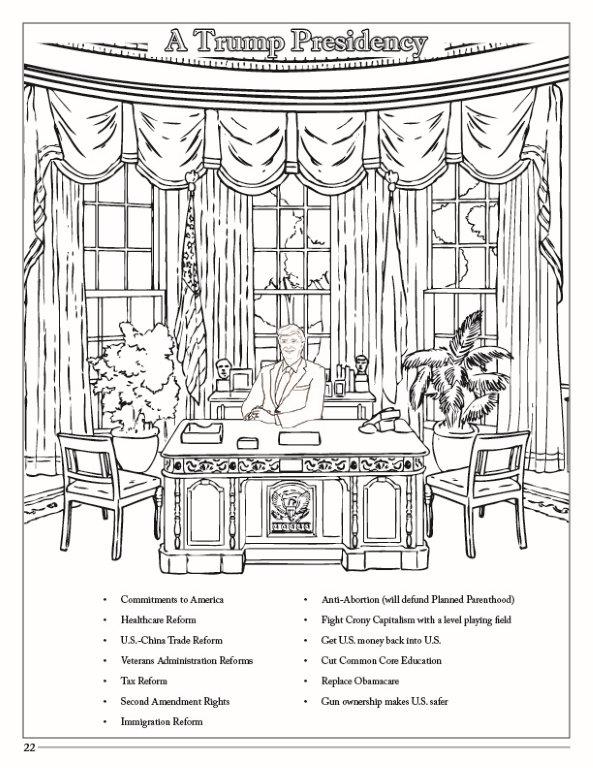 A historic and commemorative book for classroom use or activities and celebrations, the books are being sold in shops, stores, business meetings and some individuals sell even door to door. An inspirational and educational, twenty-four (24) page, 8.5″ x 11″, $6.99 priced book highlights President Donald Trump and his historic campaign leading to the White House. This coloring book is designed for children and parents alike. It can be used as a child's school or small text book with the amount of information inside. This commemorative coloring and activity book reflects and celebrates change in America as described by Bell in a video. Features include a new patriotic song performed by in-house RBCB children's band The Color Tones®. Including historical locations and facts and pages describing how citizens may get involved in their local community. It also highlights fun games, mazes, puzzles and word searches on the Presidential team.
In the last two election cycles the RBCB company published products detailing President Barack H. Obama – Vice President Joe Biden. The 2008 Obama edition sold by the literal 18 wheeler load. The 2016 Presidential book on Trump-Pence has brought about a new era in our company and the way we conduct security within our business(*4,*5). "The response on this book is historic for our company, states Publisher Bell. The love and hatred shown this book and our publishing house is undeniable, from congratulations great job to graphic phone threats, violent graffiti to outright hatred. To protect our company and employees, we began to file police reports." As stated on (*2) local media reports.
Really Big Coloring Books®, Inc., headquartered in St. Louis, MO, is a multi-national company providing quality children's teaching and learning tools and coloring book products for nearly three decades. Known for their market leading positions the RBCB family of products are classic, colorful and unique. The company owns more than 1300 coloring book related domain names in several countries and is a trend-setting leader in children's publishing and the coloring book industry. The company holds membership in numerous professional and trade organizations including The Missouri Press Association, System for Award Management for the U.S. Govt. (SAM), SAGE, ASI, and PPAI, The International Book Publishers Assoc. (IBPA) and other industry leading groups.
All RBCB company products are manufactured in the U.S.A. To find out more visit: http://www.ColoringBook.com or call 314-725-1452.
*(1) ABC News St. Louis – The Jamie Allman Report. abcstlouis.com/the-allman-report/new-president-donald-trump-coloring-book-released
*(2) 97.1 FM Talk Radio Network – Emmis Communications.971talk.com/blogs/allmans-electric-stove/aitm-demand/hey-lets-color
*(3) KFTK-FM – Emmis Radio St. Louis, MO
*(4) Police Reports filed Clayton, MO harassing phone calls – innuendos – threats.
*(5) Violent – Graphic Graffiti denigrating The Color Tones® band members. Clayton, Missouri Police Department Memo # 16-3255. claytonmo.gov/government/police