As was the case when candidate Trump said things on the campaign trail, now that he is president, often times after Donald Trump makes certain comments he is immediately laughed at by both the Democrats and the mainstream media. Considering how often both groups have underestimated Trump, and how often he's proven them wrong, one would think they might have learned by now to hold off on the ridicule, at least temporarily.
When Donald Trump said he believes he not only won the electoral vote, but that he also won the popular vote if all the fraud was removed from the final numbers, the far-left went bananas. At least they're consistent, right? Now President Trump has launched an investigation into the alleged voter fraud, and Democrats and the mainstream media are in full panic mode.
What follows in the video below, and in two posts that will follow this one, should demonstrate that there is good reason for the far-left to begin panicking. Based on what we've learned from two separate nonpartisan watchdog groups who estimate as many as seven million votes for Hillary could have been fraudulent, what we've learned about a newly opened investigation by Inspector General of the Department of Homeland Security (DHS), John Roth, that is investigating why Obama's DHS attempted to hack several state's election systems, and what we've learned about a new study performed by political scientist Jesse Richman of Old Dominion University, it looks like Democrats might have good reason to be nervous…
SUBSCRIBE TO THE TOP STORIES OF THE WEEK IN THE NEWSLETTER HERE
CHECK OUT THE SOCIAL MEDIA PLATFORM FOR CONSERVATIVES:
GRASSFIRE, and REAL AMERICA TV
Hillary Clinton garnered more than 800,000 votes from noncitizens on Nov. 8, an approximation far short of President Trump's estimate of up to 5 million illegal voters but supportive of his charges of fraud.
Political scientist Jesse Richman of Old Dominion University in Norfolk, Virginia, has worked with colleagues to produce groundbreaking research on noncitizen voting, and this week he posted a blog in response to Mr. Trump's assertion.
Based on national polling by a consortium of universities, a report by Mr. Richman said 6.4 percent of the estimated 20 million adult noncitizens in the U.S. voted in November. He extrapolated that that percentage would have added 834,381 net votes for Mrs. Clinton, who received about 2.8 million more votes than Mr. Trump.
SEE ALSO: Trump backs group examining voter fraud
Mr. Richman calculated that Mrs. Clinton would have collected 81 percent of noncitizen votes.
"Is it plausible that non-citizen votes added to Clinton's margin? Yes," Mr. Richman wrote. "Is it plausible that non-citizen votes account for the entire nation-wide popular vote margin held by Clinton? Not at all."
Still, the finding is significant because it means noncitizens may have helped Mrs. Clinton carry a state or finish better than she otherwise would have.
SEE ALSO: Watchdog sees need for election fraud probe
Mr. Trump's unverified accusation to congressional leaders this week, as reported by The Washington Post, has sent the issue skyward.
He apparently was referring to all types of fraud, such as the "dead" voting or multiple votes from the same person. But the thrust of his estimate appears to be that illegal immigrants and noncitizens carried the popular vote.
He returned to the issue Thursday in Philadelphia, where he spoke to congressional Republicans mapping this year's legislative calendar.
"We also need to keep the ballot box safe from illegal voting," the president said. "And, believe me, you take a look at what's registering, folks. Take a look at what's registering. We are going to protect the integrity of the ballot box, and we are going to defend the votes of the American citizen, so important."
The mainstream media reacted to Mr. Trump's assertion with derision. Liberal pundits said there is no evidence of fraud.
CNN's Jake Tapper called it "a stunning allegation for which the White House is providing no evidence. And there is a reason they are providing no evidence — there is no evidence. It is not true."
Esquire.com said, "The most bizarre lie of Donald Trump's presidency so far is his claim of widespread voter fraud in an election he won."
But conservative activists say the liberal media are ignoring evidence — that noncitizen voting is illegal and, thus, fraud. They say the Justice Department in the Obama administration was more concerned with preventing states from cleansing rosters of dead and inactive voters than in mounting any investigation into fraud.
"Most voters are never asked for voter ID, so it is dishonest to suggest that with the tens of millions of illegal and legal aliens here, there is no voter fraud," said Tom Fitton, who heads the conservative watchdog group Judicial Watch. "If the key Old Dominion study results on the 2008 election are applied to 2016 — 1.41 million aliens may have voted illegally, with 1.13 million voting for Democrats."
"A federal voter fraud investigation is long overdue," Mr. Fitton said. "It would be a simple matter of analyzing voter registration databases against federal databases of aliens and deceased individuals. Why is the left afraid to even ask the questions? The jig is up."
There does not appear to be any concerted postelection effort by states to take on the daunting task of checking voter rolls and ballots to verify citizenship. In some states, no ID is required to register and vote.
In the absence of detailed accounting, the only scientific way to make an estimate is by post-vote polling.
Mr. Richman relies on a one-of-a-kind poll: the Cooperative Congressional Election Survey. Every two years, a consortium of 28 universities produces a detailed report on voters and their views based on polling by YouGov.
Tucked inside the lengthy questionnaire is a question on citizenship status: A significant number of respondents anonymously acknowledged they were not citizens when they voted.
Three professors at Old Dominion University — Mr. Richman, Gulshan A. Chattha and David C. Earnest — took these answers, did further research and extrapolated that of a 19.4 million estimate of adult noncitizens, about 620,000 were illegally registered to vote in the 2008 presidential election. Using other measuring tools, they said, the actual number of noncitizen voters could be as low as 38,000 and as high as 2.8 million.
The U.S. Census Bureau reported in 2012 that there are 22 million noncitizens in the country. The group comprises illegal immigrants and people in the U.S. legally on a visa or permanent resident green card. Of this 22 million, 20 million were 18 or older, the U.S. voting age requirement.
Conservatives have long suspected that Democrats are tacitly encouraging illegal immigrants to vote. Liberal leaders have created "sanctuary cities" across the nation that refuse to work with federal immigration enforcement authorities.
President Obama was asked during the campaign last year if illegal immigrants had anything to fear from federal authorities if they voted in the presidential race.
"Many of the millennials, Dreamers, undocumented citizens — and I call them citizens because they contribute to this country — are fearful of voting," he was asked on a Latino YouTube channel. "'So if I vote, will Immigration know where I live? Will they come for my family and deport us?'"
"Not true, and the reason is, first of all, when you vote, you are a citizen yourself," Mr. Obama said. "And there is not a situation where the voting rolls somehow are transferred over and people start investigating, etc. The sanctity of the vote is strictly confidential."
Some conservatives interpreted Mr. Obama's answer as a go-ahead signal, with his questionable assertion that voter rolls are off limits to federal investigators.
The WikiLeaks dump of Clinton campaign manger John Podesta's emails contained one message on directing immigrants to vote. He said immigrants should obtain driver's licenses and then attest at a polling place that they are U.S. citizens.
FACEBOOK | GOOGLE+ | TWITTER | PINTEREST | STUMBLE UPON | TUMBLER
FOR MORE ON LIBERALISM: THE IDEOLOGY OF HATE, GENOCIDE, & IDIOCY:
Michelle Obama Just Bailed on Barack and Girls; Off to Billionaire's Island Alone (Video)
Case Closed! Trump Was Right, Obama's Birth Certificate A Fake …
You Won't Believe What CNN and the Mainstream Media Are Doing Now… (Video)
Celebutards Call for 'Total Hollywood Strike' Until Trump Resigns (Video)
Look Who's Really Behind Snopes, Facebook's New "Fact Checkers" (Video)
Old Soviet Union 45 Goals to Destroy America Perfectly Match Liberal Ideology!?!? (Video)
Child Abuse? 9-Year-Old Transgender Girl Makes History on Magazine Cover??? (Video)
George Soros Funding Facebook's New "Fake News Fact Checking" Group (Video)
"Fake News!" Donald Trump Just Exposed CNN in a Massive Scandal (Video)
Americans Reject Their Continued Brainwashing Via Political Correctness (Video)
Tucker Carlson Chews Up, and Spits Out Privileged Liberal Student On Live TV (Video)
Tucker Carlson Ruthlessly Annihilates Liberal Reporter on Live TV (Video)
12 Liberals Who Absolutely Deserve the Karma of a Trump Presidency (Video)
Veterans Are Dying Everywhere; VA Wants To Perform Sex-Change Operations
VETERAN FREEZES TO DEATH OUTSIDE HOSPITAL: The VA Hospital Refused Him Treatment
Scientists: 40% Of People Have Newly Discovered Brain Parasite (Video)
Disbarment Charges Are Filed Against Baltimore State Attorney Mosby (Video)
News Flash: Being Offended Doesn't Make You Right (Video)
Black Lives Matter Do The Unthinkable To War Heroes Graves
Top 10 Liberal Lies About The Constitution
Florida Drunken College Students 'Urinate and Spit' On Wounded Veterans
"Americans Going Over the Cliffs of Insanity" (Video)
Peter Schiff: This Is Who Really Determines U.S. Presidents
FACEBOOK | GOOGLE+ | TWITTER | PINTEREST | STUMBLE UPON | TUMBLER
"I'M WITH THE DEPLORABLES" T-Shirt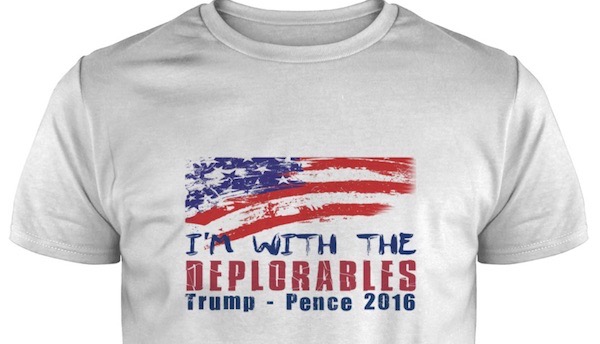 FACEBOOK | GOOGLE+ | TWITTER | PINTEREST | STUMBLE UPON | TUMBLER