FLASH MOB OF PAID PROTESTERS MASS ON JFK AIRPORT
JFK Airport is usually one big cluster – it's huge.
Last night a "Flash Mob" came to the Airport to protest President Trumps Ban on the Importation of Terrorist into the United States.
What appears to be around 1,000 paid protesters (Terrorists) showed up with signs and Megaphones to scream and holler and otherwise cause havoc at the Airport.
What is Bizarre is that the ACLU asked Federal Judge in Brooklyn New York for an "Emergency Stay" on Saturday to block the Presidential Executive Order.
Under the RULE OF LAW the Judges are Gods, not the people.
So ———-
1) Flash Mob funded in part by Bill Ayers – a know Cop Killer – shows up at an Airport.
2) A Federal Judge issuing an EMERGENCY STAY to block a Presidential Executive Order that now allows Known Terrorists and COP KILLERS into America.
3) As soon as the media left so did most of the Protesters – according to those we called this morning. It was one big "MAIN STREAM MEDIA SHOW."
Yes – Please keep in mind that these people are the same terrorist that kill Cops around the world in Bombings.
So – when the courts were closed – it was Saturday – the ACLU had the power to ask the courts to re-open and order a Stay and block a Presidential Order.
You see – the Clerk must enter the order into the Computer before it is valid and this means asking the Entire Federal Court Office back to work on a Saturday Evening.
This means these Court Employees, who support bringing Known COP KILLERS into America all need to be arrested immediately for Treason or President Trump looses.
So this was all a Set Up to commit open Treason in the New President's Face – a test of will.
Satanic NAZIs vs. President Trump.
Sounds like a whole lot of arrests need to be made starting with a Federal Judge named Ann Donnelly for Treason.
Shame on you New York Police Department for not arresting those in the Flash Mob and the Federal Judge for bringing in these Known COP Killers into your city.
Expect more and more of these events as the Satanic NAZI Pigs from around the world protest your right to be free and safe from these Cop Killers.
The Nations that are barred from sending Refugees into the United States and then collecting Social Security Refugee Pay at $4,500 a month per person include: Syria, Iraq, Iran, Somalia, Libya, Sudan and Yemen.
Several Months Ago I was at Coastal Farms and Ranch in Auburn Washington and I watched them sell a fairly large caliber pistol to someone who did not speak very good English. When I questioned them about it they refused to sell me anything.
Not selling to a Retired Captain – a Federal Officer – is grounds for closing down the store.
So please explain to me why the FBI is allowing Known Cop Killers through the JFK Airport and still allowing a Gun Store here in Washington State to sell Large Caliber Pistols to those who do not speak English???
President Trump – you have a long way to go in purging those who wish to destroy America from this nation. You can begin with the Leaders of the FBI and Homeland Security.
===========================
Please pray that President Trump brings in the help he needs to not only stay alive but to route these Anti-Americans out of these "Federal Agencies," (Foreign Corporations) like the FBI and CIA.
Please also pray your family learns how to survive in this coming NEW WORLD.
========================
—-SAVINGS TIP OF THE DAY—-
On the home front
Thanks to Food For Liberty my wife will now eat my cooking
=========================
The News You Need
Dr William B. Mount
New York's Kennedy Airport Under Siege from Crowds Trying to FREE Detained Immigrants!
PAID PROTESTERS – COMMONLY REFERRED TO AS TERRORISTS UNDER USC 18…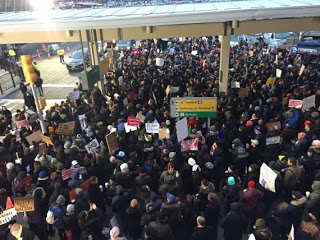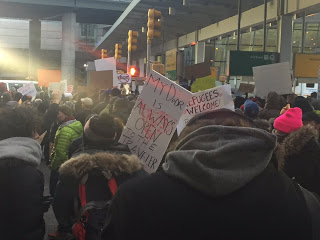 Anti Trump Protests At JFK & Chicago O'Hare Airport After Muslim Ban – YouTube
HOMELAND SECURITY – WHY WERE THESE TERRORIST S NOT ARRESTED???
PLEASE PRAY THAT THOSE WHO RUN HOMELAND SECURITY ARE IMMEDIATELY HELD RESPONSIBLE FOR THIS TREASON.
PLEASE PRAY THAT "BEFORE ITS NEWS" STOPS BLOCKING THE TRUTH.AND SEND THEIR OWNERS "LOVE AND GRATITUDE."
Obama-Appointed Federal Judge Temporarily BLOCKS Removal of Some Detained Immigrants
THIS SATANIC NAZI US JUDGE JUST COMMITTED TREASON – WHAT WILL PRESIDENT TRUMPS RESPONSE BE???
US MARSHALS AND FBI – ARE YOU SUICIDALLY INSANE FOR NOT ARRESTING THIS TERRORIST???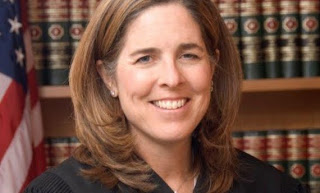 Protest Grows 'Out of Nowhere' at Kennedy Airport After Iraqis Are Detained – The New York Times
Here Are The Latest Updates On Trump's Refugee Ban | Zero Hedge
New York City Police Department – Wikiwand
SHAME ON YOU NYPD FOR NOT ARRESTING THOSE WHO HAD WARRANTS OUT FOR THEIR ARREST.
HOW DID THEY GET VISA'S ANYWAY FBI???