By Stephen Lendman
Global Research, January 29, 2017

Except for cooperating during WW II to defeat Nazism, America has been largely adversarial toward Russia for the past century.
On Saturday, Trump and Putin spoke by phone. Discussion lasted nearly an hour. Both leaders agreed to continue "regular personal contacts."
They'll meet later in the year for face-to-face talks on an unspecified date at a mutually acceptable venue. A White House statement said the following:
The positive call was a significant start to improving the relationship between the United States and Russia that is in need of repair.
Both President Trump and President Putin are hopeful that after today's call the two sides can move quickly to tackle terrorism and other important issues of mutual concern.
A more detailed Kremlim press service statement said "(t)he pressing international problems, including tackling terrorism, the developments in the Middle East, the Arab-Israeli conflict, the strategic stability and non-proliferation area, the situation around Iran's nuclear program and the Korean Peninsula were discussed in detail."
The key aspects of the Ukrainian crisis have been touched upon as well. It has been agreed to establish partner-type cooperation in those and other areas.
The presidents spoke in favor of creating real coordination of Russian and American actions with a purpose to defeat the ISIL and other terrorist groups in Syria.
Both sides demonstrated their will to take joint steps to stabilize and expand the cooperation between Russia and the United States, on a constructive, equal and mutually beneficial basis.
It was stressed that it is important to restore the mutually advantageous trade and economic ties between business circles of the two countries, which could further enhance a gradual and sustainable development of bilateral relations.
Saturday's conversation was the first one between both leaders since Trump's inauguration. One phone call doesn't erase a century of US-instigated hostility, its longstanding plans for regime change, thousands of US-led heavily armed NATO forces positioned on Russia's borders, and virtually the entire Congress opposed to normalized relations.
Putin reportedly told Trump he sees Washington as Russia's most important partner in fighting the scourge of terrorism.
After his deceptive reset outreach, Obama hugely soured bilateral relations. Stepping back from the brink won't be easy, warm relations likely impossible after adversarial ones for so long.
Bipartisan congressional consensus irresponsibly considers Putin public enemy number one. America's intelligence community and major media challenged Trump's legitimacy.
Congress may block lifting sanctions on Russia by executive order. Trump said he's open to doing it "if we can make some good (bilateral) deals…"
He tweeted and publicly said having good relations with Russia is a good thing. He warned only "fools" believe otherwise.
Moscow is no stranger to US duplicity, its practice of saying one thing and doing another. Putin will proceed cautiously in relations with Trump.
He'll welcome anything positive, knowing things can change unacceptably any time for any reason. It happened so many times before.
Last week, addressing Russia's lower house State Duma, Sergey Lavrov said "(w)e have no illusions that there will be a new reset with the United States. We have no naive expectations."
Stephen Lendman lives in Chicago. He can be reached at [email protected].
His new book as editor and contributor is titled "Flashpoint in Ukraine: How the US Drive for Hegemony Risks WW III."
Trump Skips Saudis in "Anti-Terror" Sweep
By Tony Cartalucci
Land Destroyer Report 29 January 2017
The Washington Post in its recent article, "Trump orders ISIS plan, talks with Putin and gives Bannon national security role," attempts to portray US President Donald Trump's recent moves as "anti-terror" in nature.
In particular, the Washington Post states:
President Trump on Saturday ordered the Pentagon to devise a strategy to defeat the Islamic State and restructured the National Security Council to include his controversial top political adviser as he forged a partnership with Russian President Vladi­mir Putin in their first official phone call.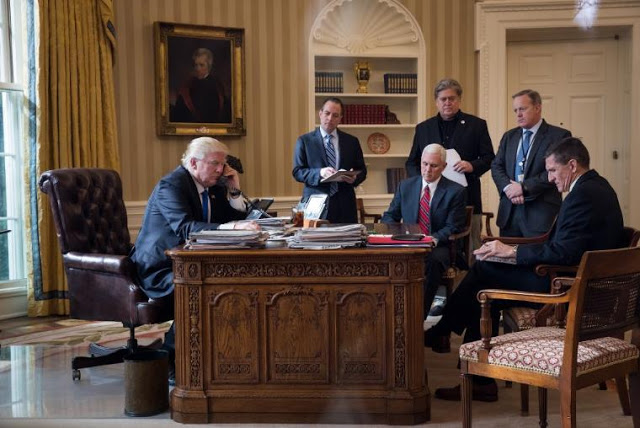 While the Washington Post attempts to further divide and distract Americans with implications of a pro-Russian stance by the new US administration, the paper skips past crucial aspects of President Trump's "ISIS plan."
The Post continues, stating:
Even prior to the memo, military officials had been at work developing potential actions for Trump and Defense Secretary James Mattis to consider. Those include potentially deploying additional advisers to Iraq and Syria, allowing U.S. military personnel to accompany local forces closer to the front lines, and delegating greater decision-making power to field commanders.
However, fighting terrorists downstream from their state sponsors is a losing battle. In US commander of US Forces Afghanistan General John Nicholson's December 2016 briefing on the continued US occupation of Afghanistan, he repeatedly noted the difficulties of defeating militants in the Central Asian state due to support and safe havens they enjoyed in neighboring states, including Pakistan.
General Nicholson, of course, was referring to the Taliban, not Al Qaeda or the so-called "Islamic State" (ISIS). These two terrorist organizations may have networks extending into Pakistan and elsewhere, but by both President Trump's own National Security Adviser Michael Flynn's admission – as revealed in a leaked 2012 Defense Intelligence Agency (DIA) memo – and even by Trump's 2016 presidential opponent, Hillary Clinton's acknowledgement in leaked e-mails – Saudi Arabia and Qatar are the premier state sponsors of these two notorious terrorist networks – since their inception.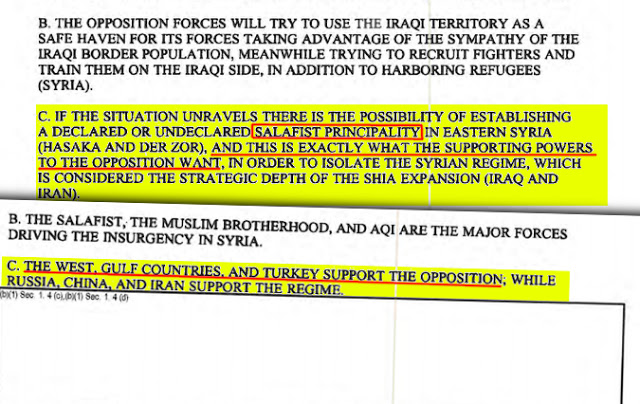 It should also be noted that not only did the 2012 DIA memo reveal Saudi Arabia and Qatar as state sponsors seeking the rise of what it at the time called a "Salafist principality," but it also included the United States, Europe, and Turkey as seeking such an adversary with which to "isolate" the Syrian government.
Tough Talk – No Action
Supporters of President Trump continuously refer concerned analysts to a Twitter exchange Trump had with Saudi businessman and member of the ruling Saud family, Al-Waleed bin Talal. In it, Trump proclaimed:
Dopey Prince @Alwaleed_Talal wants to control our U.S. politicians with daddy's money. Can't do it when I get elected. #Trump2016
Yet, now as US president, signing off on multiple, intentionally distracting and controversial executive orders – including one targeting migrants from seven majority Muslim nations the US and Saudi Arabia jointly destroyed over the past 20 years, mention of Saudi Arabia and the role it has played in sponsoring terrorism worldwide is absent.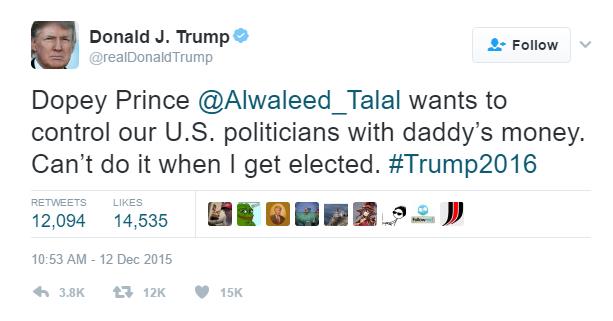 Like all politicians and every US president before Donald Trump, talk is cheap – used to target and manipulate the weakest minds among any nation's population. Action, however, is more difficult to manifest among deficient and/or dishonest politicians and political parties.
That President Trump is continuing America's partnership in terror with Saudi Arabia should be of no surprise to the public. Trump – even during his presidential campaign last year – surrounded himself with Bush-era Neo-Conservatives and policymakers, corporate-financier elitists, and the right-wing counterparts of the corporate media, including those elements cleverly disguised as "alternative media" such as Breitbart News.
Objective adults weigh words against actions. Across the West, however, both President Trump's opponents and supporters appear mesmerized by his words, and entirely oblivious to both his actions and their implications.
For President Trump's actions to match his words – US military, political, and financial support for the regimes in Riyadh and Doha would by necessity need to end. The exposure and sanctioning of Saudi-Qatari terrorism, including those Western interests who used both nations as proxies to wage war in Syria, Libya, Iraq, and beyond, would also by necessity be required.
The likelihood of President Trump doing any of this is nonexistent. For the public, instead of being pulled into the rhetorical black hole the Western corporate media is intentionally creating, identifying the corporate-financier special interests driving this US-EU-Gulf collaboration, exposing them, then isolating and entirely replacing them must take priority.
The original source of this article is Land Destroyer Report
Copyright © Tony Cartalucci, Land Destroyer Report, 2017
Trump's New Stance on NATO? Washington Global Military Footprint. The Anglo-American "Special Relationship"
By Stephen Lendman
Global Research, January 29, 2017
Theme: US NATO War Agenda
Candidate Trump called it "obsolete," saying the alliance needs reframing, focusing on combating ISIS and other terrorist threats, not targeting countries for regime change.
He suggested America might not defend certain NATO states if attacked, complained about America carrying too great a financial burden, many other members not paying their fair share.
Candidate Trump said one thing, as president apparently another, articulated Friday at a joint White House press conference by UK Prime Minister Theresa May, saying:
On defense and security cooperation, we're united in our recognition of NATO as the bulwark of our collective defense, and we reaffirmed our unshakeable commitment to this alliance. We're 100% behind NATO.
Trump added
"I agreed to continue my efforts to persuade my fellow European leaders to deliver on their commitment to spend 2% of GDP on defense, so that the burden is more fairly shared."
According to May, he privately expressed full support for NATO, despite earlier comments suggesting otherwise. Appointing the first general as US defense secretary since George Marshall under Harry Truman indicated support for the alliance he disparaged earlier.
It remains to be seen how he intends using it. Will he continue America's interventionist policy instead of focusing on combating terrorism as he suggested on the stump?
Will he be a warrior president like his predecessors? Will he maintain Washington's provocative global military footprint – especially in the Middle East, Eastern Europe and the Pacific?
Will he wind down America's aggressive wars or continue them, maybe wage new ones?
Will he work cooperatively with Vladimir Putin, China's Xi Jinping, Iran's Hassan Rouhani, and other independent leaders – or will his policies be confrontational?
Will he give peace a chance while prioritizing jobs creation, rebuilding the America's infrastructure, and focusing on other vital domestic issues?
Saturday is his 9th day in office. Much about his agenda remains to be seen. His disturbing first week wasn't encouraging. It's cause for great concern about what's coming next.
Separately, May said she extended an invitation from Queen Elizabeth to Trump and his wife Melania to make a state visit to Britain later this year. Trump accepted the invitation, according to May.
He began the joint press conference, saying "(t)he special relationship between our two countries has been one of the great forces for justice and for peace, and by the way, my mother was born in Scotland."
The so-called "special relationship" has been responsible for much of the world's misery during the post-WW II era, especially post-9/11.
Stephen Lendman lives in Chicago. He can be reached at [email protected].
His new book as editor and contributor is titled "Flashpoint in Ukraine: How the US Drive for Hegemony Risks WW III."
http://www.claritypress.com/LendmanIII.html
Visit his blog site at sjlendman.blogspot.com.
Listen to cutting-edge discussions with distinguished guests on the Progressive Radio News Hour on the Progressive Radio Network.
The original source of this article is Global Research
Copyright © Stephen Lendman, Global Research, 2017
Trump Orders Military to Prepare for World War
By Tom Eley
World Socialist Web Site
During a visit to the Pentagon on Friday, President Donald Trump issued an executive action calling for stepped up violence in Syria and a vast expansion of the US military, including its nuclear arsenal, to prepare for war with "near-peer competitors"—a reference to nuclear-armed China and Russia—and "regional challengers," such as Iran.
"I'm signing an executive action to begin a great rebuilding of the armed services of the United States," Trump said during the signing of the document, entitled "Rebuilding the US Armed Forces."
During the visit, his first to the Pentagon, Trump signed a second order, "Protecting the US from Terrorist Attacks by Foreign Nationals," that freezes visa and immigration applications from predominantly Muslim countries. The order threatens to block refugees from finding sanctuary, workers from taking jobs, students from attending school, and the unification of families (See, "White House to issue executive order on 'safe zones' in Syria, ban on Muslim immigrants and refugees")
The military order directs Defense Secretary James Mattis, who was sworn in at the ceremony, to complete a 30-day "readiness review" designed to prepare for the destruction of ISIS in Syria and Iraq, along with "other forms of Islamic terror." Last week, Mattis was confirmed by the Senate in a 98-1 vote.
The order further instructs Mattis, in the words of the Washington Post, which obtained a copy of the order prior to its formal release, "to examine how to carry out operations against unnamed 'near-peer' competitors, a group which US officials typically identify as China and Russia." And it commands the Pentagon and the Office of Management and Budget to develop a "military readiness emergency budget amendment" that would increase military spending in the current year and increase the budget for 2018 and thereafter—increases to be offset by cuts to social spending.
The Presidential Memorandum, only three pages in length, is the blueprint for world war.
The order unmistakably threatens the use of nuclear weapons. Section 3 calls for a nuclear force "to deter 21st century threats" and, menacingly, to "achieve Presidential objectives should deterrence fail."
It further calls for a plan "to achieve readiness objectives" for the use of the nuclear arsenal "by 2022." This would include the "modernization" of the US nuclear force, a greatly expanded missile defense system, and increased emphasis on cyber warfare, which aims to cripple the retaliatory capacity of major adversaries by targeting their digital and telecommunication command structures prior to an American strike.
These actions follow on a move by the Obama administration to implement a $1 trillion upgrade in the country's nuclear arsenal.
The executive action did not put a price tag on new military spending, but media speculation indicates that the figure could approach an additional $100 billion per year. Trump's military plans hew closely to a Heritage Foundation proposal that calls for the revamping of the nuclear force, the expansion of the Navy to 350 ships, the Air Force to 1,200 fighter and attack jets, the Marine Corps from 24 to 36 divisions, and the Army to more than a half a million soldiers.
The US currently spends approximately $600 billion on its military annually—excluding expenditures on the intelligence agencies and Veterans Administration— more than the next nine largest military spenders combined. American "defense" spending accounts for, by itself, over one third of all global military spending, and it consumes the great majority of the federal discretionary budget.
Increases in military spending, coupled with Trump's promises to drastically lower taxes on corporations and the rich, must inevitably be paid for by cuts to education, health care and infrastructure, and by plundering Social Security and Medicare.
In securing the presidency, Trump capitalized on popular hostility toward Hillary Clinton's interventionist stance on Syria and her saber-rattling against Russia. But his executive order's demand for escalation in Syria increases the likelihood of war with both regional power Iran and nuclear-armed Russia. Russia maintains its only significant foreign military base in Syria and has so far preserved the regime of Bashar al-Assad in a war for regime change orchestrated by the Obama administration.
Trump's order for a plan to destroy ISIS and "radical Islam," which he declared in his Inaugural Address he would "eradicate completely from the face of the Earth," will be drawn up by Mattis, responsible for numerous war crimes in the US occupation of Iraq, including the killing of untold thousands of civilians in the 2004 attack on Fallujah.
While the US now makes war on ISIS, it has funded and directed Al Qaeda affiliates in the regime change operations in Libya and Syria. Yet in remarks made last summer, prior to his nomination to defense secretary, Mattis claimed that, in his view, ISIS was nothing more than a stalking horse for Iran to extend its influence throughout the Middle East. It is widely rumored that Mattis left command in the Obama administration because he favored a more bellicose approach toward Iran.
Even before Trump's order became public, figures in and around the military speculated that Mattis would propose a dramatic escalation in Syria.
Scott Murray, a retired Air Force colonel involved with previous aerial bombardment of ISIS, told NPR that this could be done by lifting rules preventing the targeting of civilians.
"Commanders could … re-examine limits on the number of civilian casualties that the military risks when it hits ISIL targets," NPR reported. "Known as the 'non-combatant value,' the rule restricts the number of civilians who can be put at risk in an airstrike."
Officers who spoke with the US government's overseas broadcaster Voice of America (VOA) complained of the Obama administration "micro-approving" actions in Syria. "Every single person had to be approved," an unnamed Defense Department official said of a contingent of 203 Special Forces soldiers sent into Syria last year.
A high-ranking Army general, Lt. Gen. David Barno, told NPR's Morning Edition that, in lieu of local proxies, far more US soldiers will be deployed into Syria. "I think President Trump might be looking for something with some quicker results and that could put some new options on the table," Barno said. "He could elect to put American boots on the ground in larger numbers."
Currently most of the 6,000 US military personnel in the region are concentrated in Iraq, where, joined by Iraqi forces, they are subjecting the city of Mosul to a massive attack. Trump's order will likely lift the fiction that there are separate war theaters in the neighboring countries.
There was also speculation that the US could bolster the Kurdish People's Protection Units (YPG). This would heighten tensions with NATO ally Turkey, which views the YPG as a proxy of the Kurdish Workers Party (PKK), against which it has waged a nearly four-decade counterinsurgency war to prevent the emergence of an independent Kurdistan.
An escalation in Syria is also prefigured by Trump's anti-immigrant executive order, which, with the express aim of blocking refugees from fleeing the crisis, envisages the creation of "safe zones" run by the US military—in blatant violation of Syrian sovereignty and international law. Under the plan, Syria's refugees would be placed in what would be, in all but name, US-administered camps, overseen by the US military.
The original source of this article is World Socialist Web Site
Copyright © Tom Eley, World Socialist Web Site, 2017
Source:
http://blogdogcicle.blogspot.com/2017/01/the-trump-putin-phone-call-new-us.html