It's becoming more and more clear with each passing day, that members of the mainstream media are either 1) no longer capable of discerning what is real, and what is fiction, or 2) they think we're as gullible as they are, and that we actually believe the nonsense they are pushing out.
Speaking on Breitbart News (on Sirius XM) earlier this week, Senior Donald Trump advisor Kellyanne Conway was asked for her thoughts regarding "fake news," to which she responded by saying she thought that most people are probably capable of detecting biased reporting when they see or hear it, and that she is much more concerned with "fake news by omission," which is when media outlets only tell a portion of the facts in any given story. People can't detect bias in something they're never told to begin with, right?
Keeping informed via the mainstream media has always been difficult because of how corrupt and dishonest the media can be, but until the election of Donald Trump the biggest concern people had to watch out for with the media was not getting all the details on a particular story. As you're about to learn, since the election of Donald Trump, the mainstream media has added another layer of distortion, by either making up facts of a story if they have to, or by outright changing facts as they did in the example below if doing so better suits their own personal agenda, or the agenda of interests they're aligned with.
SUBSCRIBE TO THE TOP STORIES OF THE WEEK IN THE NEWSLETTER HERE
CHECK OUT THE SOCIAL MEDIA PLATFORM FOR CONSERVATIVES:
GRASSFIRE, and REAL AMERICA TV
If you take only one lesson from the events of last year, let it be this: not only is the media not to be trusted but it will blatantly lie if it advances its and its allies' interests.
Since the election turned out very differently from how their polls and analysts predicted it would, a crisis of confidence has befallen the press as it tries to cope with how it got this one spectacularly wrong. Instead of engaging in introspection and realizing that indulging their prejudices may have had the effect of insulating from the pulse of America, they searched far and wide for someone – or something – to blame and sure enough, they found it.
Right now, the meme being passed around as responsible for Donald Trump's victory is "fake news", a label the stigmatizes alternative sources of information and ignores the mainstream media's own pushing of false narratives.
Just this week, the Washington Post, which has established itself as one of the most virulently anti-Trump papers in the country, claimed that the brass of the State Department has chosen to resign rather than work under a Trump administration, gleefully reporting that the department's entire senior staff are leaving in droves:
"Then suddenly on Wednesday afternoon, Kennedy and three of his top officials resigned unexpectedly, four State Department officials confirmed. Assistant Secretary of State for Administration Joyce Anne Barr, Assistant Secretary of State for Consular Affairs Michele Bond and Ambassador Gentry O. Smith, director of the Office of Foreign Missions, followed him out the door. All are career Foreign Service officers who have served under both Republican and Democratic administrations.
Kennedy will retire from the Foreign Service at the end of the month, officials said. The other officials could be given assignments elsewhere in the Foreign Service.
In addition, Assistant Secretary of State for Diplomatic Security Gregory Starr retired Jan. 20, and the director of the Bureau of Overseas Building Operations, Lydia Muniz, departed the same day. That amounts to a near-complete housecleaning of all the senior officials that deal with managing the State Department, its overseas posts and its people."
What the Post lied about, however, was that the staff didn't resign but that they were fired, as the White House prepares to place figures more attuned to its agenda:
From CNN's full story on the matter:
All four, career officers serving in positions appointed by the President, submitted letters of resignation per tradition at the beginning of a new administration.
The letters from the White House said that their resignations were accepted and they were thanked for their service.
The White House usually asks career officials in such positions to stay on for a few months until their successors are confirmed.
"Any implication that that these four people quit is wrong," one senior State Department official said. "These people are loyal to the secretary, the President and to the State Department. There is just not any attempt here to dis the President. People are not quitting and running away in disgust. This is the White House cleaning house."
"These positions are political appointments, and require the President to nominate and the Senate to confirm them in these roles. They are not career appointments but of limited term," said State Department spokesman Mark Toner. "Of the officers whose resignations were accepted, some will continue in the Foreign Service in other positions, and others will retire by choice or because they have exceeded the time limits of their grade in service."
The "entire senior management" team suffering this "mass" obliteration consists of Assistant Secretary of State for Administration Joyce Anne Barr, Assistant Secretary of State for Consular Affairs Michele Bond, Ambassador Gentry O. Smith of the Office of Foreign Missions, and most notably Undersecretary for Management Patrick Kennedy, who tried to drag the FBI into Hillary Clinton's cover-ups.
Kennedy has also been accused of playing a role in the Benghazi disaster, although the State Department's internal review "downplayed" his role in the "decision-making that led to the inadequate security posture in Benghazi," as the Washington Examiner recalls. The Examiner also notes his "you can't fire me, I quit" retirement was announced yesterday, so treating it like big news today is somewhat disingenuous.
The Trump campaign said that Kennedy had to go, and called (in vain, of course) on Hillary Clinton to speak out against him, as well. This is not some shocking walkout by a defiant Resistance speaking truth to power – it is President Trump fulfilling a campaign promise on his fourth day in office.
Also, while most news reports described the four outgoing officials as holding their offices under both Republican and Democrat administrations, to promote the impression they were nonpartisan fixtures of the bureaucracy who just couldn't handle the arrival of President Trump, that is really only true of Kennedy, and he was only in position for two years before the Obama administration began. Joyce Barr was appointed in 2011, while Michele Bond and Gentry Smith were appointed in 2015.
The Hill reports that these four joined "a number of other officials who have departed since President Trump took office last week," but goes on to cite only two names: Assistant Secretary of State for Diplomatic Security Gregory Starr, who retired, and Bureau of Overseas Building Operations Lydia Muniz.
FACEBOOK | GOOGLE+ | TWITTER | PINTEREST | STUMBLE UPON | TUMBLER
FOR MORE ON LIBERALISM: THE IDEOLOGY OF HATE, GENOCIDE, & IDIOCY:
Look What Group Plans to "Massively" Resist Voter Fraud Investigation… (Video)​
Investigation Launched into Obama's DHS Hacking State Election Systems (Video)
New Study Reveals Shocking Information About Trump's Voter Fraud Claims (Video)
Michelle Obama Just Bailed on Barack and Girls; Off to Billionaire's Island Alone (Video)
Case Closed! Trump Was Right, Obama's Birth Certificate A Fake …
You Won't Believe What CNN and the Mainstream Media Are Doing Now… (Video)
Celebutards Call for 'Total Hollywood Strike' Until Trump Resigns (Video)
Look Who's Really Behind Snopes, Facebook's New "Fact Checkers" (Video)
Old Soviet Union 45 Goals to Destroy America Perfectly Match Liberal Ideology!?!? (Video)
Child Abuse? 9-Year-Old Transgender Girl Makes History on Magazine Cover??? (Video)
George Soros Funding Facebook's New "Fake News Fact Checking" Group (Video)
"Fake News!" Donald Trump Just Exposed CNN in a Massive Scandal (Video)
Americans Reject Their Continued Brainwashing Via Political Correctness (Video)
Tucker Carlson Chews Up, and Spits Out Privileged Liberal Student On Live TV (Video)
Tucker Carlson Ruthlessly Annihilates Liberal Reporter on Live TV (Video)
12 Liberals Who Absolutely Deserve the Karma of a Trump Presidency (Video)
Veterans Are Dying Everywhere; VA Wants To Perform Sex-Change Operations
VETERAN FREEZES TO DEATH OUTSIDE HOSPITAL: The VA Hospital Refused Him Treatment
Scientists: 40% Of People Have Newly Discovered Brain Parasite (Video)
Disbarment Charges Are Filed Against Baltimore State Attorney Mosby (Video)
News Flash: Being Offended Doesn't Make You Right (Video)
Black Lives Matter Do The Unthinkable To War Heroes Graves
Top 10 Liberal Lies About The Constitution
Florida Drunken College Students 'Urinate and Spit' On Wounded Veterans
"Americans Going Over the Cliffs of Insanity" (Video)
Peter Schiff: This Is Who Really Determines U.S. Presidents
FACEBOOK | GOOGLE+ | TWITTER | PINTEREST | STUMBLE UPON | TUMBLER
"I'M WITH THE DEPLORABLES" T-Shirt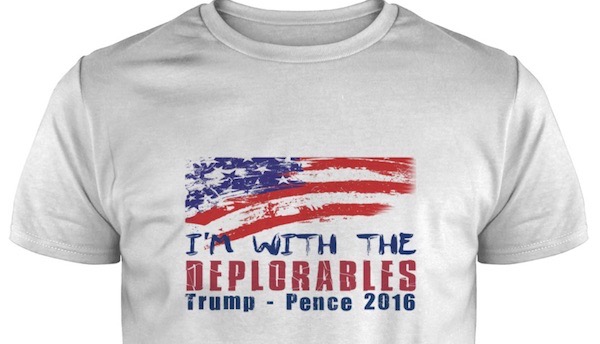 FACEBOOK | GOOGLE+ | TWITTER | PINTEREST | STUMBLE UPON | TUMBLER