http://simplyjews.blogspot.com/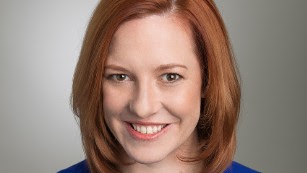 I was somewhat surprised (not really) to see Jen Psaki, who used to be White House communications director and State Department spokesperson during the Obama's years in the White House, issue what the headline calls:
My unsolicited advice for Sean Spicer, Kellyanne Conway and the team
In the article Ms Psaki, from her new role as a CNN political commentator and Spring Fellow at the Georgetown Institute of Politics, dispenses free advice to the new WH communication team, advice preceded by a volley of barbs in the general direction of everyone in and near White House.
I was kinda flabbergasted by the whole performance from this totally unexpected direction. One would have imagined that Ms Psaki would do everything in her powers to distance herself from her previous job and to make the public forget about her more conspicuous moments there. I wasn't really keeping tabs on her job history, but here are three examples of her outstanding performance. I shall copy/paste a quote from the last one:

…a reporter asked if the State Department still agreed with President Barack Obama's September claim that Yemen is the model for his successful counterterrorism strategy.

Spokesperson Jen Psaki answered, "Correct and we stand by that."
Indeed, Ms Psaki?
Well, here is my totally unsolicited advice: come on, Jen, really. Let's cut the crap.
P.S. On a tangentially related subject: being a sexist pig, I can't avoid mentioning that Ms P. looks much better since she got rid of that previous job. Good.
http://simplyjews.blogspot.com/
Source:
http://simplyjews.blogspot.com/2017/02/my-unsolicited-advice-for-jen-psaki.html